Thank you to Social Butterfly PR for the advanced copy of FULL PACKAGE by Lauren Blakely.  All opinions are my own.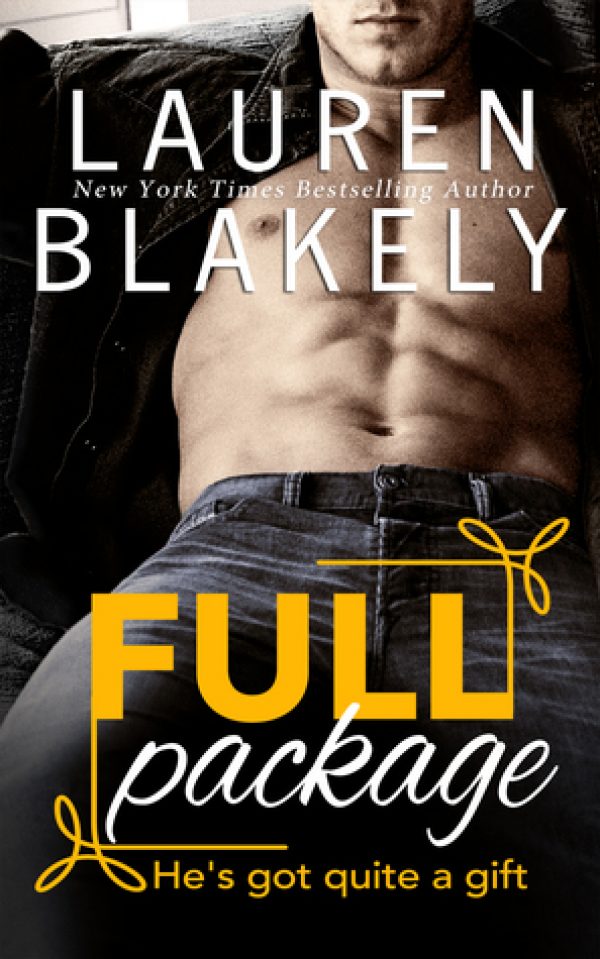 I've been told I have quite a gift.

Hey, I don't just mean in my pants. I've got a big brain too, and a huge heart of gold. And I like to use all my gifts to the fullest, the package included. Life is smooth sailing….

Until I find myself stuck between a rock and a sexy roommate, which makes for one very hard…place.

Because scoring an apartment in this city is harder than finding true love. So even if I have to shack up with my buddy's smoking hot and incredibly amazing little sister, a man's got to do what a man's got to do.

I can resist Josie. I'm disciplined, I'm focused, and I keep my hands to myself, even in the mere five-hundred square feet we share. Until the one night she insists on sliding under the covers with me. It'll help her sleep after what happened that day, she says.

Spoiler—neither one of us sleeps.

Did I mention she's also one of my best friends? That she's brilliant, beautiful and a total firecracker? Guess that makes her the full package too.

What's a man stuck in a hard place to do?
Note: Clicking links on this site will take you to the retailer's purchase page.
Totally Bex is a participant in the Amazon Services LLC Associates Program, an affiliate advertising program designed to provide a means for us to earn fees by linking to Amazon.com and affiliated sites.
Other books in this series:

Full Package truly is the gift that keeps on giving!
Smart and adorable characters (that you want to befriend in real life, I swear!)
Hilarious male point of view (with a unique twist on the heroine's POV)
A hot and sexy doctor who is very good with his hands
A cute baker who is just as sweet as her treats
Friends who become roommates who become more
Enough sexual energy to power NYC
A nice, slower burn that you can't wait to catch fire
Feel-good storylines with lots of family interaction
Lauren's signature cheeky yet smart dialogue and double-entendres
The list goes on and on!  The world she has created for this series-that-isn't-a-series is fantastic.  Uniquely descriptive with full character development, you become immersed and, if you're like me, grin like a fool while reading it.
I couldn't wait to read about Chase and Josie after getting a peek at them in Well Hung.  Since Josie is Wyatt's sister and Chase is their best friend from childhood, I knew this book could get very interesting and it did not disappoint.  I appreciate the slower burning romance that develops from the fact that Josie needs a roommate and Chase happens to need a place to live.  The premise works perfectly for the friends-to-lovers aspect of this story.
I love the fact that they have a long history and they know so much about each other.  The longing to become more than friends is palpable on both sides, giving us the butterflies you know they are feeling.  There's just enough conflict to keep you hooked, but not so much that it's unnecessary.  I also love the fact that their families are so involved in their lives and they always have just the right advice when it's needed.
One thing I know for sure is that Lauren Blakely is a Pied Piper and I will gladly follow her wherever she goes.  I have enjoyed all of the couples so far and I can't wait to see what she has in store for Chase's brother in Joy Ride!
I turn into the kitchen. She pulls a tray from the oven and smiles. She still wears the date outfit, but the heels are gone. She's adorable in her fancy dress and bare feet.
"Date ended early?"
She nods. "When he invited me to see his gerbil, I thought it was time to go."
"That doesn't entice you?"
She shakes her head. "Had he said ferret, perhaps. Alas, with gerbil I'm a firm no."
"Was it in his pants or a cage?"
"We didn't get far enough to find out. I said thanks, I need to water the plants, and I got the hell out of Dodge."
I curl up the side of my mouth. "Guess that explains why Trish didn't invite me home, either. I tried the hamster line on her."
She smacks me with a panda potholder. "I suppose I should have known better, though. Earlier in the date, he made a ton of masturbation comments."
I lean against the kitchen counter. "And that concerns you, since you never do that, right?"
As she slides the spatula under the dessert, she gives me a side-eye stare. "Exactly, Chase. I never rub one out. Never." She waves a hand over her crotch. "Total hands-free zone."
I take her comment seriously. "Fine. You use toys. I get it. What kind?" I ask, because I can't help myself.
She rolls her eyes. "Not telling you."
I harrumph and grab for a bar from the pan. She swats me with the spatula.
"Ouch," I say, yanking back my hand.
"That didn't hurt. And you should know better than to steal my dessert before it's ready."
"You should know better than to hit my hands." I hold both up in the air.
With a quickness I don't see coming, she whacks me again with her utensil. This time on the other hand.
"That's it." I charge her, tickling her waist. "Tell me what toys and I'll stop."
She cracks up and flails her arms, knocking me with elbows and hands and the spatula, too, until I give in to her cries for mercy.
I stare at her in our tiny sliver of a kitchen. "Waiting."
"You really want to know?"
I nod eagerly. I'm playing with fire, but I can't resist. The desire to know outweighs all else.
She works the spatula under the bars again, shaking her head. "I can't believe we're having this conversation."
I hold out my hands. "C'mon. We talk about all sorts of stuff." Then, an idea strikes me. I open the kitchen cupboard, grab a bottle of Patron, and hold it up. "This will help all that shyness."
She stares at me with narrowed eyes. "I'm not shy at all."
I grab two shot glasses and pour. "Better safe than sorry, Miss Not Shy At All."
I hand her one, and she takes it. Then I raise my glass, and the drink goes down the hatch with a burn. She follows suit, swallowing it quickly, then sets her glass down. I do the same.
I rub my palms together. "Toy confessional time. What have you got?"
She arches an eyebrow. "Really? You really want to know?"
I narrow my eyes. "What part of your roommate being a dirty bastard do you not understand? Obviously, I want to know. I'm a guy. This is like Christmas morning. But if this helps . . ."
I pour two more shots then slide her glass over to her. Once more, we down them.
She draws a deep breath. "Since you asked . . . I have a few toys. A little silver bullet. A bigger dolphin. And I have a waterproof finger vibrator."
And the temperature in me shoots through the roof. I tug at the neck of my shirt. "For the shower?" I croak out.
"Seeing as we don't have a bathtub, yes, it would have to be for the shower."
"You masturbate in the shower?" I ask, and the visual is so f*cking clear in my mind—Josie under a hot stream of water that slopes off her breasts, a finger vibrator working between her thighs.
Want more? Check out these posts!