Thank you for the advanced copy of LOVE THE WAY YOU LIE by Skye Warren.  All opinions are my own.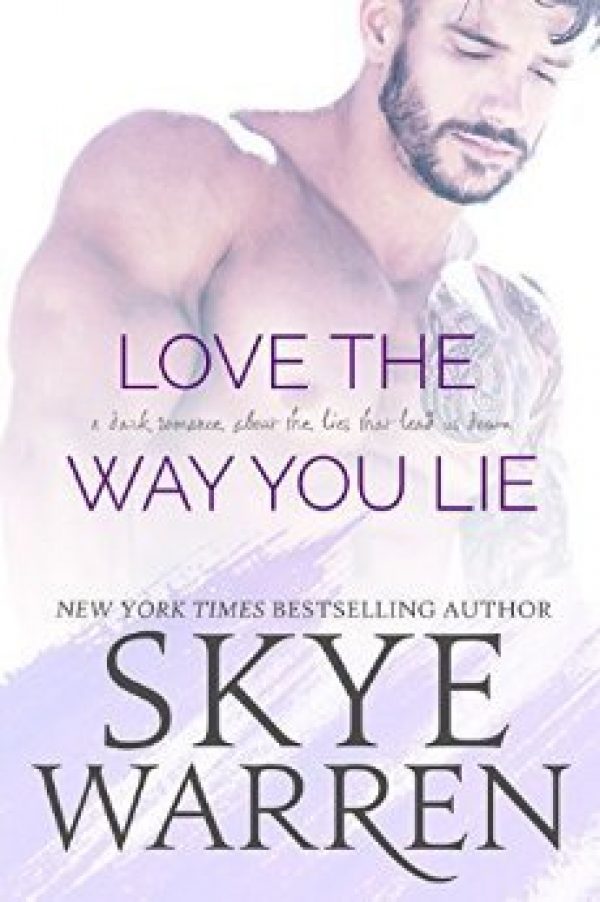 A dark romance about the lies that lead us down…

I'll do anything to get safe, even if that means working at the scariest club in town.

I'll do anything to stay hidden, even if it means taking off my clothes for strangers.

I'll do anything to be free. Except give him up. When he looks at me, I forget why I can't have him. He's beautiful and scarred. His body fits mine, filling the places where I'm hollow, rough where I am soft.

He's the one man who wants to help me, but he has his own agenda. He has questions I can't answer. What are you afraid of?

You.
Note: Clicking links on this site will take you to the retailer's purchase page.
Totally Bex is a participant in the Amazon Services LLC Associates Program, an affiliate advertising program designed to provide a means for us to earn fees by linking to Amazon.com and affiliated sites.
Other books in this series:

Skye Warren is a master of the dark romance genre.  Her stories feature strong heroines, alpha anti-heroes, and lots of suspense.  
Love the Way You Lie is a little lighter than some of her previous novels, but it is no way missing the vivid and powerful writing she is known for.  This is a gritty story about love, sacrifice, and danger.
Love the Way You Lie is a fast-paced and absorbing read. Once I started it, I couldn't put it down until I had finished. The story is told in both the present tense and through flashbacks, so there is a good amount of back-story. I loved that Honor is a strong, self-reliant heroine, and even though the situation seemed hopeless, she never lost hope.
From the very beginning, Honor is on the run. She and her sister, Clara, are hiding from their mafia don father and their mobster family. She will do anything to protect her sister, so Honor sets aside her pride and becomes a stripper—both to make money to support them, but also to gain information that could end their life on the lam.
While working at the club, she meets Kip. He's a customer, but he's also mysterious, dangerous, and powerful. He tells her that he she shouldn't want him, but he is impossible to forget.  Honor's relationship with Kip is far from conventional, but their chemistry is palpable–raw, edgy, and sexy. Neither of them can tell the truth about who they really are, so how can they ever trust each other?
This book is the first in a new series, and I can't wait to read the next one.
(Note: Before reading Love the Way You Lie, I would highly recommend picking up the prequel, Tough Love.  Tough Love provides a glimpse into why Honor is willing to lay everything on the line and risk her life to protect Clara.)
In the first moments onstage, I'm always blinded.
The bright lights, the smoke. The wall of sound that feels almost tangible, as if it's trying to keep me out, push me back, protect me from what's going to happen next. I'm used to the dancing, and the catcalls, and the reaching, grabbing hands—as much as I can be. But I'm never quite used to this moment, being blinded, feeling small.
I reach for the pole and find it, swinging my body around so the gauzy scrap of fabric flies up, giving the men near the stage a view of my a$$. I still can't quite make anything out. There are dark spots in my vision.
The smile's not even a lie, not really. It's a prop, like the four inch heels and the wings that snap as I drop them to the stage.
Broken.
A few people clap from the back.
Now all that's left is a lacy bra and panty set. I grip the pole and head into my routine, wrapping around the pole, sliding off, and starting all over again. I lose myself in the physicality of it, going into the zone as if I were running a marathon. This is the best part, losing myself in the burn of my muscles and the slide of the metal pole against my skin and the cold, angry rhythm of the song. It's not like ballet, but it's still a routine. Something solid, when very few things in my life are solid.
I finish on the pole and begin to work the stage, moving around so I can collect tips. I can see again, just barely, making out shadowy silhouettes in the chairs.
Not many.
There's a regular on one side. I recognize him. Charlie. He tosses a five dollar bill on the stage, and I bend down long and slow to pick it up. He gets a wink and a shimmy for his donation. As I'm straightening, I spot another man on the other side of the stage.
His posture is slouched, one leg kicked out, the other under his chair, but somehow I can tell he isn't really relaxed. There's tension in the long lines of his body. There's power.
And that makes me nervous.
I spin away and shake my sh!t for the opposite side of the room, even though there's barely anyone there. It's only a matter of time before I need to face him again. But I don't need to look at him. They don't pay me to look them in the eye.
Still I can't help but notice his leather boots and padded jacket. Did he ride a motorcycle? It seems like that kind of leather, the tough kind. Meant to withstand weather. Meant to protect the body from impact.
The song's coming to a close, my routine is coming to an end, and I'm glad about that. Something about this guy is throwing me off. Nothing noticeable. My feet and hands and knowing smile still land everywhere they need to. Muscle memory and all that. But I don't like the way he watches me.
There's patience in the way he watches me. And patience implies waiting.
It implies planning.
I reach back and unclasp my bra. I use one hand to cover my breasts while I toss the bra to the back of the stage. I pretend to be shy for a few seconds, and suddenly, I feel shy too. Like I'm doing more than showing my breasts to strangers. I'm showing him. And as I stand there, hand cupping my breasts, breath coming fast, I feel his patience like a hot flame.
This time I do miss the beat. I let go on the next one, though, and my breasts are free, bared to the smoky air and the hungry eyes. There are a few whistles from around the room. Charlie holds up another five dollar bill. I sway over to him and cock my hip, letting him shove the bill into my thong, feeling his hot, damp breath against my breast. He gets close but doesn't touch. That's Charlie. He tips and follows the rules, the best kind of customer.
I don't even glance at the other side of the room. If the new guy is holding up a tip, I don't even care. He doesn't seem like the kind of guy who follows rules. I don't know why I'm even thinking about him or letting him affect me. Maybe my run-in with Blue made me more skittish than I'd realized.
All I have left is my finale on the pole. I can get through this.
This part isn't as physically strenuous as before. Or as long. All I really need to do is grind up against the pole, front and back, emphasizing my newly naked breasts, pretending to fuck.
That's what I'm doing when I feel it. Feel him.
I'm a practical girl. I have to be. But there's a feeling I get, a prickle on the back of my neck, a churning in my gut, a warning bell in my head, when I'm near one of them. Near a cop. My eyes scan the back of the room, but all I can see are shadows. Is there a cop waiting to bust someone? A raid about to go down?
My gaze lands on the guy near the stage. Him? He doesn't look like a cop. He doesn't feel like a cop. But I don't trust looks or feelings. All I can trust is the alarm blaring in my head: get out, get out, get out.
I can barely suck in enough air. There's only smoky air and rising panic. Blood races through me, speeding up my movements. A cop. I feel it like some kind of sixth sense.
Maybe he feels my intuition about him, because he leans forward in his seat.
In one heart-stopping moment, my eyes meet his. I can see his face then, drawn from charcoal shadows.
Beautiful, his lips say. All I can hear is the song.
I'm not even on beat anymore, and it doesn't matter. It doesn't matter because there's a cop here, and I have to get out. Even if my intuition is wrong, it's better to get out. Safer.
I'll never be safe.
The last note calls for a curtsey—a sexy, mocking thing I choreographed into my routine. Like the one I'd do at the end of a ballet recital, made vulgar. I barely manage it this time; a rough jerk of my head and shoulders. Then I'm gone, off the stage, running down the hallway. I'm supposed to work the floor next, see who wants a lap dance or another drink, but I can't do that. I head for the dressing room and thrown on a T-shirt and sweatpants. I'll tell them I feel sick and have to leave early. They won't be happy, and I'll probably have to pay for it with my tips, but they won't want me throwing up on the customers either.
I run for the door and almost slam into Blue.
He's standing in the hallway again. Not slouching this time. There's a new alertness to his stare. And something else—amusement.
"Going somewhere?" he asks.
"I have to… my stomach hurts. I feel sick." I step close, praying he'll move aside.
He reaches up to trace my cheek. "Aww, should I call the doctor?" His hand clamps down on my shoulder. "I wouldn't want anything bad to happen to you."
I grip my bag tight to my chest, trying to ignore the threat in his words. And the threat in his grip. I really do feel sick now, but throwing up on him is definitely not going to help the situation. "Please, I need to leave. It's serious. I'll make it up later."
He'll know what I'm saying. That I'll make it up to him personally. I'm just desperate enough to promise that. Desperate enough to promise him anything. And he's harassed me long enough that I know it's a decent prize. I'm sure he'll make it extra humiliating, but I'm desperate enough for that too.
"Please let me go." The words come out pained, my voice thin. It feels a little like my body is collapsing in on itself, steel beams bending together, something crushing me from the outside.
Regret flashes over his face, whether for refusing my offer or forcing me that low. But this time, he doesn't let me go. "There's a customer asking for you. He wants a dance."
Want more? Check out these posts!