Thank you for the advanced copy of EGOMANIAC by Vi Keeland.  All opinions are my own.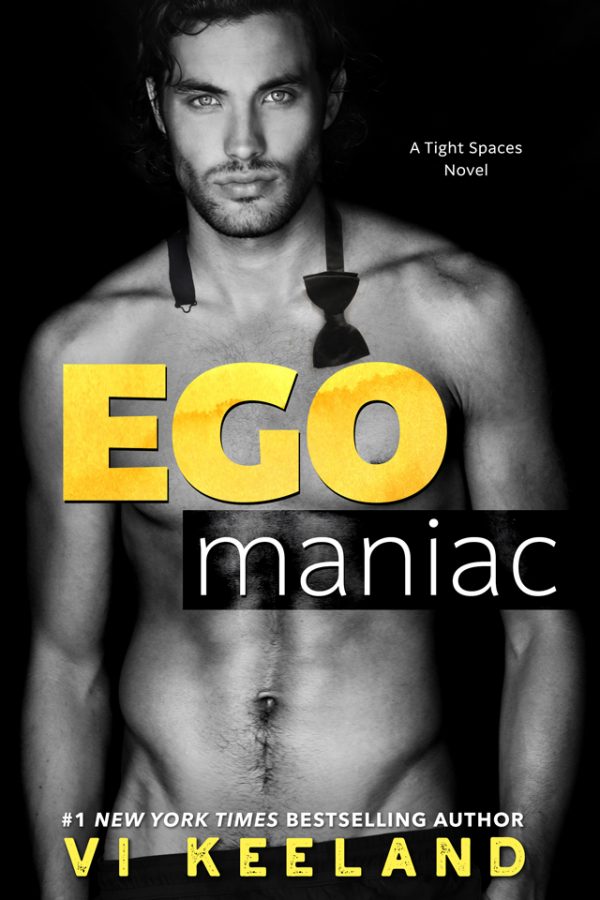 Money or love? Which would you choose?

You probably just answered the question in your head thinking it's an easy decision.

For me, it's not. Did I mention it's a lot of money? A hell of a lot.

I needed to go far away to think it through.

As I embarked on an impulsive trip, I hit a detour when I met sexy Carter in the airport lounge. We struck up a heated conversation.

Then, he left.

I thought I'd never see him again.

But fate had other plans.

Surprise! He was the pilot of my flight.

The bigger surprise was the adventure that followed after the plane landed.

Carter was dangerous and always on the move.

Even though our connection was magnetic, I knew it was only temporary.

He would give me tickets, and I would follow him around the world to exotic places.

A bevy of flight attendant exes and rumors about Carter's reputation were never far behind.

I didn't know what to believe.

But I was addicted. Nothing else mattered anymore. And I was going to get hurt. Because a part of me wanted to be the one to finally ground the playboy pilot.

At the very least, he was taking me on a thrilling ride.

All good things must come to an end, right?

Except our ending was one I didn't see coming. 
Note: Clicking links on this site will take you to the retailer's purchase page.
Totally Bex is a participant in the Amazon Services LLC Associates Program, an affiliate advertising program designed to provide a means for us to earn fees by linking to Amazon.com and affiliated sites.

Just seeing Egomaniac's cover and reading the blurb were enough to make me want to pick up this book. Then I started reading it and before I knew it, I was done.
I enjoyed every minute of read this little gem of a story about a divorce lawyer and a marriage counselor who are opposites in just about every way. Egomaniac has everything I love about Vi Keeland's books—it's funny, it's heartfelt, and it's pretty dang hot.
Drew Jagger is a divorce lawyer in New York City who returns from vacation to find a stranger taking up residence in his office. Emerie Rose is new to the city and found a sweet deal on office space. Turns out, the deal is too good to be true and now she's lost her life savings and has nowhere to work.
After a series of unfortunate events, Drew takes pity on Emerie and lets her stay for a couple of months. Of course, working so close together leads to conversation, which leads to, well, you know.
From the bubbly banter to the sizzling and sexy shenanigans, Vi knocks it out of the park! I loved Drew and Emerie from the very first page and couldn't wait to see how she was going to crack his cynical shell. Once she does, everything between them gave me big, squishy feelings.
Everything works so well together from the storyline to the characters themselves. It feels authentic and genuine, but also polished and purposeful. Egomaniac is easily my favorite of Vi's solo books and I can't wait for the next one!
DREW
I hate New Year's Eve.
Two hours in traffic to make it not even the nine miles home from LaGuardia. It was after ten o'clock at night. Why weren't all these people at a party by now? Whatever tension two weeks in Hawaii had relieved was already back to coiling tighter and tighter inside me as the town car inched its way uptown.
I tried not to think about all the work I was coming back to—the endless string of other people's problems to compound my own:
She cheated.
He cheated.
Get me full custody of the kids.
She can't have the house in Vail.
All she wants is my money.
She hasn't given me a blowjob in three years. Listen, a$$hole, you're fifty, bald, pompous, and shaped like an egg. She's twenty-three, hot, and has tits so young they almost reach up to her chin. You want to fix this marriage? Come home with ten Gs in fresh, crisp bills, and tell her to get on her knees. You'll get your blowjob. She'll get her spending money. Let's not pretend it was ever more than it really was. That doesn't work for you? Unlike your soon-to-be ex-wife, I'll take a check. Make that out to Drew M. Jagger, Attorney at Law.
I rubbed the back of my neck, feeling slightly claustrophobic in the back of the Uber, and looked out the window. An old lady with a walker passed us.
"I'll get out here," I barked at the driver.
"But you have luggage?"
I was already exiting the back of the car. "Pop the trunk. It's not like we're moving anyway."
Traffic was at a dead stop, and it was only two blocks to my building. Tossing a hundred-dollar tip at the driver, I grabbed my suitcase from the trunk and took in a deep breath of Manhattan.
I loved this city as much as I hated it.
575 Park Avenue was a restored pre-war on the southeast corner of Sixty-Third Street—it was an address that gave people preconceived notions about you. Someone with my last name had occupied the building since before the place was converted into overpriced co-ops. Which is why my office was allowed to remain on the ground floor when other commercial tenants were tossed out years ago. I also lived on the top floor.
"Welcome back, Mr. Jagger." The uniformed doorman greeted me as he swung open the lobby door.
"Thanks, Ed. I miss anything while I was gone?"
"Nah. Same old, same old. Peeked in on your construction the other day, though. Looking good."
"They use the service entrance down Sixty-Third like they were supposed to?"
Ed nodded. "Sure did. Barely heard them the last few days."
I dropped my luggage inside my apartment, then headed back downstairs in the elevator to check things out. For the last two weeks, while I was screwing off in Honolulu, my office space had been getting a total renovation. Cracks in the high, plastered ceilings were to be patched and painted, and new floors installed to replace the old, worn parquet.
Thick plastic remained taped over all of the interior doorways when I walked in. The little furniture I hadn't put in storage was also still covered with tarps. Sh!t. They aren't done yet. The contractor had assured me there would only be finish work left by the time I returned. I was right to be skeptical.
Flicking on the lights, I was happy to find the lobby completely done, though. Finally, a New Year's Eve with no horrible surprises for a change.
I took a quick look around, pleased with what I found, and was just about to leave when I noticed a light streaming from under the door of a small file room at the end of the hallway.
Thinking nothing of it, I headed to turn it off.
Now, I'm six foot two and a half, two hundred and five pounds, and maybe it was just my frame of mind, my not expecting to see anyone, but when I opened the door to the file room, finding her there scared the living crap out of me.
She screamed.
I took a step back through the door.
She got up, stood on the chair, and began yelling at me, waving her cell phone in the air.
"I'll call the police!" Her fingers shook as she dialed nine, then one, and hovered over the last one. "Get out now, and I won't call!"
I could have lunged for her, and the phone would have been out of her hand before she realized she hadn't dialed the final digit. But she looked terrified, so I retreated another step and put my hands up in surrender.
"I'm not going to hurt you." I used my best soothing, calm voice. "You don't need to call the police. This is my office."
"Do I look stupid to you? You just broke into my office."
"Your office? I think you took a wrong turn at the corner of Crazy and Nutjob."
She wobbled atop the chair, holding both arms out to regain her balance, and then…her skirt fell to her feet.
"Get out!" She crouched down and grabbed her skirt, tugging it up to her waist as she turned her back to me.
"Do you take medication, ma'am?"
"Medication? Ma'am? Are you joking?"
"You know what?" I motioned to the phone she was still holding. "Why don't you push that last one and get the police over here. They can drive you back to whatever loony bin you escaped from."
Her eyes widened.
For a crazy person—now that I was really looking—she was pretty damn cute. Fiery red hair piled on top of her head seemed to match her firecracker personality. Although from the looks of her blazing blue eyes, I was glad I'd held off on telling her that.
She pushed one and proceeded to report the crime of entering one's own office. "I'd like to report a robbery."
"Robbery?" I arched an eyebrow and looked around. A lone folding chair and crappy metal folding table were the only furniture in the entire space. "What exactly am I stealing? Your winning personality?"
She amended her complaint to the police. "A breaking and entering. I'd like to report a breaking and entering at 575 Park Avenue." She paused and listened. "No, I don't think he's armed. But he's big. Really big. At least six feet. Maybe bigger."
I smirked. "And strong. Don't forget to tell them I'm strong, too. Want me to flex for you? And maybe you should tell them I have green eyes. Wouldn't want the police to confuse me with all the other really big thieves hanging out in my office."
After she hung up, she stayed standing on the chair, still glaring at me.
"Was there also a mouse?" I asked.
"A mouse?"
"Considering you jumped up on that chair." I chuckled.
"You find this funny?"
"Oddly, I do. And I have no f*cking idea why. It should annoy the crap out of me that I come home from a two-week vacation and find a squatter in my office."
"Squatter? I'm no squatter. This is my office. I moved in a week ago."
She bobbled again while standing on her chair.
"Why don't you get down? You're going to fall off that thing and get hurt."
"How do I know you're not going to hurt me when I get down?"
I shook my head and contained my laugh. "Sweetheart, look at the size of me. Look at the size of you. Standing on that chair isn't doing jack sh!t to keep you safe. If I wanted to hurt you, you'd be out cold on the floor already."
"I take Krav Maga classes twice a week."
"Twice a week? Really? Thanks for the warning."
"You don't have to ridicule me. Maybe I could hurt you. For an intruder, you're really kind of rude, you know."
"Get down."
After a full minute stare-off, she climbed off the chair.
"See? You're as safe on the ground as you were up there."
"What do you want from here?"
"You didn't call the police, did you? You almost had me there for a second."
"I didn't. But I can."
"Now why would you go and do that? So they can arrest you for breaking and entering?"
She pointed down at her makeshift desk. For the first time, I noticed papers all over the place. "I told you. This is my office. I'm working late tonight because the construction crew was so loud today that I couldn't get done what I needed to. Why would anyone break and enter to work at ten-thirty at night on New Year's Eve?"
Construction crew? My construction crew? Something was going on here. "You were here with the construction crew today?"
"Yes."
I scratched my chin, half believing her. "What's the foreman's name?"
"Tommy."
Sh!t. She was telling the truth. Well, at least some of it had to be the truth. "You said you moved in a week ago?"
"That's right."
"And you rented the space from whom, exactly?"
"John Cougar."
Both my brows shot up this time. "John Cougar? Did he drop the Mellencamp, by chance?"
"How should I know?"
This wasn't sounding good. "And you paid this John Cougar?"
"Of course. That's how renting an office suite works. Two months' security, first and last month's rent."
I shut my eyes and shook my head. "Sh!t."
"What?"
"You got conned. How much did all of that cost you? Two months' security, first and last month? Four months in total?"
"Ten thousand dollars."
"Please tell me you didn't pay cash."
Something finally clicked, and the color drained from her pretty face. "He said his bank was closed in the evening, and he couldn't give me the keys until my check cleared. If I gave him cash, I could move in right away."
"You paid John Cougar forty thousand dollars in cash?"
"No!"
"Thank God."
"I paid him ten thousand in cash."
"I thought you said you paid four months."
"I did. It was twenty-five hundred a month."
That did it. Of all the crazy sh!t I'd heard so far, thinking she could get space on Park Avenue for twenty-five hundred a month took the cake. I broke out in a fit of laughter.
"What's so funny?"
"You're not from New York, are you?"
"No. I just moved here from Oklahoma. What does that have to do with anything?"
I took a step closer. "I hate to break the news to you, Oklahoma, but you got ripped off. This is my office. I've been here for three years. My father the thirty before that. I was on vacation the last two weeks and had the office remodeled while I was gone. Someone named after a singer scammed you into giving him cash to rent an office he had no right to rent. Doorman's name is Ed. Walk through the main building entrance, and he'll verify everything I just said."
"That can't be."
"What do you do that you need office space?"
"I'm a psychologist."
I held out my hand. "I'm an attorney. Let me see your contract."
Her face fell. "He hasn't brought it by yet. He said the landlord was in Brazil on vacation, and I could move in, and he would come back on the first to collect the rent and bring me the contract to sign."
"You've been scammed."
"But I paid him ten thousand dollars!"
"Which is another thing that should have tipped you off. You couldn't rent a closet on Park Avenue for twenty-five hundred a month. Didn't you find it strange that you were getting a place like this for next to nothing?"
"I thought I was getting a deal."
I shook my head. "You got a deal alright. A raw deal."
She covered her mouth. "I think I'm going to be sick."
Want more? Check out these posts!