Thank you for the advanced copy of PUCKED OFF by Helena Hunting.  All opinions are my own.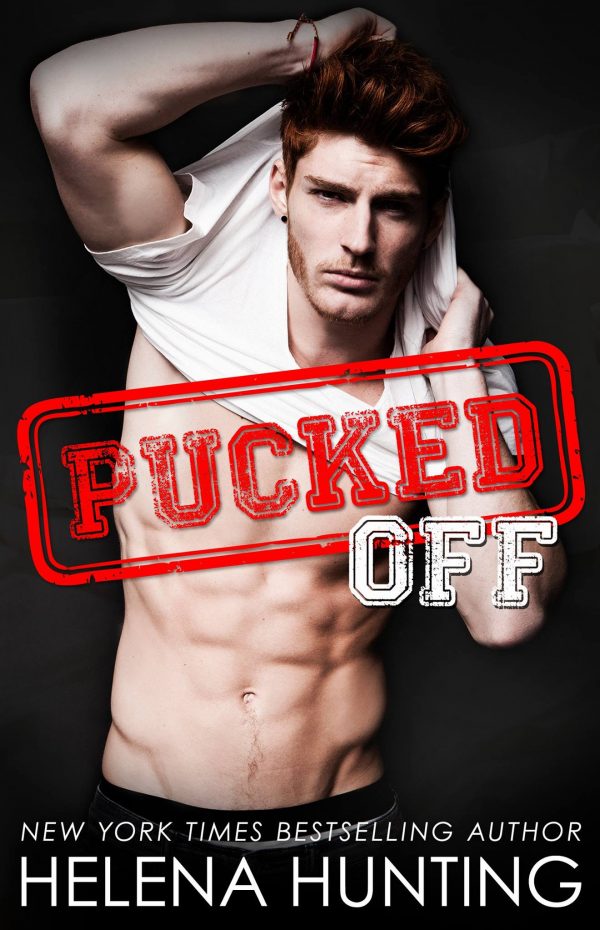 I'm NHL defenseman Lance Romero, AKA Lance "Romance."

I'm notorious for parties and excess. I have the most penalty minutes in the league. I get into the most fights. I take the most hits. I'm a player on and off the ice. I'm the one women with no inhibitions want.

Not because I like the notoriety, but because I don't know how to be any other way.

I have secrets. Ones I shared with the wrong person, and she used them against me. Sometimes she still does. I should cut ties. But she makes it difficult, because she's the kind of bad I deserve.

At least that's what I believed until someone from my past gets caught up in my present. She's all the good things in this world. She lights up my dark.

I shouldn't want her.

But I do.

I should leave her alone.

But I won't.
Note: Clicking links on this site will take you to the retailer's purchase page.
Totally Bex is a participant in the Amazon Services LLC Associates Program, an affiliate advertising program designed to provide a means for us to earn fees by linking to Amazon.com and affiliated sites.
Other books in this series:

Remember back in the 'early days' of indie romance, every other book was "Beautiful This" and "Beautifully That"?  I've decided that if Pucked Off were to be named in this style, it would be "Beautifully Broken Hockey Hero." 
Lance is a perfect example of a hero who had a rough childhood, suffered at the hands of those who were supposed to love him, and then made some astoundingly bad choices as a result. 
Once he meets Poppy, though, things start to look up for Lance, and I couldn't have loved her more for it.
In the previous Pucked books, we learned that something went down with Tash, the team's trainer, and Lance—and it didn't end well.  He's partying hard, drinking too much, and being a jerk to his friends. 
Pucked Off shows us that things weren't what they seemed and Tash isn't as innocent as she tried to make herself out to be.
Poppy's first kiss was with an older boy name Lance, who went to her school for a short period, in a closet during a game of Seven Minutes in Heaven.  They went their separate ways, but Poppy never forgot that kiss. 
After a couple of 'missed connections' years later, Lance ends up on her massage table, and she realizes that he has no clue who she is. 
Once he does, though, their whirlwind romance is full of steam, heartbreaking revelations, and significant healing for them both.
"Poor Lance" is all I kept thinking while reading this story.  Every time he revealed another aspect of his childhood trauma or showed why he reacts the way he does, I just wanted to wrap him up in bubble wrap and give him a huge bag of gummy bears. 
Poppy is the perfect heroine to counteract the horrible things ingrained into his psyche.  She's bright and cheerful, understanding and patient, kind and loving.  I adored her almost as much as Lance did.
Pucked Off is a much more serious story in the sometimes-silly series, but trust Helena to make it all ok.  Lance may be broken, but he's not beyond repair. 
Hold on to your heart because it will definitely go for a ride, but it will all be worth it—I promise!
Armed with my clipboard, I walk down the hall to the waiting room. Lance is impossible to miss. Despite the fact that he's wearing a sweatshirt and the hood is covering half of his face, he's more than six feet of broad, hockey-playing man.
He's so wide his shoulders encroach on the chairs on either side, which would explain why no one is sitting next to him. He's slouched down so his head rests on the back of the chair, and his hands are clasped in his lap, a baseball cap hanging off one knee. His lips, plush and soft—I know since I've had them on mine; it might have been a decade ago, but I remember it clearly—are parted. He looks like he's asleep.
I clear my throat. "Lance Romero?"
He doesn't move.
Bernadette, the receptionist, gives me a meaningful look.
I clear my throat again and call his name a second time. He jolts awake and the hood falls back, exposing his face. It's not in good shape. He has a black eye and bruises on his left cheek. There's a fly bandage across one eyebrow.
Sadly, he's still hot.
He blinks a few times, yawns, and smacks his lips, his tongue touching the split in the bottom one. His gaze sweeps the room and finally lands on me. Heat explodes in my cheeks and courses through my limbs, warming me from the inside out as he starts at my sneaker-clad feet and roams up over my yoga pants to my company-issued T-shirt before stopping at my face. I can't look directly at him for more than a couple of seconds. I sincerely hope he doesn't remember me. I cannot go there and also be professional.
I'm sure the smile he gives me has melted many a panty off a slutty bunny. Mine stay right where they're supposed to, wedged up my a$$.
I force a polite, professional veneer. "I'm ready for you now."
Want more? Check out these posts!