Thank you for the advanced copy of DEEP REDEMPTION by Tillie Cole. All opinions are my own.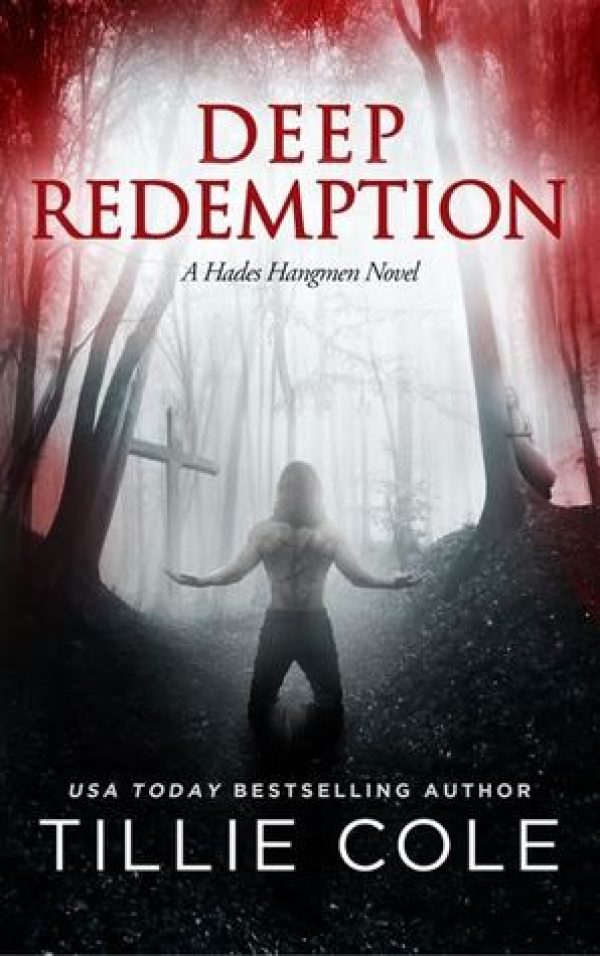 ONLY THROUGH BLOOD CAN THE DEEPEST REDEMPTION BE FOUND…

He was born to ascend.
He was destined to lead.
He was never meant to fail.

Prophet Cain lies broken and defeated on the floor of his cell. A cell he has been thrown into by the one person who was supposed to stand by his side until the end. His flesh and blood, his only companion. His beloved twin brother.

Cain has sacrificed everything for his people. He left the safety and security of his life of study to infiltrate the infamous Hades Hangmen. He lived with them, rode with them, and then betrayed them. All in the name of a faith he can now feel slipping away from him. Like everything else he once held dear…

But then his isolation is broken. Another prisoner is brought to the cell next to his. A woman fighting her own demons and fears. A woman who Cain understands needs him, as he needs her.

As the connection between them grows, so does Cain's resolve. He will right the wrongs he has done. He will atone for the evil acts carried out in his name. He will save the one he loves…

… Even if the battle takes him to the gates of hell itself.
Note: Clicking links on this site will take you to the retailer's purchase page.
Totally Bex is a participant in the Amazon Services LLC Associates Program, an affiliate advertising program designed to provide a means for us to earn fees by linking to Amazon.com and affiliated sites.
Other books in this series:
Deep redemption, indeed.  After everything the Hangmen have suffered at Prophet Cain's hand, his story was the last one I wanted to read. 
But Tillie Cole did the impossible and reminded me that even the worst human beings are worthy of salvation.  She stripped Cain bare, down to his soul, and showed me what was in his heart.  She made me care about the man and even had me rooting for him to have a happy ending.  That's some writing magic, right there.
Deep Redemption picks up where Souls Unfractured left off.  Prophet Cain has been betrayed by his brother, Judah, and thrown into a cell.  While Judah assumes Cain's identity, Cain suffers through daily torture at the hands of the guards. 
His brother is determined to have revenge against the Hangmen and there isn't anything Cain can do to stop it.
Harmony is an outcast from the commune.  When she is discovered to be one of the "Cursed", she is brought back to Texas to marry Prophet Cain (Judah) to fulfill the prophecy.  Even though she knows of the atrocities that occur within the cult, Harmony feels that it is her duty to try to save the unwitting members of the cult from certain doom.  She is kept secluded in a cell, where she has clandestine conversations with the man kept in the room next to hers.
I knew that the woman who was paired with Cain would have to be very special, but I was surprised to find how similar Harmony and Cain were.  They form a deep bond through their conversations and it is so sweet and unadulterated. 
As I said, I never expected to root for them, but I was drawn into their relationship and couldn't wait to see how they would get out of their predicament.  The whole storyline was just so, so good.
This series seems to just keep getting better.  The books are wrought with tension, filled with action, and reveal more and more twists as they go along.  I'm completely addicted and I can't wait to see what happens in AK and Phebe's book, Damnable Grace!
Want more? Check out these posts!