Thank you for the advanced copy of NO PANTS REQUIRED by Kim Karr.  All opinions are my own.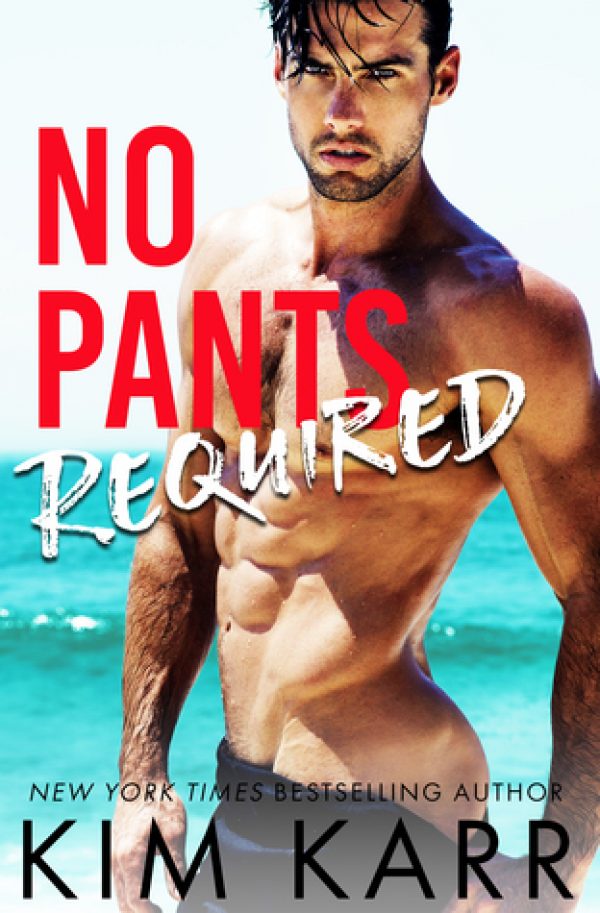 I, Makayla Alexander, am on a mission to reinvent myself. So when a super hot guy boards the plane and flashes his rock hard abs, I pay attention. When he sits next to me and offers me his nuts, I can't resist. But when I choke on them and he tells me I need to work on my gag reflex, I realize I might be in over my head.

Before I know it we're in the lavatory and attempting to join the Mile High Club. Let me just say this…anyone who tells you it's easy to get it on at 37,000 feet isn't telling you the truth. After the flight attendant busts us for getting frisky in the air, the only thing that can ease my total and complete mortification is the simple fact that I am never going to see him again.

Hours later, I can't help but wonder if fate will ever allow me to become a new version of myself.

Because Fate, she's a fickle b!tch.

Case in point…my seatmate is my new next-door neighbor.

Even with the whole fate thing we have going on, we are so not meant to be together. He's all cool and sexy in that make love not war kind of way. Guys like him are dangerous. With that bring-you-to-your-knees body, that handsome-as-hell face, and that dirty, dirty mouth, I guarantee one glance from him wets every girl's bikini bottoms.

And then there's me…the quirky girl looking to find herself in California. All I want to do is learn to let loose. Say words like peace and groovy. Bury my toes in the sand. Who knows, maybe even have sex on the beach.

Unable to get him out of my head, I entertain the thought of being more than just friends. I know the idea is absurd. And yet, I go with it. You see Camden Waters gets me. Really gets me. Like no other guy has before.

On this 7-mile stretch of paradise, I decide to keep things simple and just have fun…that is until fate decides to screw with me, again.
Note: Clicking links on this site will take you to the retailer's purchase page.
Totally Bex is a participant in the Amazon Services LLC Associates Program, an affiliate advertising program designed to provide a means for us to earn fees by linking to Amazon.com and affiliated sites.
Other books in this series:

What would make a better beach read than a book set in California, complete with an adorable, dirty-talking lifeguard?  No Pants Required hits the spot with its light-hearted humor that's also heavy on the heat, making it the perfect companion for summer holidays.
After the one-two punch of losing his brother and having a horrible falling out with his father, Camden Waters is drifting through life.  He has moved to California to become a lifeguard instead of using his degree to go into the family business.  While in New York to attend a memorial service, he unwittingly meets Makayla at a bar.
Makayla is also making changes to her life after being unceremoniously dumped by her fiancé.  She quits her job, decides to move to California to live with her best friend, and focuses on reinventing herself—or at least rediscovering who she used to be.  While on the flight to California, things heat up between seatmates Makayla and Cam, leading to shenanigans at 35,000 feet.  Let's just say, it doesn't end well.
I loved the chemistry between Makayla and Cam.  They get hot and heavy quickly, while still trying to figure out where their lives are heading.  Cam is a complete flirt and a total dirty-talking lover.  However, there is a real tenderness between them that I wasn't expecting, but was a pleasant surprise.  Seeing them navigate through the uncertainties was both frustrating and ultimately, heartwarming.
There were a couple of points in the story where it felt like it had 'multiple personalities' and didn't know exactly what it wanted to be.  Also, a few of the plot points could have been more developed, especially where Cam and Makayla's family were concerned.  I loved the last quarter of the book, though, and that's where I connected most with the characters.
Overall, it was a fun and hot read with quirky characters, funny supporting cast, and a sweet story.  For my first book by Kim Karr, I'd say that I couldn't ask for anything more.
Want more? Check out these posts!