Thank you for the advanced copy of ROYALLY SCREWED by Emma Chase. All opinions are my own.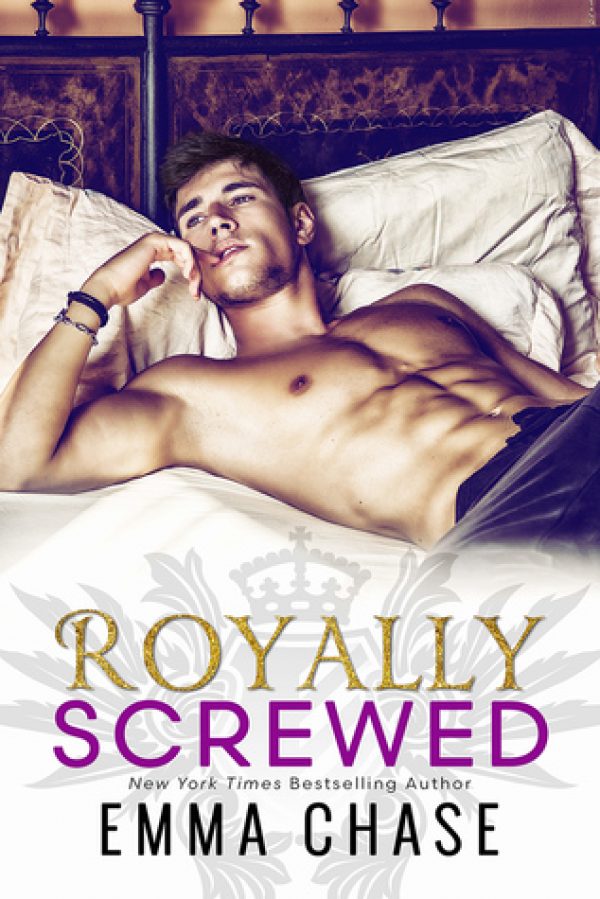 Nicholas Arthur Frederick Edward Pembrook, Crowned Prince of Wessco, aka His Royal Hotness, is wickedly charming, devastatingly handsome, and unabashedly arrogant; hard not to be when people are constantly bowing down to you.

Then, one snowy night in Manhattan, the prince meets a dark haired beauty who doesn't bow down. Instead, she throws a pie in his face.

Nicholas wants to find out if she tastes as good as her pie, and this heir apparent is used to getting what he wants.

Dating a prince isn't what waitress Olivia Hammond ever imagined it would be.

There's a disapproving queen, a wildly inappropriate spare heir, relentless paparazzi, and brutal public scrutiny. While they've traded in horse drawn carriages for Rolls Royces, and haven't chopped anyone's head off lately, the royals are far from accepting of this commoner.

But to Olivia, Nicholas is worth it.

Nicholas grew up with the whole world watching, and now Marriage Watch is in full force. In the end, Nicholas has to decide who he is and, more importantly, who he wants to be: a King… or the man who gets to love Olivia forever.
Note: Clicking links on this site will take you to the retailer's purchase page.
Totally Bex is a participant in the Amazon Services LLC Associates Program, an affiliate advertising program designed to provide a means for us to earn fees by linking to Amazon.com and affiliated sites.
Other books in this series:

What little girl hasn't had a Prince Charming dream?  You know, the one where you meet royalty and are swept off of your feet to live in a castle? Emma Chase takes this dream and uses it as the basis for Royally Screwed.  I was definitely swept off my feet by the cocky and dirty-talking Prince Nicholas!
Olivia's family owns a coffee shop in New York City.  After her mother's death, she is in charge of keeping her family and their business running.  She doesn't have time to date, so when a handsome man shows up on her doorstep, she doesn't think anything of it.  Little does she know at the time, he's actually a real-life prince.
Nicholas is a bachelor, but time is running out on his days of freedom.  While chasing after his errant brother in New York, he drunkenly insults a beautiful waitress at a coffee shop.  Once he sleeps it off, he realizes the error of his ways and tries to make amends.  Once he's seen Olivia sober, there's no stopping his lust to have her.
I loved every second of this story!  It's classic Emma Chase, from the excellent writing and storyline to the fantastic male point-of-view.  Olivia is headstrong and fiercely independent, not bending to the will of anyone including a prince.  Nicholas is definitely cocky, but he has a good heart and he knows what he wants.  Their banter is killer and their physical relationship is hot.  I loved it all.  So, if you have a Prince Charming dream of your own, be sure to read Royally Screwed.  You may never look at royalty the same way again!
She's even lovelier than I remembered, than I dreamed. Delicate midnight tendrils frame a face that belongs in a museum—with stunning dark sapphire eyes that should be commemorated in vibrant oils and soft watercolors. If Helen launched a thousand ships, this girl could raise a thousand hard-ons.
She's prettily made, the top of her head coming only to my chin, but fantastically curvy. Great full tits that strain the buttons of a wrinkled white blouse, shapely hips in a black skirt tapering to a tiny waist I could wrap my hands around and toned legs encased in sheer black tights finish off the whole package very nicely.
An unfamiliar anxiousness fizzes like soda in my gut.
"The door was open," I explain.
"It's broken."
Logan flicks at the lock. Security is his life, so a broken lock would annoy him like a puzzle with the final piece missing.
"What do you want?"
She has no idea who I am. It's in the defensive way she holds herself and the accusatory note in her voice. Some women try to pretend they don't recognize me, but I can always tell. Her ignorance is rather…thrilling. There are no expectations, no hidden agendas, no reasons to pretend—what she sees is what she gets. And all she sees is me.
My throat is suddenly a barren wasteland. I swallow, but it's difficult.
"Well, he's desperate for some pie." I hook my thumb at Simon. "And I…wanted to apologize for the other evening. I don't normally act that way. I was on a bit of bender…"
"In my experience, people don't do things when they're drunk that they wouldn't do normally."
"No, you're right. I would've thought all those things, but I never would've said them out loud." I move closer, slowly. "And if I'd been sober…my opening bid would've been much higher."
"She crosses her arms. "Are you trying to be cute?"
"No. I don't have to try…it just sort of happens."
Want more? Check out these posts!