Thank you for the advanced copy of SALVAGED by Jay Crownover. All opinions are my own.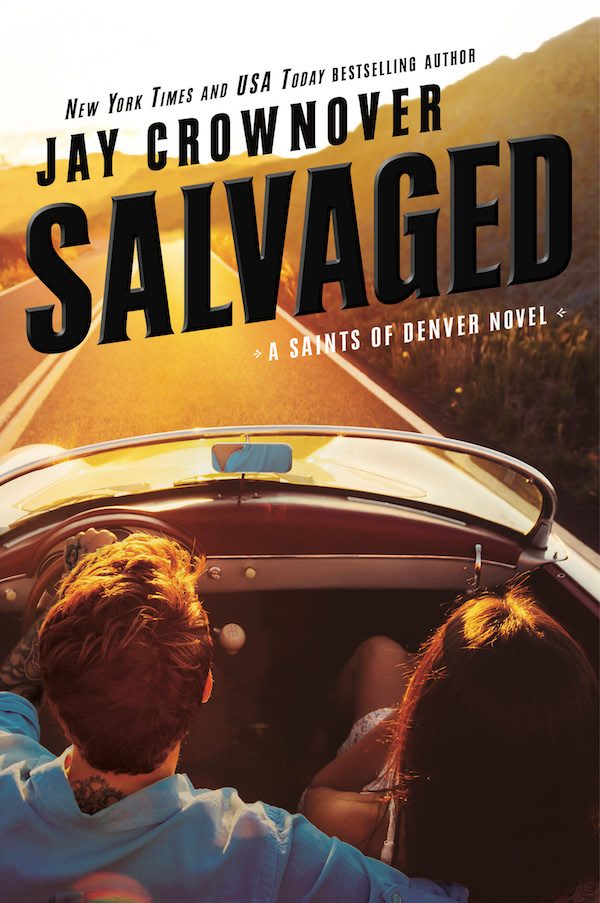 Hudson Wheeler is a nice guy. Everyone knows it, including his fiancée who left him with a canceled wedding and a baby on the way. He's tired of finishing last and is ready to start living in the moment with nights soaked in whiskey, fast cars, and even faster girls. He's set to start living on the edge, but when he meets Poppy Cruz, her sad eyes in the most gorgeous face he's ever seen hook him in right away. Wheeler can see Poppy's pain and all he wants to do is take care of her and make her smile, whatever it takes. 

Poppy can't remember a time when she didn't see strangers as the enemy. After a lifetime of being hurt from the men who swore to protect her, Poppy's determined to keep herself safe by keeping everyone else at arm's length. Wheeler's sexy grin and rough hands from hours restoring classic cars shouldn't captivate her, but every time she's with him, she can't help being pulled closer to him. Though she's terrified to trust again, Poppy soon realizes it might hurt even more to shut Wheeler out—and the intense feelings pulsing through her are making it near impossible to resist him. 

The only thing Poppy is sure of is that her heart is in need of some serious repair, and the more time she spends with Wheeler, the more she's convinced he's the only man with the tools to fix it. 
Note: Clicking links on this site will take you to the retailer's purchase page.
Totally Bex is a participant in the Amazon Services LLC Associates Program, an affiliate advertising program designed to provide a means for us to earn fees by linking to Amazon.com and affiliated sites.
Other books in this series:

I wasn't supposed to be looking at anything other than how to salvage the mess my life was in, but she was all I could see."
Jay Crownover brings the feels with Salvaged and I mean THE FEELS.  Poppy and Wheeler's histories are far from roses and rainbows, but with Jay's deft writing, all of the injustices of the past are skillfully explored.  
She takes you on a journey of two lost souls who need salvation more than anything in the world that will make you feel for and root for these characters until the very end.
If there were ever two people (albeit fictional) who deserve a chance at happiness and a happily ever after it would be Hudson Wheeler and Poppy Cruz.  They are both so lonely and scared and sad and angry, it will break your heart.  
All it takes is an abandoned puppy to start the beautiful healing process and bring these two broken people together.  Seeing them deal with the past and look to the future is so rewarding, since you know that it has been a hard-fought battle the whole way.
I'm so happy to finally read Poppy's story, I could cry.  Knowing about the horrific experience she had at the hands of her husband made me want to finally see her at peace.  
Wheeler is the perfect man for her and I am so happy that Jay put them together.  He is so patient and kind with Poppy, but he's also supportive and gives her the nudges she needs to step out of her broken shell.  I loved them so much together.
Everyone ends up a little bit out of place every now and then.  I'll put you back where you're supposed to be, Poppy."
Whether you have been reading this series from the beginning or just starting with this, the fourth book, I think you love Poppy and Wheeler as much as I do.  
It's funny, but with each book Jay releases, that couple becomes my new favorite.  I can't wait to see what she gives us next, as I am sure that will be my newest favorite of hers.
"Poppy." I whispered her name and she tilted her head back and blinked up at me.
"Wheeler." I was astounded that there was a hint of amusement in her voice. How she could find anything to laugh about after what she just told me was unfathomable. Her father had handed her off to a monster like it was nothing. She made her way out of hell with one of the purest hearts I had ever seen.
"I really want to give you a hug, probably more for me than for you, but I told you not to let anyone touch you without permission." I knew I sounded a little desperate but I didn't care. "So, can you put me out of my misery and give me permission to hold you, just for a second, please?"
Her eyes widened and then her obscenely long lashes dropped as she nodded timidly. "Okay, since you asked so nicely." The humor was now thick around every word and she was laughing for real as I carefully wrapped my arms around her.
I sighed into the top of her head as I pulled her to my chest. Her hair smelled like flowers and felt like silk as I rested my cheek against the soft strands. WE stood like that for a long time, me with my arms curled around her as she stood stock-still. I could feel her heart beat and I wanted to think it was racing like it was because she was affected by my touch rather than because she was terrified of being so close to a man she didn't know all that well.
I told myself not to breathe, not to move a single muscle, as her hands slowly lifted and gently touched my sides above the tops of my jeans. It felt like her palms were burning their imprint into my skin as they slowly, achingly started to inch their way around my back so that she was lightly holding me back. I heard her make a sound that may have been one of pleasure, but just in case it was one of fear, I leaned away from her so I could see her face.
Her gaze was centered on the tattooed candle that was burning bright and surrounded by light and smoke right on the center of my throat. She watched the movement as I swallowed hard and her gaze drifted up to mine.
"No one ever has ever asked me for permission for anything before. No one has ever cared what I wanted before." The murmur of her words brushed across the base of my throat and my c*ck went instantly hard. I knew she felt it because her eyes popped wide and her breath hitched as she looked up at me and ordered quietly, "Ask me what I want right now, Wheeler."
Want more? Check out these posts!