A standalone romance told in dual POV, THE KNOCKED UP PLAN by Lauren Blakely is about all of the fun, hotness, and heartfelt emotions that come when a single woman asks her gorgeous, jaded, sworn-to-be-single-forever good friend to get the job done.
What happens next when he agrees to provide the bun for her oven are lots of hot sexy times and heartfelt moments. Check out the excerpts below, and grab your copy today!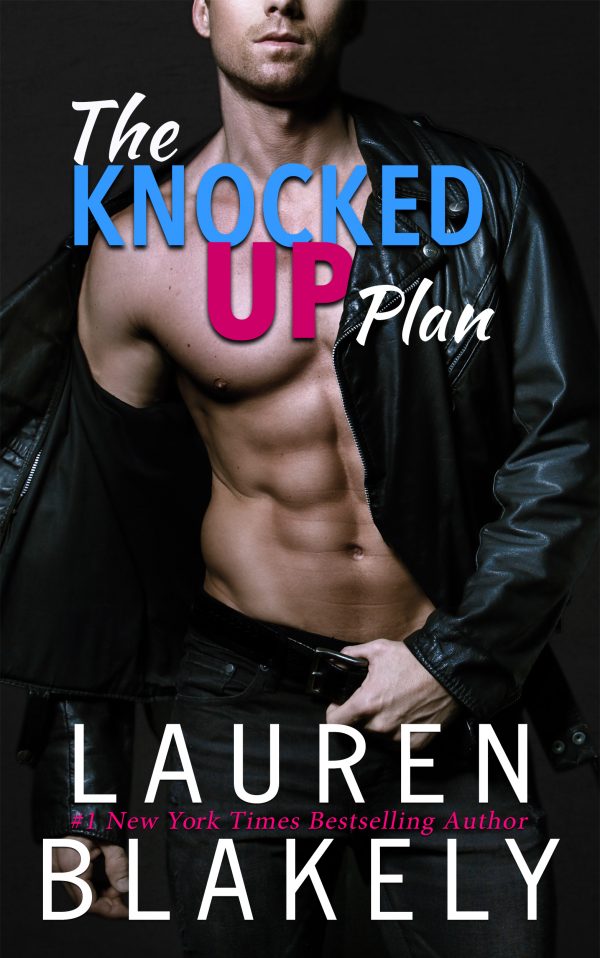 There are three little words most guys don't want to hear on the first date. Not those…I mean these… "knock me up."

This single gal has had enough of the games, the BS and the endless chase. I know what I want most, and it's not true love. It's a bun in the oven, and I'm not afraid to hit up my sex-on-a-stick co-worker to do the job. Ryder is gorgeous, witty and charming — and he's also a notorious commitment-phobe. That makes him the perfect candidate to make a deposit in the bank of me.

I won't fall for him, he won't fall for me, and there's no way baby will make three. Right?
****
There are four words every guy wants to hear on the first date — "your place or mine?"

When my hot-as-sin co-worker makes me a no-strings-attached offer that involves her place, my place, any place — as well as any position — I can't refuse. Besides, I've got my own reasons to take her up on her deal even with her one BIG condition.

There's no way I'll want more from one woman than any position, any where, any night? Except . . . what if I do?

Note: Be prepared to swoon and fan yourself from the heat! This full-length standalone contains lots of hot baby-making s-e-x, happy tears, naughty jokes and a hot, swoonworthy hero you will fall madly in love with. 
Note: Clicking links on this site will take you to the retailer's purchase page.
Totally Bex is a participant in the Amazon Services LLC Associates Program, an affiliate advertising program designed to provide a means for us to earn fees by linking to Amazon.com and affiliated sites.
Other books in this series:
"Ooh, look! A new one just was added to the database," Penny coos in excitement as she points to the screen.
We're gathered around my iPad at Speakeasy, our favorite Midtown haunt, perusing the latest offerings on a bank I've been in touch with in Manhattan.
"He's five-foot-nine. College educated. Plays the violin. And he has red hair," Delaney reads, then runs her fingers over the ends of my hair. "Do you want little redheaded babies?"
I laugh. "I think I'd like the choice whether they should have red hair or not, and clearly I'm only bringing recessive genes to the equation."
Penny swipes left dramatically as if the new donor is a Tinder no. "Anyone else? And are we ever going to see what they look like besides when they were five years old?"
I shake my head. "In most cases, only childhood photos of donors are posted. Every now and then you hear of a woman who's seen adult photos of her donor, but that's highly unusual, and only allowed at a few, select banks. It's actually quite rare to even see high school or college photos, since a lot of donors only do it because it's anonymous."
Penny points to the screen, reading another donor's profile in frustration. "Look. This guy is six feet, has blue eyes, played hockey in high school, went to UCLA, and works in tech. But what does he look
like?"
"Unfortunately, we're just going to have to imagine," Delaney says, with a heavy sigh.
Penny reaches for her red wine. "That makes me so sad I need a drink."
"And let's be honest, looks do matter," Delaney adds.
I nod vigorously. "They do. That doesn't make me vain, right?"
My girls shake their heads in unison, defending my stance. "We all want a cute elephant baby for our matriarchy," Penny says, patting my hand.
I laugh. "But seriously. You think it's reasonable to want a handsome donor, right? In addition to all the other things that are obviously critical. Not a serial killer. No criminal record. College degree. Height, etcetera, etcetera."
"Absolutely," Penny says, setting her wineglass down with a resounding smack. "How are you possibly supposed to say a green-eyed, five-foot-ten, college-educated man with no murder convictions is enough?"
"It's like online shopping without seeing what you're buying," Delaney adds. "Who buys anything on the Internet without seeing a photo? You don't shop for shoes just by the size, color, and style. You need to see them. Try them on."
"I don't think trying on is an option." I wink.
Delaney sticks out her tongue. "But you need to see the goods. You can't fly blind."
I reach for my water. No more chardonnay or mojitos for this mama-to-be. I've had all my health screenings, too, and my doctor sees no reason why I can't get pregnant. All I need is the other half. "I just wish I knew more about these men."
Penny peers at the site's latest offerings once more. "This is crazy. You can select whether someone has skills in auto mechanics, plumbing, or kickboxing. You can choose if your donor has detached earlobes, a particular kind of eye spacing, and his favorite subject in school. You can even opt for someone who's a good cook. But you can't see if his jawline is actually square, if his lips are truly full, or if he's as handsome as you've dreamed."
I scrunch my forehead and imagine my dream candidate. Briefly, my mind is blank, but then an image pops into my head. "I just wish I knew the guy was going to be a Ryder Lockhart level of hot," I say, matter-of-factly.
"Oh, he is a hottie," Penny says, and Delaney nods her agreement. They've both met him at my work events and the occasional group happy hour.
"He's gorgeous. Just the other day I found myself cataloging his features. He really does have it going on. Plus, he's smart and funny and good to animals."
Penny hums mournfully. "Too bad he's not a donor."
"Ha. Yeah, it's a bummer he hasn't made a deposit at this sperm bank." I tap the screen. "I'd order up one serving ASAP. Get that turkey baster inside me stat," I bark as if I'd be saying that to the nurses while I tell them to shoot me up with Ryder Lockhart's DNA.
Wait.
Ryder Lockhart's DNA.
The clouds part. The sun rises. The bells ring. Never have three words sounded more like a perfect solution to a problem.
"How does it work?" I ask. "The whole donation process."
She stabs a carrot slice, chews, and swallows. "Well, there's this thing guys do when they're horny. It's called"—she glances furtively from side to side—"jacking off."
"I'm well aware of how the protein shake is made. What I mean is, are we talking about one of those little rooms you go into?" I ask, since what man doesn't have an image of a jerk-off chamber? "With magazines or porn or whatnot?"
"Yes, they schedule the donors for forty-minute sessions in them."
"I'm more efficient than that, but that's good to know." I take another bite and chew. I set down the burger. "So, a nurse or orderly would escort me to a special room, and then I'd need to drop my drawers and whack off. Into a cup, right?"
"A plastic sample cup. With a top," she says, and I'm kind of amazed that she's answering every question like a champ. No blushing, no stammering.
"What do they provide for entertainment? Laptops? Computers? Or is it old school with Playboy?"
"They provide pornographic material in printed form as well as video on a TV screen."
"Awesome. So I just choke the chicken in a room with a ton of other dudes going at it in their own rooms, too. Hand a cup to the nurse. She seals up the goods. Then, what's next?"
"They do tests on your swimmers."
"They'll pass. Then you come in, maybe the same day, maybe a few days later?"
"Same day. We'd have to time everything to my cycle and when I'm ovulating."
"Fine, so they undress you, prop you up on an exam table, and stick a turkey baster into you?"
"You paint a lovely picture of the process."
I hold up a hand, waving her off. "Wait. I'm not done. You're in nothing but a hospital gown. The doc tells you to put your cute little feet in stirrups, and they stick that baster up inside what I am sure is an absolutely gorgeous and heavenly home," I say, because if she can complement my tadpoles, I can say something nice about the paradise between her legs. She mouths a thank you. "After the boys make the upstream trip, they send you home." I mime patting her on the rear and then sending her out the door.
"I think you've got the basic idea."
"And after that?"
"That's all," she says. "That's all I'd want you to do. I don't expect or want any involvement. I'd have all the paperwork drawn up in advance saying there are no legal rights, responsibilities, or expectations of parenting, and no financial commitments required."
I'm almost ashamed to admit it, but that's the clincher for me—the lack of involvement. If I'm ever going to raise a child, I'm damn well going to do it right. The whole nine yards, two parents, just like my mom and dad raised my brother, my sister, and me.
Nicole isn't asking me to sign up for daddy duty, though. She doesn't want me to help with diaper detail or midnight feedings.
She's a friend asking for the help she needs so she can then do those things on her own.
And helping a friend seems like something I should consider.
Fine, she's asking for a hell of a lot more than a dude to put together an IKEA TV stand, and those things are beyond Da Vinci Code-level cryptic. I'd like to see Robert Langdon decipher some IKEA assembly instructions. Good luck with that, Harvard symbologist.
I like Nicole. I respect the dickens out of this woman. I want to take her request as seriously as she's asking it. "Can I have a few days to think about it?"
"Of course. Take all the time you need," she says, then glances at an imaginary watch on her wrist. "It's only my biological clock ticking."