This post contains affiliate links you can use to purchase the book. If you buy the book using that link, I will receive a small commission from the sale at no additional cost to you.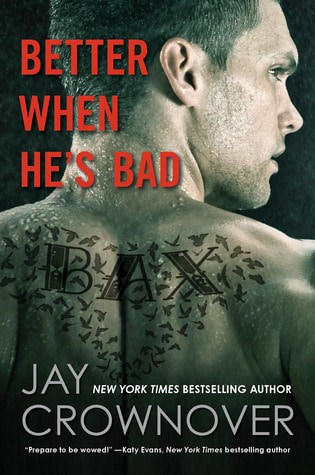 Better When He's Bad
by
Jay Crownover
Series:
Welcome to the Point #1
Also in this series:
Better When He's Brave
June 17th 2014
Genres:
Contemporary Romance
,
New Adult
,
Romantic Suspense
Number of Pages:
384
My rating:


Kindle
Paperback
Welcome to the Point.

There's a difference between a bad boy and a boy who's bad . . . meet Shane Baxter.

Sexy, dark, and dangerous, Bax isn't just from the wrong side of the tracks, he is the wrong side of the tracks. A criminal, a thug, and a brawler, he's the master of bad choices, until one such choice landed him in prison for five years. Now Bax is out and looking for answers, and he doesn't care what he has to do or who he has to hurt to get them. But there's a new player in the game, and she's much too innocent, much too soft…and standing directly in his way.

Dovie Pryce knows all about living a hard life and the tough choices that come with it. She's always tried to be good, tried to help others, and tried not to let the darkness pull her down. But the streets are fighting back, things have gone from bad to worse, and the only person who can help her is the scariest, sexiest, most complicated ex-con The Point has ever produced.

Bax terrifies her, but it doesn't take Dovie long to realize that some boys are just better when they're bad.
My Review of Better When He's Bad
Fresh out of prison for car theft, Bax is a straight up badass. While trying to find his best friend, Race (who may also have helped send him in prison) he meets Dovie. She is a bit on the innocent and somewhat naïve side, but she is street smart and headstrong.
Dovie didn't grow up in The Point like Bax, but was dragged into the world that he is trying to get out of. They have to work together to find Race before the really bad guys do. Their relationship deepens as they search, and when they get together, their relationship is combustible.
I really liked Bax and Dovie as characters. She is strong, loyal, kind, warm, and caring. While working hard and going to college, she helps watch out for her neighbors, and volunteers with wayward kids. Shane (Bax) is a loyal friend, a fierce foe, and protective of those he loves. I felt like she was a good equalizer for Bax, who is better when he's a little bit bad.
However, Bax doesn't think he is good enough for someone as good as Dovie, but she shows him that he deserves a good life. It was heart warming to see her take care of him.
I don't know how love works, Dovie. I don't know how to be anything other than this, but I know the only thing that gives me hope is the idea of you and me. I know I'm not the ideal, not the dream guy, but no one will ever fight for you the way I will. I promise you that you will always have the best parts of me I have to give.
Also, I felt like The Point was so well described, it was like it's own living, breathing character.
The final showdown in the manhunt was riveting and unexpected.  Overall, I liked the romance and the suspense of the story. Like all of Jay Crownover's books, this one was well-written and I will definitely be reading the next in the series, Better When He's Bold (Race's story).