Thank you for the advanced copy of SOME SORT OF CRAZY by Melanie Harlow.  All opinions are my own.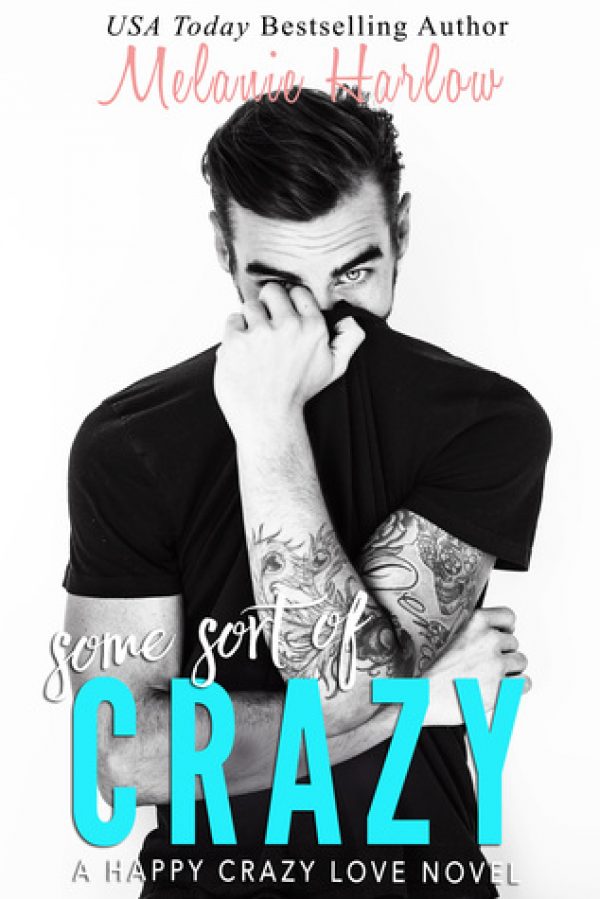 When a psychic tells Natalie Nixon her life is about to be upended by a mysterious stranger, she laughs it off. After all, she has everything she's ever wanted—a successful bakery, a the perfect boyfriend, and the keys to her dream house.

Who could possibly make her want to throw all that away?

Then Miles Haas comes back to town.

But he's no stranger—they've known each other since high school. Plus, he's only around for the summer, he's still a shameless playboy, and he makes a living writing articles for a men's magazine with titles like 'Should You Bang the Boss's Daughter? A Flowchart' and 'Butt Stuff for Beginners: A Field Guide.'

He's not the man of her dreams, and she's not about to abandon everything she's worked so hard for just for a little fun. Except he makes her laugh like no one else, smells like heaven, and looks sexy as hell in those panty-melting glasses.
Note: Clicking links on this site will take you to the retailer's purchase page.
Totally Bex is a participant in the Amazon Services LLC Associates Program, an affiliate advertising program designed to provide a means for us to earn fees by linking to Amazon.com and affiliated sites.
Other books in this series:

Some Sort of Crazy is a fun, flirty, and sexy friends-to-lover romance about Natalie and Miles. Natalie was first introduced as Skylar's younger sister in the first book of the series, Some Sort of Happy.
Of the three sisters, Natalie is the grounded, regimented one. She has her entire life planned out and she is sticking to that plan–no matter what. She owns her own business, has purchased her own home, and has a boyfriend that she has been with since high school. Things have gotten a little stale with the seemingly perfect boyfriend, but she thinks everything will work itself out. It takes a trip to a psychic and an old friend coming back into town to see just how wrong she was.
Natalie and Miles have some serious chemistry. Even when they are 'just friends', you can feel their love and affection for one another.  I enjoyed watching their relationship grow and evolve.  Miles has a great inner dialogue and listening to him talk about feelings and love cracked me up.
Once things progress beyond friendship, the sexual heat just adds to that chemistry.  Miles is quite the dirty-talker–well, he is a professional sex columnist, so that isn't surprising–and I loved it. What was surprising to me was Natalie's reaction to it. It was awesome to see let her hair down and become more adventurous and uninhibited with Miles.
I really enjoyed Some Sort of Crazy. It is light and fun with just a hint of angst—which seems to be a specialty of Melanie Harlow's. If you are a fan of her writing, you will definitely enjoy this one!
The light was off in my room when I returned, and I could barely make out her shape under the blanket. Leaving my glasses on the bedside table, I slid between the sheets, careful to stay on my side. When was the last time a woman slept in my bed without orgasms being involved? I couldn't think of one time, actually. I didn't even know what to do with myself.
I lay there for a while on my back, hands beneath my head, breathing slowly and deeply, trying to stay calm. But I could smell her perfume, and it was making me hard again. F*ck! Was she asleep already? Could I rub one out without her knowing? I braved a look at her, and my eyes had adjusted to the dark enough to see that she was facing away from me, curled up on her side. Long, agonizing, minutes ticked by, during which I imagined rubbing my cock along the crack of her a$, which was sticking out in my direction. Taunting me.
"I lied to you last night." Her voice was so soft, I thought I might have imagined it. Or dreamed it.
"Huh?" Stop thinking about her a$.
She rolled to her other side and faced me, tucking her hands beneath her cheek. "I lied last night. I told you I didn't remember what you said to me the night we said goodbye. The night before you left for school."
I blinked in surprise. "Oh."
"Did you really mean the things you said?"
"Of course I meant them. I stand by every word I've ever said to you." And my cock is standing straight up right now. So if you could please stop being beautiful and sexy and vulnerable, I'd appreciate it. Thanks.
She took a shuddery breath. "And yet…tonight, you wouldn't—"
"Tonight was not about us, Natalie."
"But…what if it was?" She paused. "What if it could be?"
F*ck, was she serious? Because I wanted that. I wanted a night that was just about us, wanted to show her what it was like to be with someone who appreciated her. Just one night, even if it was all we ever had. But I couldn't be the one to initiate it, not without knowing it was really OK.
"Natalie," I started, but she interrupted me.
"I'm lying here thinking, a week ago my life seemed so complete, everything in order. My relationship. My business. My house. I had everything I wanted."
"And now?"
"Now I feel like I've been missing something. Like maybe I was wrong about what I wanted. I feel…lost." She looked at me with her huge, round blue eyes, making my whole body heat up.
"You're not lost." Rolling onto my side, I met her forehead with mine. "You're right here with me."
And I kissed her. Just like that, I kissed her.
Want more? Check out these posts!