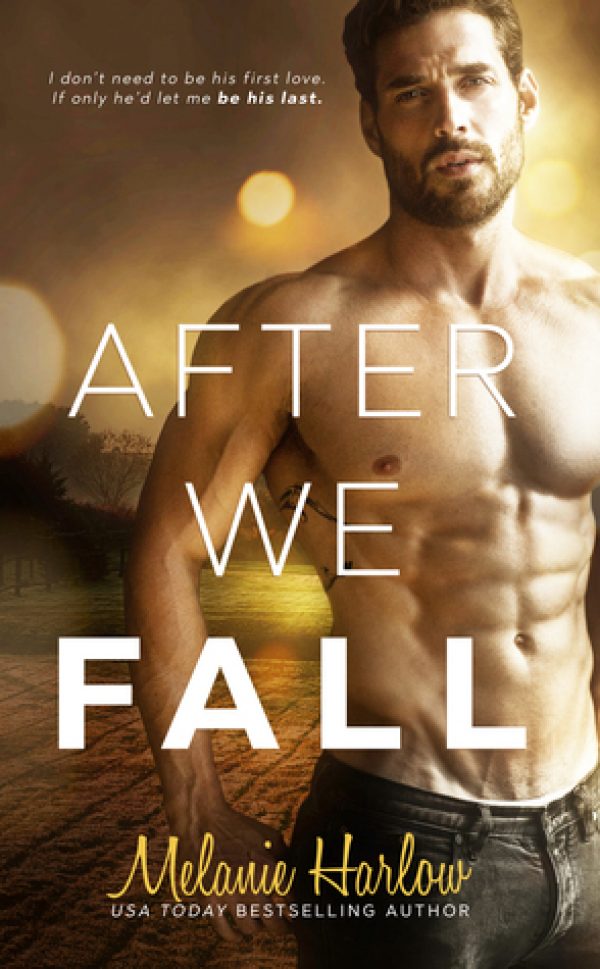 Jack Valentini isn't my type. 

Sexy, brooding cowboys are fine in the movies, but in real life, I prefer a suit and tie. Proper manners. A close shave.

Jack might be gorgeous, but he's also scruffy, rugged, and rude. He wants nothing to do with a "rich city girl" like me, and he isn't afraid to say so.

But I've got a PR job to do for his family's farm, so he's stuck with me and I'm stuck with him. His glares. His moods. His tight jeans. His muscles.

His huge, hard muscles.

Pretty soon there's a whole different kind of tension between us, the kind that has me misbehaving in barns, trees, and pickup trucks. I've never done anything so out of character—but it feels too good to stop.

And the more I learn about the grieving ex-Army sergeant, the better I understand him. Losing his wife left him broken and bitter and blaming himself. He doesn't think he deserves a second chance at happiness.

But he's wrong.

I don't need to be his first love. If only he'd let me be his last.
Note: Clicking links on this site will take you to the retailer's purchase page.
Totally Bex is a participant in the Amazon Services LLC Associates Program, an affiliate advertising program designed to provide a means for us to earn fees by linking to Amazon.com and affiliated sites.
Other books in this series:

Melanie Harlow, what have you done to my heart?!?  I loved this book so much.  The devastated war veteran who lost his wife and the recently scorned city girl made for an emotionally sweet story that I couldn't put down.  Tempered with smart humor, the story flows so well from enemies to lovers and I loved every page.
We got to see glimpses of Margot in Man Candy, as the best friend of the heroine, Jaime.  They now run their own PR company and Margot hasn't had a relationship since she broke it off with her stuck-up ex.  When a small farm contacts her PR company for advice, Margot is more than ready to get out of town and spend some time in the country.  As an old-money city girl, she's definitely out of her element, but luckily, she has Jack to teach her everything he knows.
Jack is an emotionally wounded farmer who works the land he owns with his brothers.  When he finds out they have brought in a professional to help with their image and brand, he doesn't want anything to do with her.  He definitely doesn't want to feel anything for her–his heart and his body are at odds on that one, though.
The relationship between Jack and Margot is pure gold.  Their beginning is acrimonious but funny, and from there it builds into a beautiful and deep affection.  Having a first love who has died made for some bittersweet emotions, but Melanie Harlow has treated this story with grace and her writing is perfection.  There isn't any emotional manipulation for the reader, which is something that I have seen a lot of lately.  Both Margot and Jack are realistic and their growth is fantastic.
Melanie Harlow just keeps knocking it out of the park with her sweet and sexy romances.  I have loved all of her books, but this is definitely my favorite.  I can't wait to see what she has up her sleeve for us next!
"Wow," she said, shutting the screen door behind her. "That was close. Thank you so much."
"You're welcome." I crossed my arms, wishing I'd thought to grab a shirt. "Want to tell me what you were doing out there?"
Her cheeks colored. "Um, I was taking a run."
"Up a tree?"
She laughed nervously. "No. Well, I didn't start out in a tree. That happened later."
I cocked my head, unable to resist giving her a hard time. Not so sure of yourself now, are you, Barbie? "Oh yeah?"
"Yes. See, I left the cottage I'm renting without using the bathroom by mistake," she began, twisting her fingers together, "and I was planning on running a loop around the farm, but it's bigger than I thought."
"Ah. So you were looking for a bathroom in the woods?"
"Well, yes." She swallowed. "Sort of. But then I heard a splash and saw you…" Her cheeks were practically purple now.
I played dumb. "Saw me what?"
"Saw you naked, OK?" she blurted, throwing her hands up. "I admit it—I saw you naked."
I had no hangups about nudity, but I was damn serious about my privacy, and about people sneaking up on me. But her embarrassment was funny. The two times I'd seen her before, she'd been so polished and poised. It felt good to put her in her place a little. "So you climbed a tree for a better view, is that it?"
Bowing her head, she dragged the toe of one shoe across the wood planks of the porch floor. "Something like that." Then she looked up at me. Took a breath. "I'm really sorry. I shouldn't have done that. I was—I mean, I got—I couldn't—" She sighed, briefly closing her eyes. "I have no excuse. Will you accept my apology?"
She was prettier without makeup, I decided. And the way she wore her hair off her face emphasized the wideness of her eyes, the angle of her cheekbones, the arch of her brows. Her lips didn't need all that glossy crap, either. They were a perfect rosy pink, and I wondered if they'd feel as soft as they looked.
F*ck. I hadn't kissed anyone in three years.
Clearing my throat, I took a step back. "Yeah. It's fine." Now get out of here.
She didn't move. "So you're not going to fire me?"
"I never hired you."
"I know. But I really want this job. I think I can help, Jack. I know I can."
"Suit yourself. I want nothing to do with it." My name on her lips was trouble. Needing some distance from her, I started walking toward the dock to get my shoes and socks, but she followed me. God, she was a pest. It reminded me of the way Steph used to tag along after the boys when we were kids, wanting to get in our games.
"Are you going to be like this the entire time I'm here?" she asked.
"Like what?"
"Moody and uncooperative?"
"Probably."
"Why? Do you hate me that much?"
"I don't hate anybody. I just don't see why we should pay some city girl who's never set foot on a farm to advise us." We reached the dock, and I leaned down to get my stuff.
"I'm not even asking to be paid, so piss off!" she shouted, her voice carrying on the water.
I straightened. "Oh, you're working for free?"
"Yes!"
"Then you're an idiot. Or so rich you don't need the money."
"I'm not an idiot," she said through clenched teeth.
"So you're rich, then." I don't know why I was being such an asshole. But for some reason, I did not want to let her see another side of me, or see another side to her. "I should have guessed."
She crossed her arms. "And what's that supposed to mean?"
"It means you look like you've led a charmed life. Like you've had everything you've ever wanted handed to you. Like you've never gotten your hands dirty."
"So get them dirty."
I almost fell off the dock. "What?"
"Get them dirty. Teach me about working this farm. I want to learn."
Was she serious? The last thing I needed was to drag her ass around all day, explaining things. Or stare at her ass all day, imagining things. But one look at her defiant face and I shook my head. "Why do I feel like if I say no, you'll just keep bothering me?"
She smiled and clasped her hands behind her back, rocking forward on her toes. "Because I will. I don't like being told no."
"Of course you don't." Jesus, she was trouble. A bad apple—smooth and shiny on the outside, spoiled rotten on the inside. But for no good reason, I found myself giving in. "Fine. Go change your clothes."
Want more? Check out these posts!