Thank you for the advanced copy of SOME SORT OF LOVE by Melanie Harlow.  All opinions are my own.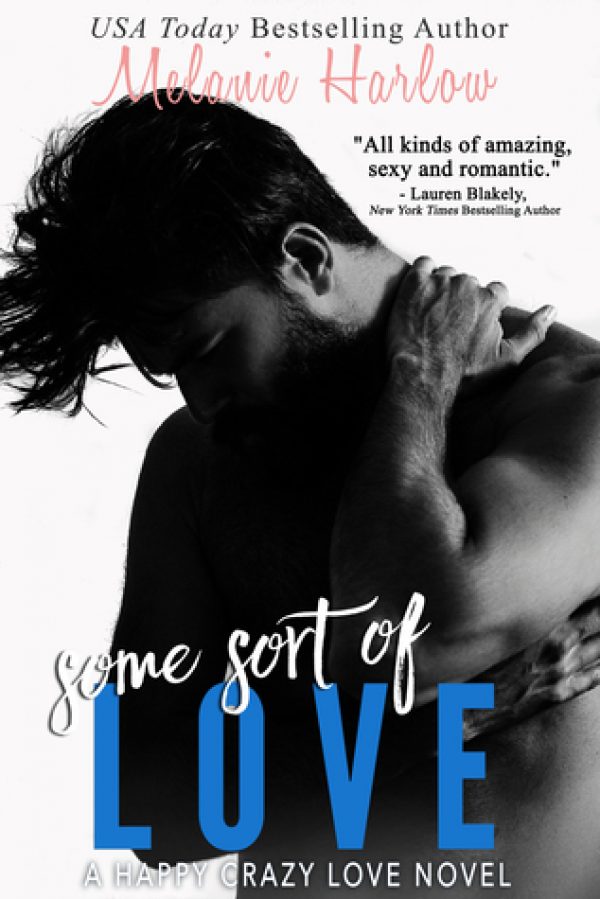 From the outside looking in, I had it all—a career I loved, a supportive family, the Nixon metabolism but not the Nixon ears, and a salary that supported my lavish taste in designer shoes, fine wine, and lacy lingerie … but I had no one to share it with.

Until the day I ran into him—my one night stand from college with the crooked smile, let's-get-out-of-here eyes, and dirty, dirty mouth.

Cute and cocky then, today Levi Brooks is six feet four inches of hot bearded fantasy. A sexy single dad with broad shoulders, strong hands, and a fantastically big … heart. (I mean, it's massive. And generous. And it pumps so hard … um. Sorry. Lost my place.)

Being a good father means everything to him, but he's keeping me at a distance because he thinks I deserve someone better — a man who can give me more time, more attention, more of himself. He doesn't believe he could ever be enough.

But he's wrong.

He's everything. 
Note: Clicking links on this site will take you to the retailer's purchase page.
Totally Bex is a participant in the Amazon Services LLC Associates Program, an affiliate advertising program designed to provide a means for us to earn fees by linking to Amazon.com and affiliated sites.
Other books in this series:

Is there anything sweeter (or hotter) than a dad who would do anything for his son—even if it were at the expense of his own happiness? I don't think so, especially when that dad is Levi from Some Sort of Love.
Levi is a hot, bearded, single dad. His son, Scotty, has autism, so being a single dad is made even more difficult than average. It also doesn't leave a lot of time or energy for a romantic relationship. Levi's life is based on schedules and predictability, and he believes a relationship doesn't fit into the life Scotty needs to thrive.
As a doctor, Jillian has accomplished a lot in her life, but she wants more—including her own significant other and eventually, a family. Her sisters have both settled down, and Jillian sees what she is missing.
I loved Jillian and Levi together. Their story is one of compromise, patience, and sacrifice. There are so many sweet, swoony, sexy, and heart-smooshing moments between them. Add just a touch of angst, and it's the perfect balance for a great love story.
All of Jillian's family makes an appearance throughout the book, which helps to tie up the series with a perfect bow. I have enjoyed all three books, so it is a little sad to see the end. However, I'm a big fan of Ms. Harlow's writing, so I know that I will be reading whatever she releases next.
"So." I glanced out the windows to the patio. "You want to go back out there?"
"Not really," she said.
"You want to get out of here?"
She grinned. "Yeah. I do."
I watched her rush up the stairs to get her things, and as soon as she was out of sight, I adjusted myself in my pants. My dick had jumped to life the second she said yeah, I do, as if the question had been you want to get naked and f*ck? rather than something much less suggestive. Not that I didn't want to get naked and f*ck—hopefully I'd last a little longer than I had in the broom closet eleven years ago—but I didn't want to make her feel like that's what I expected. She wasn't a horny nineteen-year-old college student anymore; she was a doctor, for f*ck's sake. She was beautiful and smart and mature and sophisticated, and a woman like her did not want some Neanderthal who probably needed a haircut and a new pair of shoes to throw her up against a wall for a five-minute f*ck.
A woman like that deserved attention all night long. She deserved someone who would undress her slowly and delight in each new inch of her skin as it was revealed. Someone who would run his hands all over her body and find out where she liked to be touched, how she liked to be touched, what she wanted to hear whispered to her in the dark. Someone who would wrap those gloriously long legs around his neck and use his tongue until she begged for his cock, then use his cock until she begged for mercy.
F*ck. I could be that guy.
Except I couldn't be. Not tonight. Because I wasn't a horny college student anymore either—I was just a horny single dad who didn't have the luxury of taking a woman home and lavishing all my time and attention on her the way I wanted to.
As soon as I had the thought, I felt guilty. Scotty was the love of my life and always would be, and whenever I felt the slightest bit resentful about something I couldn't do because of him, that resentment was immediately crushed by shame. He didn't ask to be born wired differently, into a terrible relationship, to a mother who would decide she couldn't handle being a parent, to a father who wasn't prepared for any of it. He was completely innocent, and he needed me to be a better man.
Running a hand through my hair, I exhaled and wondered if I should ask Jillian for a raincheck on a night when Scotty's usual sitter could be there. If he woke up again and I wasn't home yet, he might never get back to sleep. We'd be up all night, tomorrow would be miserable, and the whole start to the week would be off.
But she was so beautiful. And I hadn't been this attracted to someone in so long.
"F*ck," I muttered, checking my watch. What was the right thing to do? If she were a different sort of woman, if her brother-in-law weren't my friend and client, if we lived three states apart…if any number of circumstances were changed, I'd grab her hand, drag her out to my car, and spend the next thirty minutes f*cking her brains out in the back seat. It would feel so good to take control that way, to lose control that way, to release some of this f*cking tension. But was that fair to her?
My phone buzzed in my pocket.
"Hello?"
"He's up again." Monica's voice was strained, and in the background I heard the familiar keening of a nighttime meltdown. My chest hurt, the way it always did when Scotty was upset.
"Sh!t. OK, I'm on my way. Twenty minutes, OK? Thirty at the most."
"OK."
"Tell him he can play on his iPad."
"That'll just rile him up more. He's tired. He needs to go to sleep."
I clenched my fist. "Just do it, OK? It will help calm him until I get there."
As I ended the call, I heard footsteps above, and then Jillian appeared at the top of the stairs carrying a small suitcase. I watched her descend, the tightness in my chest growing. Also the tightness in my pants. "Hey."
"Hey," she said, her face concerned as she reached the ground and saw my expression. She set down the suitcase. "What's up?"
Sighing, I put my phone back in my pocket. "I have to get home. Scotty woke up and he's upset."
"Oh." She tried to hide it, but I saw the disappointment in her eyes.
"I'm really sorry. I'll make it up to you, I promise."
"That's OK. I understand."
"Can I call you?"
"Of course." She smiled, and her lips looked so soft and inviting, I took a step closer.
If you kiss her, it will be that much harder to leave.
I knew it was the truth, but I couldn't help myself. One kiss. Just one. And then I'll go. I moved even closer and took her head in my hands.
The curve of her smile deepened. "What are you doing?"
"I'm thinking about kissing you."
"Stop thinking."
I lowered my lips to hers and let them rest there, fully intending the kiss to be short and sweet, just a goodnight.
But I couldn't break it off. I wanted more—I wanted to taste her. Slanting my head, I changed the angle of the kiss, teasing her mouth open with mine, slipping my tongue between her lips. A little sigh escaped her, and my dick jumped to life again.
You have to go, you have to go, you have to go.
But her hands were moving up my chest and my fingers were sliding into her soft brown hair and I could smell something sweet and citrusy on her skin and it mingled with the taste of whiskey on my tongue and oh God, I wanted my tongue everywhere on her body. I wanted make her come with it just so I could hear that little sigh again and again and again. And I wanted to feel my hands in her hair just like this while she got on her knees and took my cock between her lips, looking up at me with those big blue eyes…
Groaning, I forced myself to take my lips off her before I completely lost my senses. "God, I wish I could stay," I said, resting my forehead against hers. "I wish a lot of things."
"I know." She played with my tie again. "I wish I was taking this tie off you, not straightening it."
"What a coincidence, that's one of my wishes too."
She laughed and kissed me quickly. "Another time, maybe. You better go."
Want more? Check out these posts!