Thank you for the advanced copy of HAPPILY EVER NINJA by Penny Reid. All opinions are my own.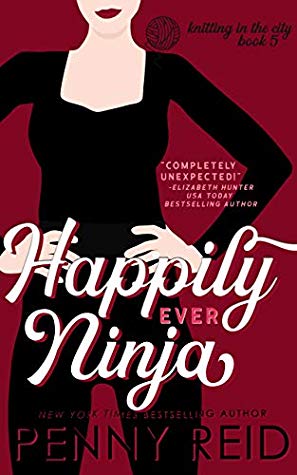 There are three things you need to know about Fiona Archer… I would tell you what they are, but then I'd have to kill you.

But I can tell you that Fiona's husband, the always irrepressible and often cantankerous Greg Archer, is desperately in love with his wife. Yet as the years pass, Greg has begun to suspect that Fiona is a ninja. A ninja mom. A ninja wife. A ninja friend. After fourteen years of marriage, Greg is trying not to panic. Because Fiona's talent for blending in is starting to resemble fading away.

However, when unexpected events mean Fiona must take center stage to keep her family safe, her response stuns everyone—Greg most of all. It seems like Greg's wish has come true.

Except… not.
Note: Clicking links on this site will take you to the retailer's purchase page.
Totally Bex is a participant in the Amazon Services LLC Associates Program, an affiliate advertising program designed to provide a means for us to earn fees by linking to Amazon.com and affiliated sites.
Other books in this series:

How do you become a wife and mom without losing yourself in the process? That's the question Fiona Archer is trying to answer.
She is an absolute superwoman: wife to a husband who is away more than he is home, mother of two children who have needs and after school activities, a household that needs to be run, and a part time job that requires her late nights to be spent over schematics.
Does she have it all together? Not entirely, but she is trying her hardest to make it work.
In romance novels, there are strong women, and then there are Penny Reid women. Penny writes heroines who are independent, freethinking, dependable, and real. However, she usually throws in a twist or quirk that makes them entirely unique. This is the case with Fiona.
During the first half of the book, we see 'mundane Fiona' who is trying to survive the pitfalls of single motherhood while Greg is away.
However, in the second half of the book, we learn all about Fiona's kickass ninja past. When called upon, it is like she is a totally different character—but she never forgets the worries and troubles of 'everyday Fiona'. The dichotomy of her personality doesn't seem like it should work, but it totally does.
Happily Ever Ninja has heart, heat, and a surprising element of suspense. It takes a turn that I wasn't expecting, but that is the catalyst for Ninja Fiona to be called into action.
The suspense has a similar feel to a movie like Romancing the Stone: couple fighting amid the danger, trying to keep their desire to protect each other in check while trusting that they are going to survive. The whole thing was thrilling and action-packed.
The only problem I had with the book was Greg himself. I felt like he didn't give Fiona enough credit or actually listen to her for most of the book. I understand that he is fiercely loving and protective of Fiona, but it felt stifling and unnerving in parts. (If he were my husband, I would have used my ninja skills to duct tape him to a chair and torture him into submission. But that's just me.)
Happily Ever Ninja is an awesome book on its own, but it makes a great addition to the Knitting in the City series.
The entire cast of characters really plays their part in this story, and their strengths truly shine. I'm definitely looking forward to more!
I tucked my fingers under her chin and lifted her face to mine, stealing a kiss; true distress clawed at my chest, traveled like a spike down my spine. I didn't want to guess, or entertain any possibilities. Inevitably, my mind always jumped to the worst possible conclusion whenever I saw her inexplicably sad (i.e. brain tumor).
Even so, I attempted to keep my tone level and calm. "What could be too important for the greeting card aisle? It's the perfect place to tell me anything and everything. There's likely a card we can buy afterward for the occasion."
She huffed a laugh, laughed a bit more, and then began crying again.
Her laughter was a good sign, so I went with it.
"Let's see . . ." I shuffled us both to the rack and plucked a greeting card from it. "You tell me if this one describes your situation." I cleared my throat and began to read, "Dear Brother, Many blessings on your fortieth birthday. May your girlfriend bring home that hot girl she works with and suggest a three-way."
Fiona began laughing in earnest, burying her face against my chest.
I returned the original card, walked us a few steps farther down the aisle, and selected another card at random. "Here's another. Dear Friend, Thank you for your thoughtfulness. I am so lucky to have you in my life, especially after that time I hit you with my car and salted the earth around your house.
I cracked a smile as I grabbed another card. She was laughing so hard she could barely breathe.
"Dear Co-worker, Get well soon. Sorry about the scorpions in your bed. And the leprosy. And the chlamydia."
"Stop! I can't- I can't breathe." Fiona gripped the front of my shirt as though she needed my solid frame to remain upright.
I took one more step and picked a new card. "Dear Dad, Happy Father's Day. I know I'm not your favorite child, but I hope you will . . . you will . . ." I stopped reading because Fiona had stopped laughing.
In fact, she'd grown eerily still, though her fists remained anchored in my shirt. I don't think she was even breathing.
"Fe?"
She released an audible exhale—as though bracing herself—and titled her head back. New tears shone in her eyes and she looked . . . emotional.
Not sad. Not worried or scared. Just emotional.
And I knew.
"I'm going to be a dad," I said.
She nodded, her mouth wanting to smile but her eyes betraying the disordered chaos of her thoughts.
I had no idea what she was thinking.
I had no idea what I was thinking.
But I felt like I'd just been punched, slapped across the face. And it felt scary. And good.
I felt like I was the king of the universe, the luckiest man alive.
I felt panic, because I didn't know how to be a dad, at least not the kind I wanted to be.
I felt a bizarre surge of pride, of accomplishment.
I felt a heady wave of possessiveness, for this woman I loved, for the child we'd made. I felt responsible.
But I did not feel burdened.
And I knew nothing would ever be the same.
Want more? Check out these posts!