This post contains affiliate links you can use to purchase the book. If you buy the book using that link, I will receive a small commission from the sale at no additional cost to you.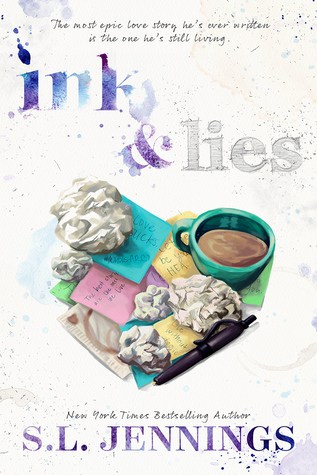 Ink & Lies
by
SL Jennings
Published by
Self-Published
on February 9th, 2016
Genres:
Contemporary Romance
Number of Pages:
249
My rating:


Kindle
Paperback
From International Best Selling Romance Novelist, Hope Hughes, comes a gripping, heartfelt tale of two lovers, fighting for the freedom to…

No. Scratch that. Too cheesy.

…two people, torn apart by the tumultuous tides of life, only to discover refuge in…

WTF? What does that even mean? DELETE.

…two people, confused as shit as to where they should be and who they should love and none of this means a damn thing because it's all lies!

Lies.

I'm not Hope Hughes. I'm not some fierce woman romance machine. Hell, I'm not even a woman.

I'm a liar.

And while I refuse to believe my own BS, deceit masked in heartfelt phrases of love and devotion, I want to make her believe them. Because maybe—just maybe—if she can find the soul within my words, she'll also be able to find the truth scribbled on my heart.

You see, I once lived for the perfect plot twist.

I just never expected to actually live it.

This is my story. Well, maybe her story. I just wish I could make it our story.

The one I'm still writing.
I received this book for free from the author in exchange for an honest review. This does not affect my opinion of the book or the content of my review.
My Review of Ink and Lies
Ink and Lies is an interesting spin on the age-old story of friends-turned-lovers. Rhys and Fiona have been friends since college. They do everything together (but act more like brother and sister than potential lovers). Rhys is anti-love in all things, whereas Fiona is a hopeless romantic. Opposites really do attract, I suppose.
I enjoyed the storyline and the characters for the majority of the book. This is my first book by SL Jennings, and I really liked her writing style. There were several moments where my heart was racing, turning pages quickly to find out what happens. That doesn't happen very often in a straight-up romance, and that is what I loved about the book.
But…. (and you knew there was going to be a 'but', right?). There is an aspect of the story that I don't know how to feel about or describe sufficiently, but here goes: Fiona is so desperate for her fairytale happily-ever-after and Rhys is so adamant about avoiding commitment that they each take extreme measures to attain their goals.
Rhys is a douche canoe to Fiona several times, and she keeps coming back for more. I felt for her, but she had made her bed and needed to lie in it. I know it was a deflect/protect mechanism for Rhys, but he was downright mean.
Maybe I took it too personally?  I don't know, but I do know that it didn't make me feel that great.  However, it did make me feel something and it was a turning point for the characters, so I guess it did the job.
Overall, I did enjoy the love story that Rhys and Fiona are creating together throughout the book. There was just that one point that I didn't feel as great about, but it may not bother others. I would recommend reading Ink and Lies, so you can make your opinion about it. I plan to read more SL Jennings novels in the near future because I did enjoy the writing very much.