Thank you for the advanced copy of THE OPPOSITE OF YOU by Rachel Higginson. All opinions are my own.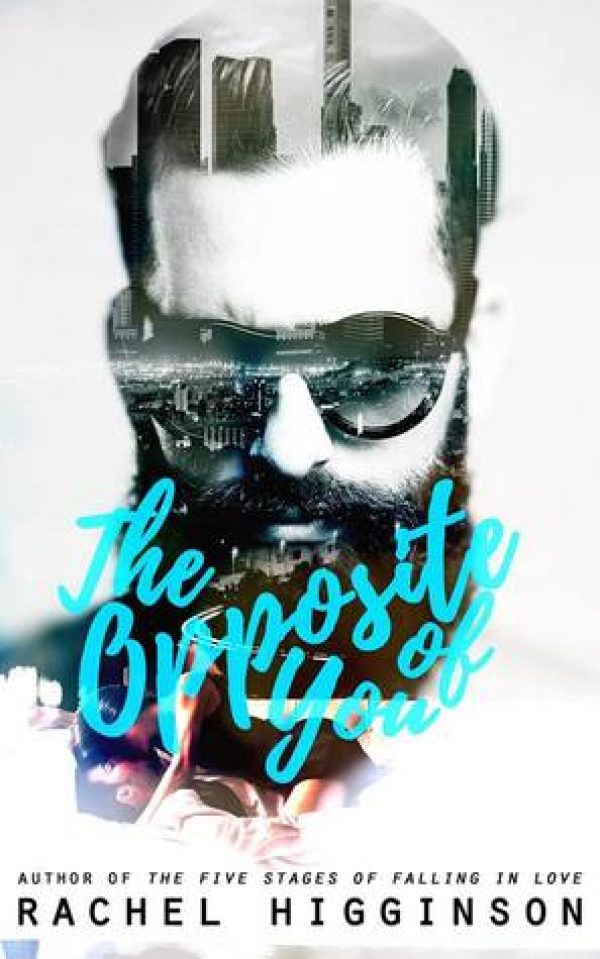 I've sworn off men.

All men.

Famous last words, right? You're expecting some epic tale of reluctant love and my dramatic change of heart? Well, you're not going to get it.

I'm stubborn. And headstrong. And I've just survived the worst three years of my life. After escaping an abusive boyfriend to live in hostels and cheap hotels while I worked my way across Europe, I've come to two conclusions.

The first? Now that I'm back home, I'm going to squander my expensive culinary degree on a food truck that caters to the late night drunk crowd.

The second? I'm going to prove to the bastard across the plaza that my street food is better than his fussy five course monstrosities.

Killian Quinn might be Food and Wine's Chef to Watch Out For. He might have a Michelin Star. He might have every food critic in the city wrapped around his too-large fingers. But he's also pretentious and unbearably arrogant and the very opposite of me.

So he can keep his unsolicited advice and his late night visits and his cocky smiles. I want none of it. Or him.

I want the opposite.
Note: Clicking links on this site will take you to the retailer's purchase page.
Totally Bex is a participant in the Amazon Services LLC Associates Program, an affiliate advertising program designed to provide a means for us to earn fees by linking to Amazon.com and affiliated sites.
Other books in this series:

Don't you just love it when you start reading something new and by the end of the first chapter you just know it's going to be a good book? It's even better when the author is new to you, right? Well, that's exactly what happened when I picked up The Opposite of You by Rachel Higginson. I know what you're thinking, "You've never read any of her books before now??" Yes, it's true. After kicking myself for waiting so long, I can now see why her books get so much love. The Opposite of You was fantastic from start to finish.
Vera dreams of being a successful chef with a restaurant kitchen to call her own. After a family crisis calls her back from Europe, she decides that a food truck will have to be a good substitution. Vera's truck, located in her brother's parking lot, catches the eye of the persnickety chef who runs the upscale restaurant across the street.
Killian Quinn is a high-profile chef and has a reputation for being a beast in the kitchen. He's hard to work for, but he produces the very best food in the city. After he sends 'spies' to test out Vera's cooking, sparks fly when he returns not-so-nice critiques of her cooking.
The relationship between Killian and Vera is both volatile and combative, and I give the sparring top marks. These two could argue about whether the sky is blue! While I love good banter (which this has in spades), there is more to the story than just the opposites-attract angle.
Vera's past hit very close to home, and I found myself emotional several times while reading. I know what it's like to give up parts of yourself to maintain a toxic relationship, so I felt a kinship of sorts with her and her experience. The strength and courage Vera shows are admirable and the message behind this story is both compelling and poignant.  If that weren't enough, the relationship between Vera and her dad killed me. Her father is very similar to mine, so their conversations touched my heart.
Not only did I love Vera and Killian, all of the secondary characters we fantastic. This is very much a character-driven story, and each of the personalities adds just the right touch. I also found the topic of food truck chefs versus restaurant chefs and the quality of food they produce fascinating. The inclusion of diva behavior, complete with temper flares, and the fear of a bad review or having a bad night made the story so realistic for me.
Speaking of the secondary characters, I am so curious about the next book, The Difference Between Us. Molly, Vera's best friend, and Ezra, Killian's business partner, have an amusing chemistry and I can't wait to see what happens with them. So, if you enjoy slow-burning romance with fiery chemistry and reading about fantastic food makes you hungry, I think you will devour The Opposite of You. I know I did.
Want more? Check out these posts!