Thank you to Social Butterfly PR for the advanced copy of JOY RIDE by Lauren Blakely.  All opinions are my own.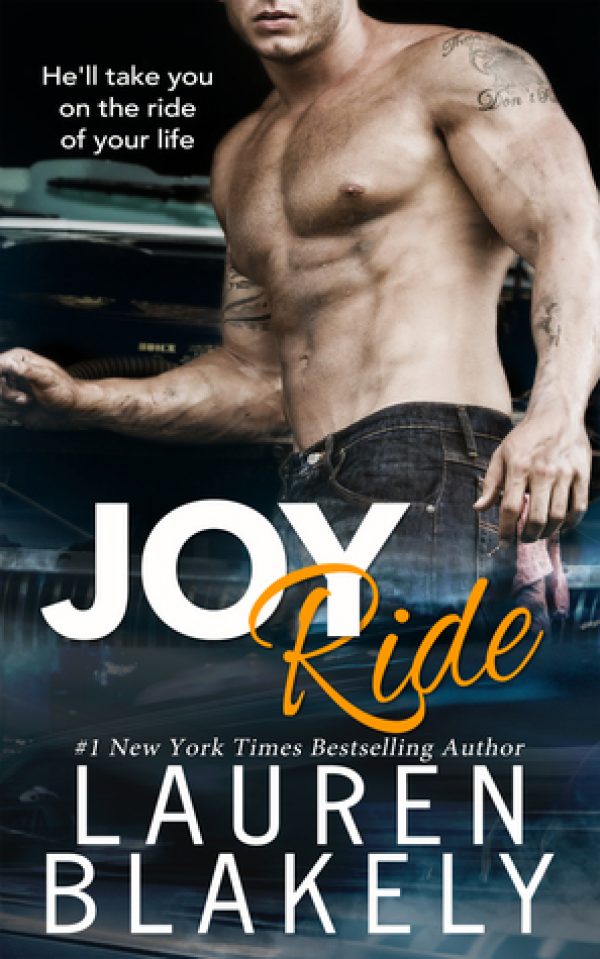 Let's be honest, ladies. A good man is a lot like the perfect car. You want a hot body, an engine that purrs, and superior performance under the hood…for the best joy ride of your life.

I'm at your service. Ready to go all night long.

But then a wildly sexy brunette appears in my life and throws a wrench in all my plans. She's fiery, she's talented, she's gorgeous, and I'd really like to know what makes her engine hum.

Henley also happens to be my biggest rival, and now we're forced to work together every day on the most important custom car build of my career. The trouble is I can't quite figure out if she wants to kick me in the lug nuts or beg me to give her a good, hard fuel injection. Until one night that question is answered on the hood of a sports car when she calls out my name three times. And we can't seem to put on the brakes.

If sleeping with the enemy is a bad idea, how much more dangerous would it be to fall in love with her?
Note: Clicking links on this site will take you to the retailer's purchase page.
Totally Bex is a participant in the Amazon Services LLC Associates Program, an affiliate advertising program designed to provide a means for us to earn fees by linking to Amazon.com and affiliated sites.
Other books in this series:

Gentlemen, start your engines!
Errr… I mean… Ladies, let Max get your engines revving because he is going to blow your doors off!  Lauren Blakely, the queen of the romantic comedy, has given us another hero who is totally alpha in a hot and swoony way, but also needs a smart and sassy woman to tame his wild ways.
The sparks fly in this one because Max and Henley despise each other–and you know what they say, there's a thin line between love and hate. In fact, I've never seen two characters work so hard to rip each other's heads off while secretly wanting to rip each other's clothes off. This love/hate thing they have going on makes for the most enjoyable banter I have seen in a while, and it had me grinning throughout the entire book.
Max (brother of Chase from Full Package) is a no-nonsense businessman and the owner of a custom auto shop in New York City. He loves hot cars and even hotter women. Max is the best in the business, and he knows it. Henley is a former apprentice who worked with Max until they had a falling out. When she comes back to town to several years later to work for Max's biggest rival, the ride gets a little bumpy for both of them.
To me, Henley is the true gem of this story. She's a tough chick working in a male-dominated field, but she has a girly, soft side as well. I loved seeing her lower her defenses around Max without ever backing down or going easy on him. It's all very 'David and Maddie' à la Moonlighting, but unlike the TV show, this one didn't fizzle out after the main characters got together. If anything, it made the story better.
We also get a peek into the lives of past characters, which makes the story extra fun. Max and Chases's sister, Mia, is also introduced and I can't wait to see what is in store for her in the upcoming book, Hard Wood. If you haven't been reading this series-that-isn't-a-series, you really must. I can't recommend it enough!
Henley Rose and a hot car go together like peaches and cream, like fine Scotch and a long, dirty night. Which means working with her was like walking into the Garden of Eden every single day. It was a test of willpower because the woman could craft a car as if it were an erotic dance.
Not a striptease.
Not an in-your-face pelvis thrust.
But a beautiful f*cking ballet of a woman seducing machine. Those hands, the way she wielded tools, the intensity in her focus—it was sensual, and it was sinful, and it was this man's fantasy made flesh.
Imagine what it was like working with her for one, hard-on year.
I mean, hard year.
I survived the challenge because she had talent to spare. And I never treated her differently because she was a woman, or because I thought about her naked an obscene amount of the time. I treated her like anyone else—specifically, all the people I work with who I never ever imagine in anything less than full-on Siberian winter garb, complete with the thermals and Michelin Man coat.
"Black heart still intact." I tap my sternum. "Same model as before."
"I'd have thought you'd get an upgrade by now. Faulty parts and all." 
"No recall needed on the ticker. It works just fine in this cruel bastard." I say, reminding her of the words she'd uttered the day she stormed out.
She arches a brow. "Shame. You should have let me replace it. I'm good at making all sorts of clunkers run better."
Jesus Christ. She still takes no prisoners. "I've no doubt you have all the tools to fix anything, and if you couldn't find the right one, you'd use a blowtorch."
She adopts an expression of indignation. "There's nothing wrong with using a blowtorch," she says, taking extra time on the first syllable.
How the hell did I ever last with this woman? Before I can even fashion a comeback, she taps her toe against the tire on Wagner's car. "I see you still like to make your cars with big, manly wheels."
I roll my eyes then make a give it to me now motion with my hands. "All right, Henley. Deliver the punchline."
She bats her lashes. "What punchline?"
"Big? Manly? You're going to say it's some sort of compensation thing going on. That's what you always said about the guys who wanted the biggest cars with the biggest wheels."
She smirks. "Was I wrong in my assessment?"
I laugh. "I don't know. I didn't check to see how that added up for them."
"Nor did I. My focus was always on the work."
"As well it should have been."
"That's what you taught me."
"I'm glad you learned that lesson."
"I learned so many lessons from you."
Want more? Check out these posts!