Thank you to Gallery Books for the advanced copy of THE UNHONEYMOONERS by Christina Lauren.  All opinions are my own.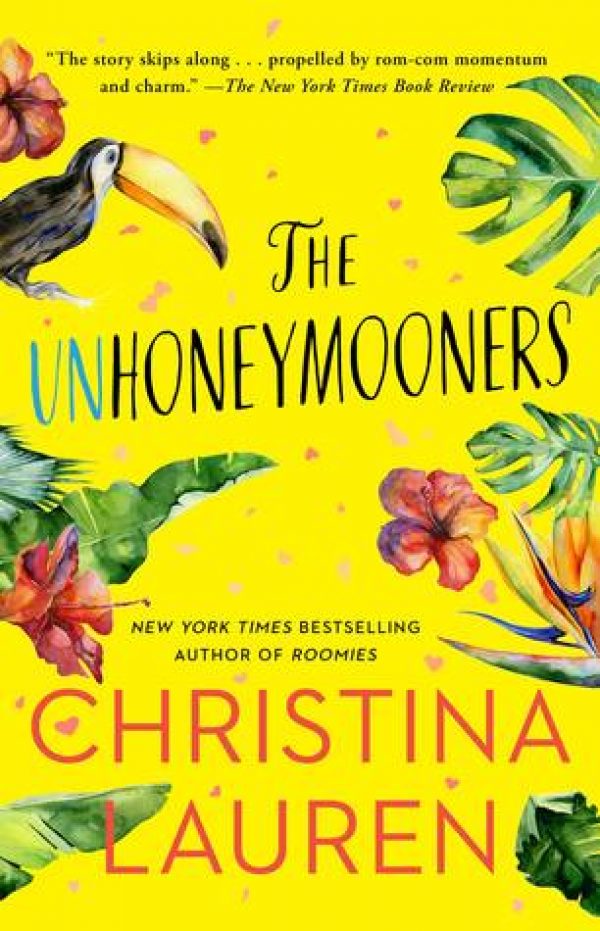 Olive is always unlucky: in her career, in love, in…well, everything. Her identical twin sister Ami, on the other hand, is probably the luckiest person in the world. Her meet-cute with her fiancé is something out of a romantic comedy (gag) and she's managed to finance her entire wedding by winning a series of Internet contests (double gag). Worst of all, she's forcing Olive to spend the day with her sworn enemy, Ethan, who just happens to be the best man.

Olive braces herself to get through 24 hours of wedding hell before she can return to her comfortable, unlucky life. But when the entire wedding party gets food poisoning from eating bad shellfish, the only people who aren't affected are Olive and Ethan. And now there's an all-expenses-paid honeymoon in Hawaii up for grabs.

Putting their mutual hatred aside for the sake of a free vacation, Olive and Ethan head for paradise, determined to avoid each other at all costs. But when Olive runs into her future boss, the little white lie she tells him is suddenly at risk to become a whole lot bigger. She and Ethan now have to pretend to be loving newlyweds, and her luck seems worse than ever. But the weird thing is that she doesn't mind playing pretend. In fact, she feels kind of… lucky.
Note: Clicking links on this site will take you to the retailer's purchase page.
Totally Bex is a participant in the Amazon Services LLC Associates Program, an affiliate advertising program designed to provide a means for us to earn fees by linking to Amazon.com and affiliated sites.

Christina Lauren is one of my go-to author duos when I want smart writing, witty banter, belly laughs that tend to sneak up on you, and unique storylines.  While not all of their books are rom-coms, no two books are ever the same and I absolutely love them for that.  The Unhoneymooners combines several of my favorites: enemies-to-lovers, a delicious slow burn, snarky dialogue, and adorkable characters you can't help but love.
Olive has bad luck.  Not only that, her twin sister has all the luck in the world and wins contest after contest, including an all-expenses-paid wedding and honeymoon.  However, her luck just ran out and what was supposed to be the best (free) event of the off-season turns into a horror show when the (free) buffet makes all of the guests disgustingly ill. 
Enter Ethan.  The only thing he hates more than Olive is buffet meals.  In the end, that ethos not only saves him from gastrointestinal ruin, it also gives him the opportunity to take an unexpected and totally free vacation in Hawaii.  The only problem is, he'll have to figure out a way to enjoy the island without having to spend time with Olive.
The Unhoneymooners is one of my favorite books by Christina Lauren.  I loved the characters, the storyline, the pacing, and the humor.  The forced proximity of the 'honeymoon' coupled with the fake relationship they must maintain made this story that much more hilarious.  This was a total joy to read and quickly became one of my favorite reads of the year.  The entire story had me grinning from beginning to end and left me wanting more from these two. 
Want more? Check out these posts!