11 of the Best Romance Books for Spring 2019
Now that the spring season is officially upon us (well, on the calendar, at least–hopefully, you're not still getting snow!), it's time to start thinking about lighter books to read. 
I know that for me, winter is when I like to hunker down with a hot drink and a cozy blanket to read a longer and heavier book.  Springtime is usually a busier time of the year for everyone, with the school year coming to an end and the non-stop activities involved in that, outdoor sports seasons starting, weddings, and more.
Lighter "fun" reads are typically on the agenda for this time of year because you can usually read them quickly, put them down easily when you need to do something else, they're pretty entertaining (thus the plethora of romantic comedies on this list), and you can read them no matter where you are—whether you're on the bleachers behind home plate or on a beach somewhere warm.
Here are my top picks for the romance books to read this spring!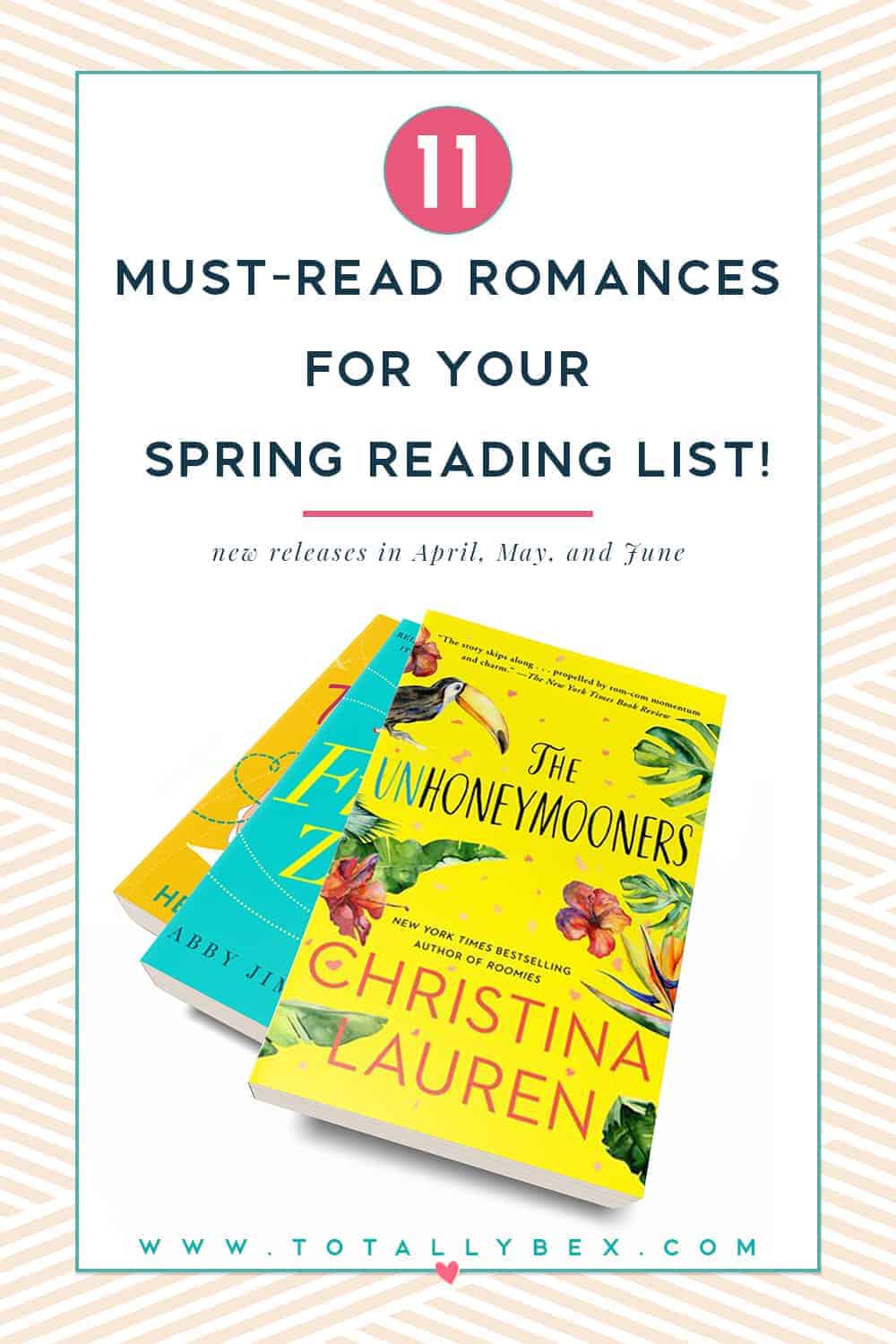 Best Romance Books for Spring
1. Meet Cute by Helena Hunting
Helena Hunting is a force to be reckoned with when it comes to romantic comedies.  So when she combines those skills with a somber storyline, Meet Cute becomes the total package.  It has its hilarious moments, including the titular first meeting, but there are also scenes of loss, struggle, and realizing that your life isn't going to go the way you planned.  Meet Cute is dramedy at its finest.
2. Fumbled by Alexa Martin
If you're a sports romance fan looking for a little gridiron action, look no further than Fumbled by Alexa Martin.  This second-chance romance is filled with misunderstandings, rekindling young love, cute kids, and a vulnerable yet strong heroine.  With the shenanigans of the players and the WAGs, this should hold you over until the next football season starts.
3. Just My Type by Tara Sivec
I loved the first book in this standalone series, The Simple Life, so when I heard that we were getting another installment, I got extremely giddy at the thought of reading another hilarious rom-com from Tara Sivec.  Filled with awesome email banter and a frumpy-turned-fiery heroine, this one is a straight-up winner.
5. The Bride Test by Helen Hoang
I loved Helen Hoang's debut novel, The Kiss Quotient, so much and I was extermely excited to read her follow-up story, The Bride Test.  No "sophmore slump" here.  Her voice is fresh, her characters are so unique (and on the autism spectrum), and the storylines are incredibly poignant.  If you haven't read Helen's work yet, you MUST!
6. The Unhoneymoonersby Christina Lauren
A sister's wedding that goes horribly wrong, arch enemies thrown together on a fake honeymoon in Hawaii, and fantastic snarky banter?  This is THE book to read this spring, whether you're reading at home while dreaming of a tropical vacation or actually taking one.
Related: Do you love slow burn romance books? Check out my list of over 100 slow burns here!
7. The Flatshare by Beth O'Leary
"Tiffy and Leon share a flat
Tiffy and Leon share a bed
Tiffy and Leon have never met…"
I am so intrigued by the premise of this story: roommates on opposite schedules who share a bed and eventually realize they are soulmates.  Sounds interesting, right?  I can't wait to read this unique-sounding romance.
8. Passion on Park Avenue by Lauren Layne
From the socialites, trust funds, and ladder-climbers to the swanky NYC location, the start of this new series by Lauren Layne sounds like it's straight out of an episode of Sex in the City.  An unlikely friendship is formed by three women who were cheated on by the same man (can you imagine??) After all of that, one of them navigates her rekindled relationship with someone from her past.  Ooh la la, bring on the drama.
9. Coldhearted Boss by R.S. Grey
RS Grey is one of my go-to rom-com authors, especially if I want enemies-to-lovers with a slow burn (which is almost always yes!).  Destitute heroine, arrogant hero, sworn enemies?  Sign me up!
10. The Friend Zone by Abby Jimenez
The Friend Zone is a debut from Abby Jimenez, but it certainly doesn't read like one!  It's got meet-cutes, medical issues that you don't see often enough in romance novels, and characters learning to live with tough choices.  The heroine speaks her mind, the hero is adorable, and the storyline is both heartbreaking and romantic.
11. Waiting for Tom Hanks by Kerry Winfrey
Who doesn't love Tom Hanks??  I mean, he's been perfect in so many movies, right?  Waiting for Tom Hanks is a romantic comedy that reads like a rom-com movie about a woman who is searching for the "perfect" guy but can't see him standing right in front of her.  Time to pop the popcorn!
And that's all, folks!  I hope you enjoyed this post and found a few new books to add to your reading list.  
Tell me below, what books are you looking forward to reading this spring?