Thank you for the advanced copy of TO LOVE AND TO CHERISH by Lauren Layne.  All opinions are my own.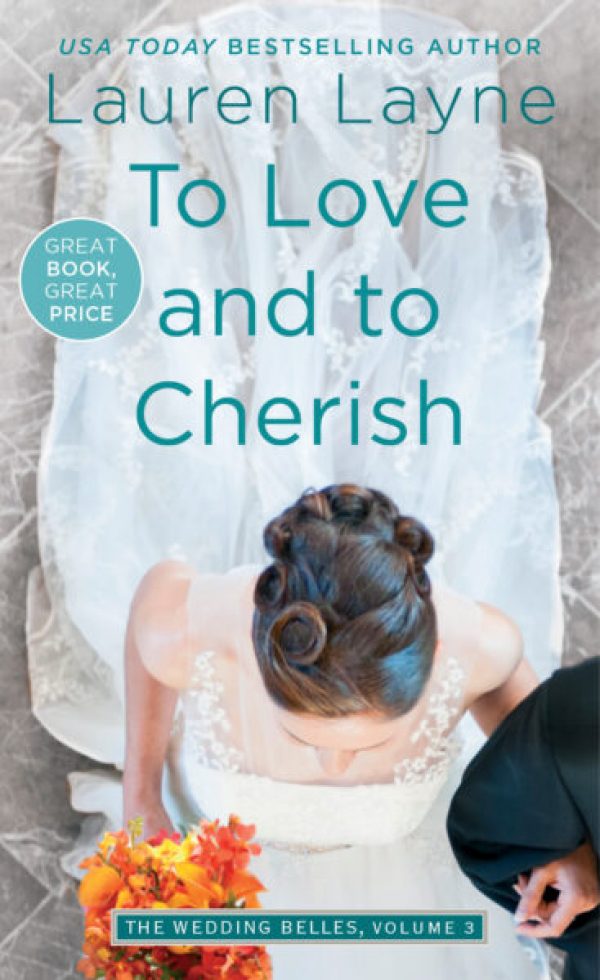 Sex and the City meets The Wedding Planner in The Wedding Belles, a contemporary and witty romance series about three high-powered New York City women who can plan any wedding—but their own.

Alexis Morgan has spent the past six years devoted to turning her tiny start-up into Manhattan's premiere wedding planning company, The Wedding Belles. Now that her business is thriving, it's time to turn towards her much neglected personal life, and Alexis approaches her relationships like she does everything else: with a plan. Not a part of that plan is Logan Harris, the silent partner in the Belles, and the one person who's been there for her since the very beginning. But Alexis needs someone fun, and Logan's all business, all the time—except when a late night at the office ends with an unexpected kiss that leaves the usually cool and together Alexis reeling.

Logan has lusted after Alexis since the day he walked into the tiny Harlem apartment that used to double as her office. But the ambitious wedding planner has always been untouchable…until now. Alexis has made it clear that she's on the dating market—and equally clear that he's not in the running. But when Alexis finds herself in need of a date for her sister's last minute wedding in Florida, Logan knows it's the perfect time to show Alexis that there's more to him than numbers and spreadsheets—and beneath the pinstripes and glasses lies a hot-blooded heartthrob. As Florida's sultry days turn into even hotter nights, Logan's out to convince Alexis that the fling of a lifetime could just maybe turn into forever… 
Note: Clicking links on this site will take you to the retailer's purchase page.
Totally Bex is a participant in the Amazon Services LLC Associates Program, an affiliate advertising program designed to provide a means for us to earn fees by linking to Amazon.com and affiliated sites.
Other books in this series:

My friends have been raving to me about Lauren Layne's writing for a while, so when I had the opportunity to read and review one of her books, I jumped at the chance.  Since this is my first book of hers, I don't have a point of reference, but I can definitely agree with the praise for her writing.  Also, she included enough backstory for the characters that I was able to jump right in and not feel lost.
Alexis is a modern woman with a singular focus: her business as a wedding coordinator.  After a bad break up and a horrible betrayal, she works hard to succeed at the only thing she can control and that is her business. Her parents don't understand her choices, so Alexis has been trying to prove herself for years.  She has no inclination to have a serious relationship, which confounds those who are close to her.  A chance meeting at a bar provides both a silent partner and an accountant for the business, but Logan has been biding his time for much more from Alexis.
Logan is a recent college grad when he first meet Alexis.  He knows that she is focused on her career and that she has a solid head for business.  However, Logan really wants to be the one Alexis comes to when she is ready for more than just business needs.  He has problems of his own with his family and they really want him to return to England to take over the family business.  Logan wants to stay in New York, but only if Alexis agrees to be more than business partners.
The first thing I have to say is that Logan is an absolute saint.  I adored him and his gift of patience.  He had to put up with a lot from Alexis to get her to see that they were meant to be more than just business partners.  I understand that she didn't want to jeopardize their friendship or their working relationship, but she just didn't want to see that truth about Logan, no matter what.
The story started to pick up for me when Alexis came around and realized that she didn't have to give up anything to be with Logan.  Although, there were several times I wanted to shake some sense into her and get her to see what was right in front of her (and what everyone else knew).  In fact, the secondary characters are a major part of why I liked this story.  I love the friendships and the backstories of all of the characters, so I know I will be reading the rest of the series.
Want more? Check out these posts!