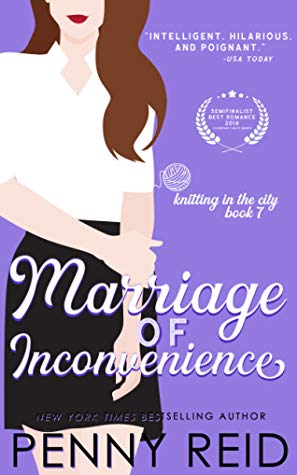 There are three things you need to know about Kat Tanner (aka Kathleen Tyson. . . and yes, she is *that* Kathleen Tyson): 1) She's determined to make good decisions, 2) She must get married ASAP, and 3) She knows how to knit.

Being a billionaire heiress isn't all it's cracked up to be. Determined to live a quiet life, Kat Tanner changed her identity years ago and eschewed her family's legacy. But now, Kat's silver spoon past has finally caught up with her, and so have her youthful mistakes.

To avoid imminent disaster, she must marry immediately; it is essential that the person she chooses have no romantic feelings for her whatsoever and be completely trustworthy. Fortunately, she knows exactly who to ask. Dan O'Malley checks all the boxes: single, romantically indifferent to her, completely trustworthy. Sure, she might have a wee little crush on Dan the Security Man, but with clear rules, expectations, and a legally binding contract, Kat is certain she can make it through this debacle with her sanity—and heart—all in one piece.

Except, what happens when Dan O'Malley isn't as indifferent—or as trustworthy—as she thought?
Note: Clicking links on this site will take you to the retailer's purchase page.
Totally Bex is a participant in the Amazon Services LLC Associates Program, an affiliate advertising program designed to provide a means for us to earn fees by linking to Amazon.com and affiliated sites.
Other books in this series:
Marriage of Inconvenience

They say all good things must come to an end, but I was in blissful denial through my entire reading of Marriage of Inconvenience.  I have grown to love this series and its eccentric storylines and characters, so saying goodbye is bittersweet – but HOLY MOLY what a phenomenal way to go out with a bang! 
From the author who has informed us about everything from Bitcoin to artificial intelligence to international politics in this series, comes a foul-mouthed Bostonian with a heart of gold and a mild-mannered heroine who needs saving but isn't exactly a damsel in distress. 
Kat and Dan have been circling in each other's orbit for much of the series, so seeing them come together was nothing short of AMAZING.  Their story was everything I could have hoped and wished for, and a whole lot more.  There's smoldering-turned-scorching chemistry, scenes from the ever-supportive cast of quirky characters, super awesome security secrets, conniving family members you want to throw into a pit of misery, and a marriage of (in)convenience that turns into something so real and heartfelt, I may have shed a tear. 
To sum it up in one word: it was perfection.  From beginning to end (including the amazing epilogue set years into the future).  If you've followed my blog for any length of time, you know that I am a huge fan of 'smart' romances and the first author who comes to my mind is Penny Reid.  She never ceases to amaze me with her ability to write a 'uniquely Penny' story peppered with science and sass.  I for one can't wait for her next release – and every single one after that!     
Want more? Check out these posts!