14 of the Best Nerdy Romance Books for Pi Day – or Any Day, Really
And I don't mean that in a negative or disparaging way. In fact, I myself am a bit of a nerd about certain topics (I mean, I'm definitely a book nerd after all), so I guess I can relate.  
Nerdy or geeky characters are some of my favorites to read about, especially when they include an opposites attract trope angle.
To celebrate Pi Day, I put together a list of my favorite Nerdy Romance Books, but these are so good that they should be enjoyed year-round!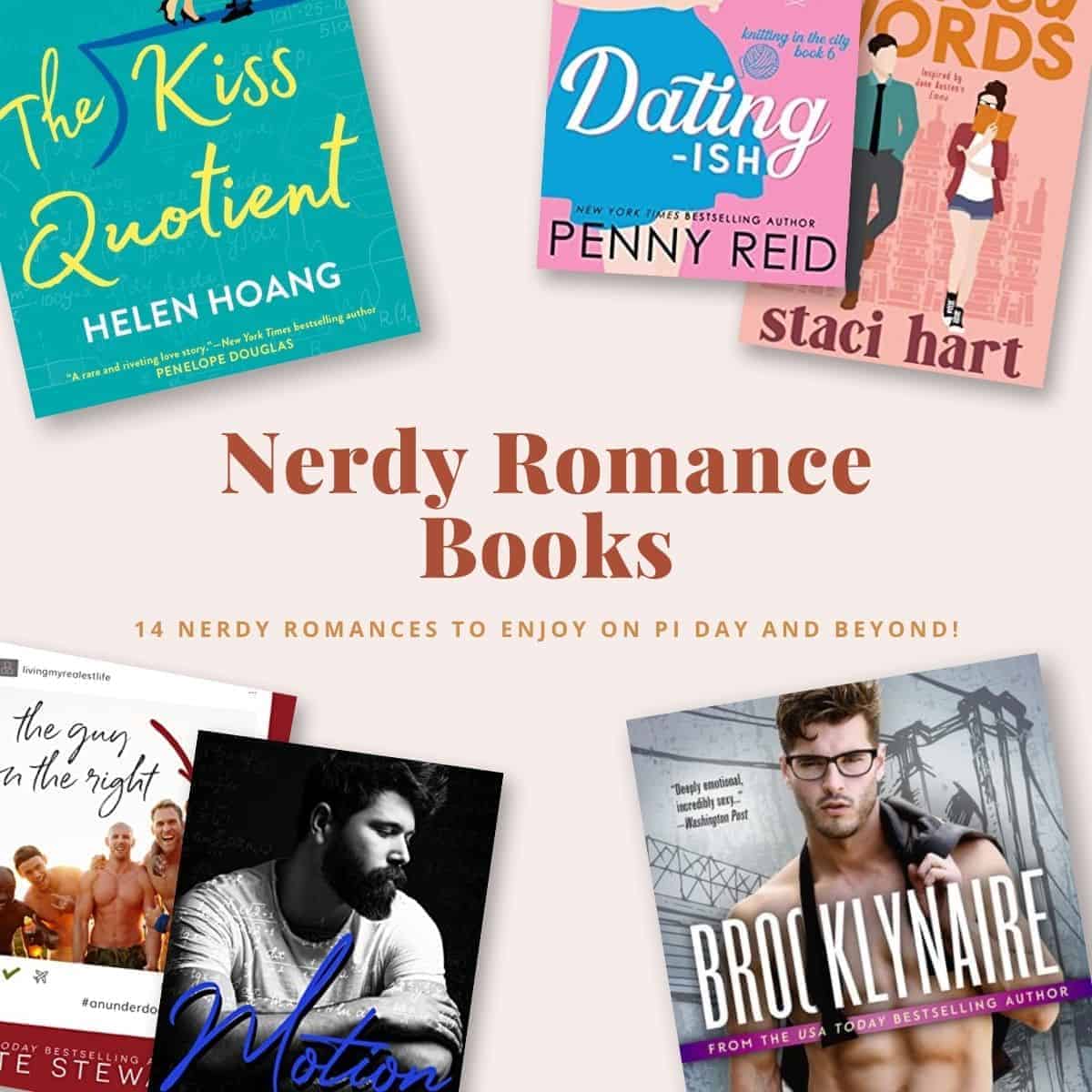 In no particular order, here are 14 of my favorite nerdy romance novels. I hope you find a new geek romance to add to your TBR!
The Best Nerdy Romance Books
1. Dating-ish by Penny Reid
Several of Penny's books fit the bill for nerdy romance, but one of my favorites is Dating-ish.  
Marie is a journalist looking for love in the modern age and Matt is a scientist working in artificial intelligence.
After the worst first meeting in the history of meet-cutes, Matt and Marie explore the world of alternative human connections, both intimate and simple companionship.
This book is also featured on my Smart Romance Novel list, so be sure to check that out!
2. The Simple Life by Tara Sivec
I love a good hero with a big brain and an even bigger heart, and Clint definitely has both. 
He's also a nerdy guy who is good with computers and uses them to improve operations on his family's pumpkin farm.
If you like enemies-to-lovers romances set in a small town, The Simple Life is for you!
3. The Guy on the Right by Kate Stewart
Nerdy hero meets quirky heroine in The Guy on the Right, one of two college romances on the list.
Theo is a band geek who is stunned by a recent break-up. Laney is out of his league, but they forge an amazing friendship that eventually leads to more. 
I definitely swooned when the underdog finally got the girl.
While Smut is classified as a romantic comedy, this isn't slapstick humor—it's nuanced humor and nerdy humor and sometimes, just plain ol' laugh-out-loud humor.
Amanda is a closet dork, and she is spunky and sassy with a hint of vulnerability. I just loved her! (and Blake isn't too shabby, either, honestly).
5. Brooklynaire by Sarina Bowen
As an office romance and a sports romance, Brooklynaire was already a winner in my book. 
Throw in a nerdy computer tech company owner and well, that just takes it to a whole other level.
Nate and Becca have been friends and co-workers for over seven years, but once they get together… oh, my.
Penny Reid is back for her second appearance with Motion.  
This brilliantly written smart romance features an insanely gifted yet quirky heroine, an adorably responsible musician named Abram, and metric tons of slow-burning yet piping hot chemistry—my absolute favorite!
7. Dark Wild Night by Christina Lauren
A comic store owner and a graphic novelist start out as just friends, but a wild night in Vegas turns everything on its head.
Unrequited love is hard enough, but when you don't want to mess up a good thing as friends, that makes it that much tougher.
Lola and Oliver are totally adorable together, so their second chance journey to an HEA is a fun one.
8. Applied Electromagnetism by Susannah Nix
A forced proximity, road trip from hell, only one bed office romance with a hot nerd of a hero AND heroine?  Sign me up!
Applied Electromagnetism is all of those things and more.  If you haven't read this series, it's a must-read!
9. The Kiss Quotient by Helen Hoang
This is one of the best debut novels I have ever read! 
Stella has several absolutes in her life: numbers don't lie, everything is a puzzle to be solved, and she loves structure and routine.
Numbers comfort her, so why should she approach dating and finding the right guy any other way?
I loved this one for so many reasons, not the least of which is Michael, the hero!
10. Love Lettering by Kate Clayborn
An insanely talented calligrapher meets a hot mathematician and takes him on a long scavenger hunt in New York City.  
Reid Sutherland is who is analytical and smart, and not your run-of-the-mill hero.
The calligraphy and Meg's descriptive use of lettering is also a great selling point to this story.
11. Beautiful Player by Christina Lauren
Christina Lauren also makes a second appearance on this list with my favorite book of the Beautiful Bastard series, Beautiful Player.
Hanna and Will are hot—let me just throw that out there first and foremost.  
A dirty-talking Brit taking an inexperienced lab researcher under his wing is about all you need to know. 
Just read it and you can thank me later. 
12. Wasted Words by Staci Hart
Wasted Words gets points for 1) Being a modern interpretation of Jane Austen's Emma and 2) it's set in a bookstore BAR.  How cool would that be?
Cam works as a clerk/barista and is quite the matchmaker.  Tyler is a former football star turned sports agent and he's also Cam's roommate.
Everything that made Austen's novel a classic is present here: meddlesome matchmaker, opposites attract, and falling in love with the friend who was right under your nose the entire time.
13. The Chase by Elle Kennedy
The first book in the Briar U series, this new adult romance features a hero who is not only a star hockey player but also a video game geek who loves art.
Colin Fitzgerald isn't Summer Heyword-DeLaurentis' usual type, which makes The Chase quite an enjoyable college sports romance.  
He thinks she's a spoiled drama hound, but she's had a crush on him for ages—long before they ever become roommates. 
14. Crazy Stupid Bromance by Lyssa Kay Adams
She's the owner of a cat cafe, he's a former black hat hacker turned knight in shining armor.
Noah and Alexis have amazing chemistry, but they are stuck in the friend zone.  
Throw in a guys-only bookclub and you have yourself a winner!
Are any of your favorites here?  I'd love to hear your suggestions for more nerdy romance books to add to my list, so leave me a comment below with your best reads!