Author Unedited: A Day in the Life of Author Lucy Score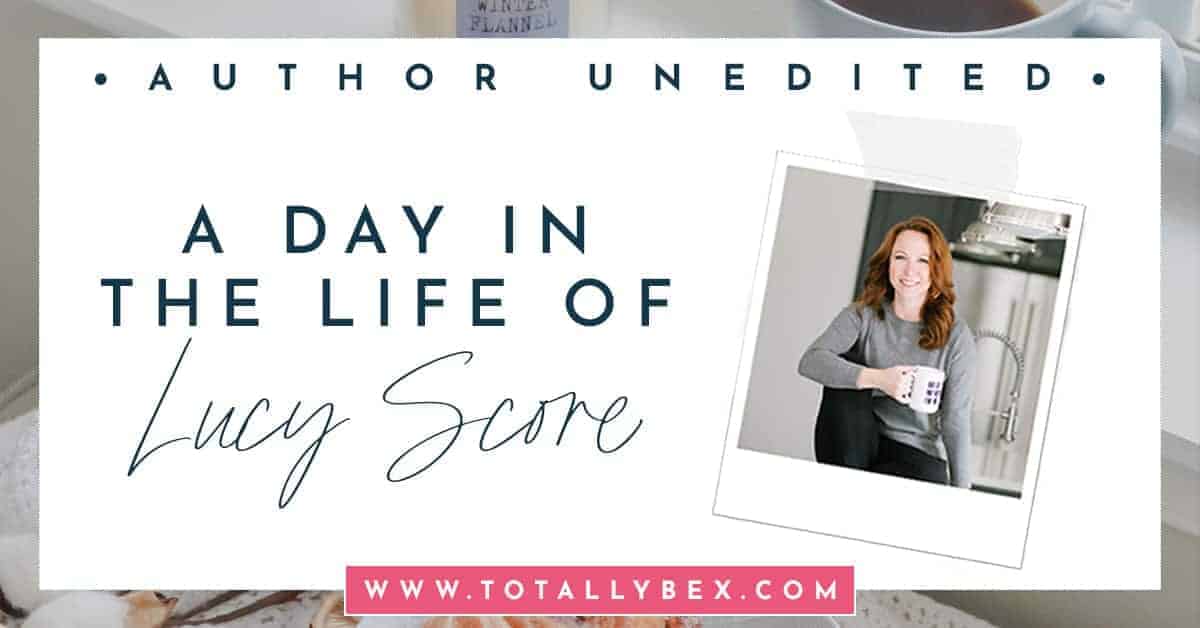 Welcome to the new series, AUTHOR UNEDITED! 
Have you ever wondered what authors do all day? Well, we're putting down the pens and pulling back the curtain to give you a tiny peek into the life of an author!
First up is author Lucy Score. I read Rock Bottom Girl, my first book by Lucy, earlier this year and it was one of my favorite slow burns of 2019! After I finished the story, I went in search of more information about this hilarious and talented author. I landed in her Facebook group, which lead to watching her live videos, which lead to her being the perfect choice for AUTHOR UNEDITED.
Lucy also released a new book today!  It's called The Price of Scandal and it flips the billionaire trope on its head (it's also free to read in Kindle Unlimited).  I have more information about the book and a chance to win a signed copy—just keep reading!
I hope you enjoy this behind the scenes look into Lucy's routine! I'd love to know who you would like to see a day in the life from next, so leave me a comment below and give some suggestions.
A Day in the Life of Lucy Score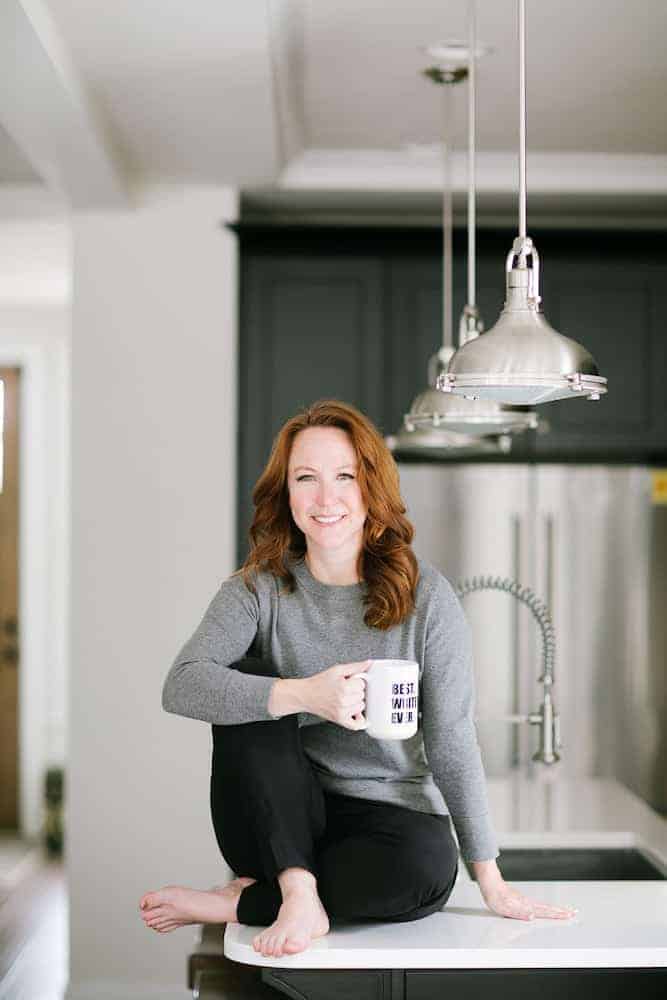 It's around this time, give or take thirty minutes, that I start considering dragging my ass out of bed. I'm a night owl. But I try to keep my vampiric tendencies under control and stick to a 1 a.m. bedtime and a 9 a.m. wake up. My bed is way too comfortable so it's a battle getting out of it in the mornings.
I look like this when I get up. JUST KIDDING. Hahahahaha! Ahhh, I'm hilarious.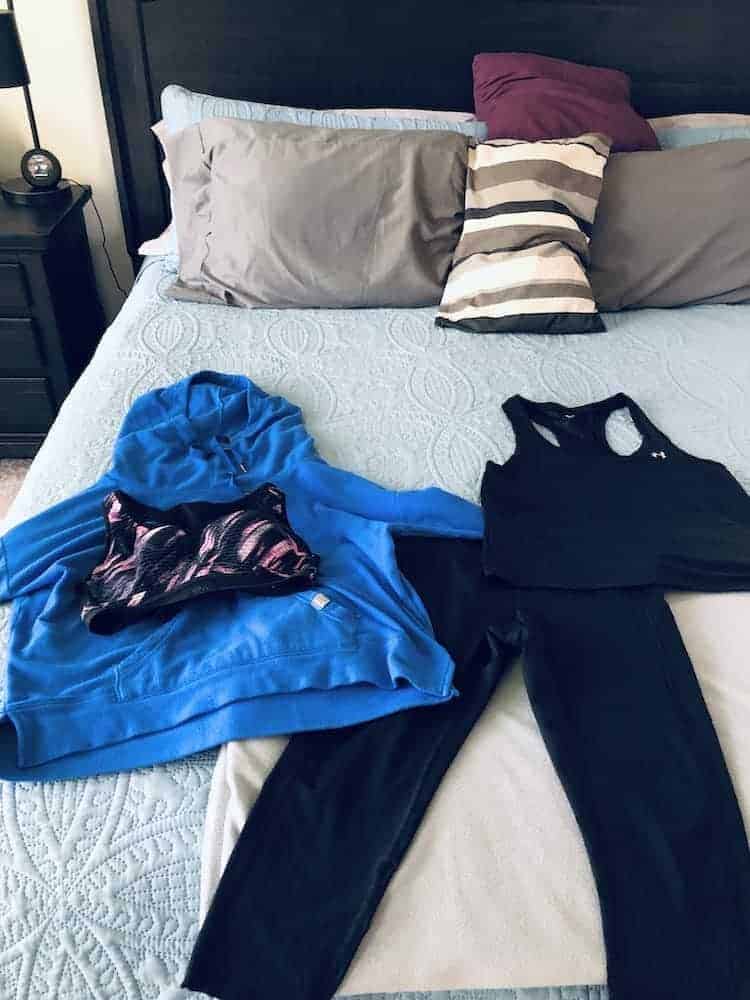 We make the bed every day. Don't be too impressed. It's the only consistent sign of organization in our house. It's Fummer in Pennsylvania, that shoulder season between summer and fall when you wake up and it's winter, but by 2 p.m. it's a sweltering heat wave. The key is easily removable layers.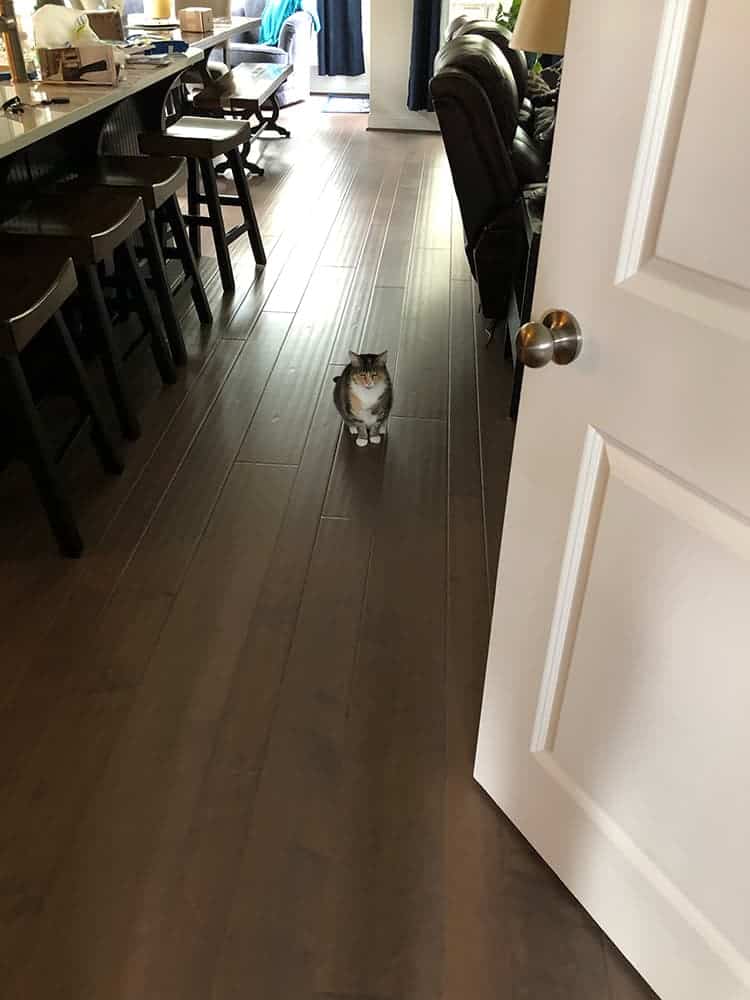 Cleo the bitchy princess wants her breakfast and she wants it NOW!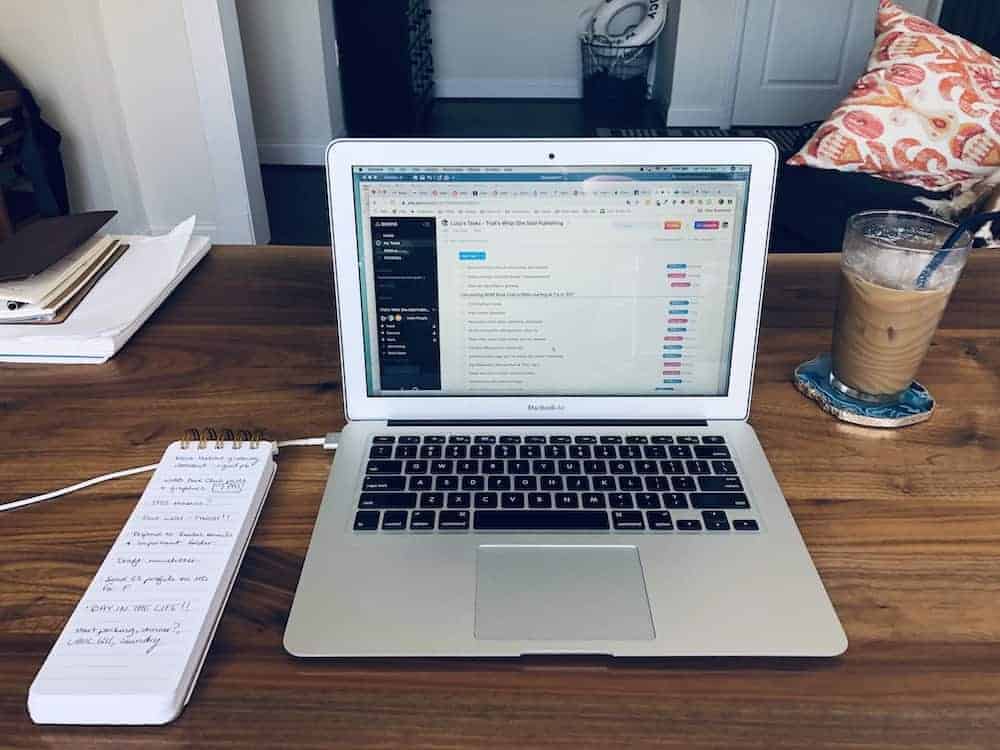 Reviewing my To Dos. I am a mentally disorganized mess and I have no concept of time. So I have to be very regimented about planning and scheduling. This is the point in my day where everything has the potential to spin out of control. If I let myself get on social media to just "check in" I won't surface for two hours. Today I walked on the treadmill for 30 minutes and THEN got on social media. **eyeroll**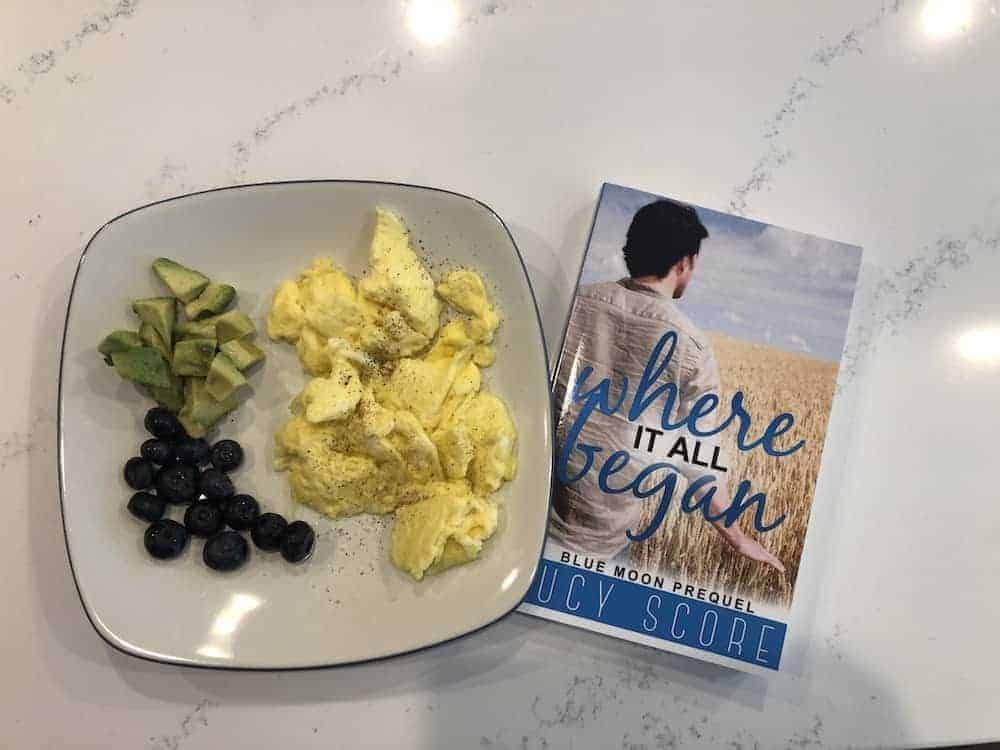 Time for breakfast. I eat breakfast every day between 11 a.m. and noon. Lunch is usually mid-afternoon. And then dinner is at 9 p.m.
Can you tell Mr. Lucy and I don't have kids?
Today I've got some refresher reading to do for my Facebook group's Book Club. Where It All Began is a tear-jerker prequel for my small-town romcom series. My readers forced me to write it and now I'm crying into my eggs over the story all over again. Thanks, guys. **sobs incoherently**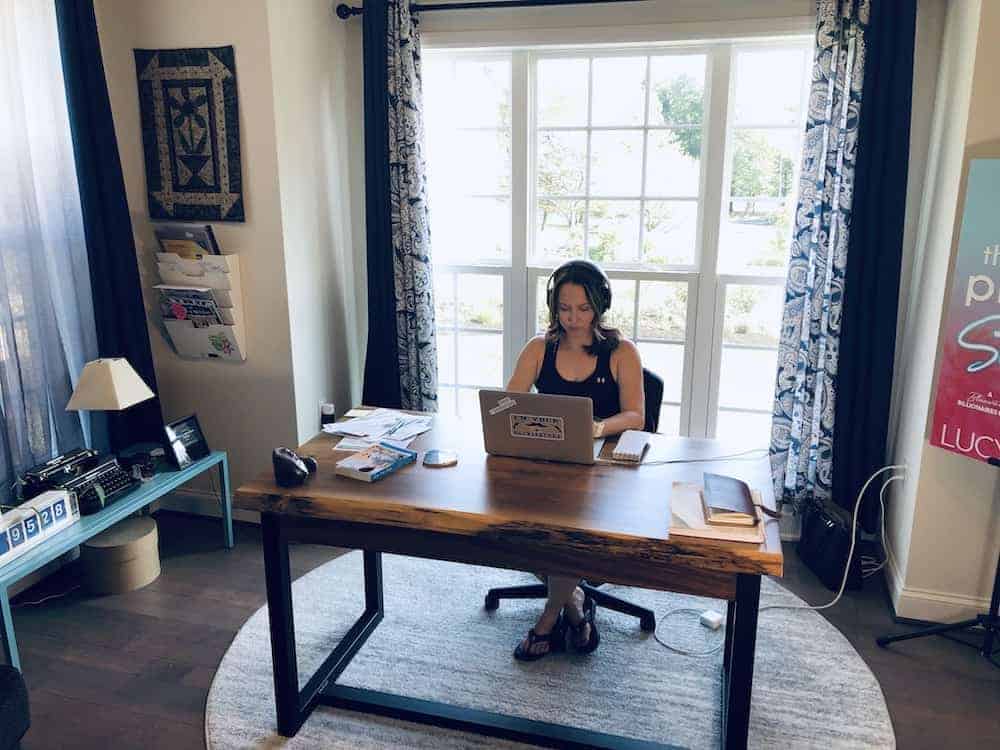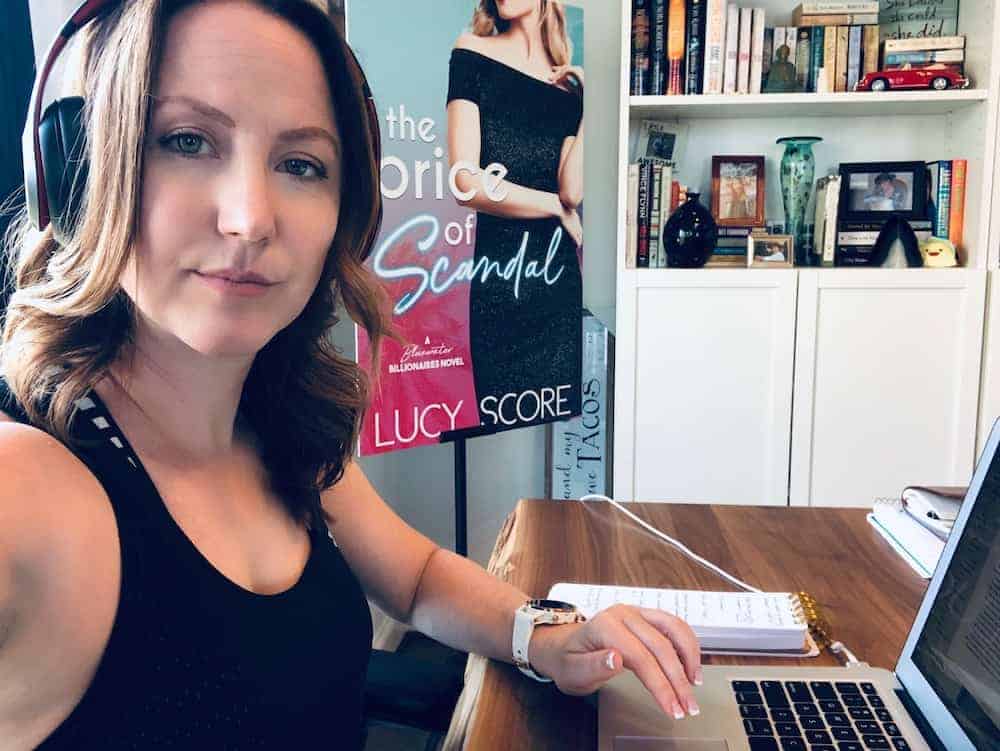 This is how the bulk of almost every single day looks. In the office, on the laptop, writing, social media-ing, admin-ing, marketing, or emailing my brother an update of everything I ate for the day… or a fart joke.
To keep myself on task, I write in 25-minute sprints and set a timer. Nothing but words for 25 minutes. Not even a pee break! Right now, I'm preparing for my launch for The Price of Scandal (a female billionaire!) and outlining a Blue Moon series Christmas project.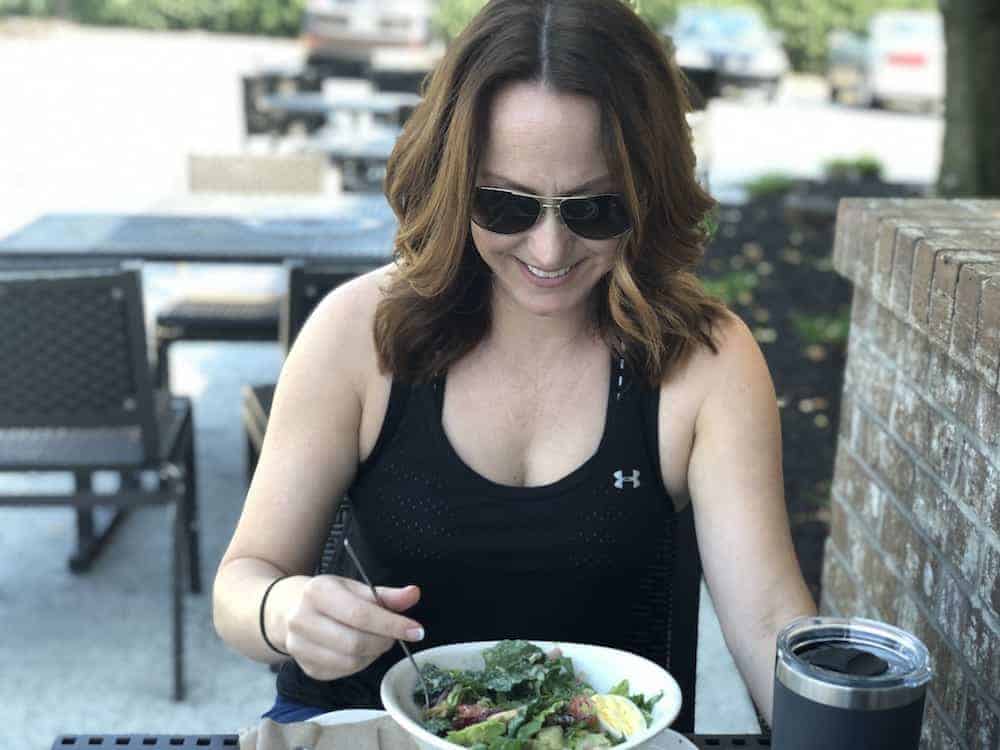 Mr. Lucy talked me into going out for lunch. Mr. Lucy and eating lunches that I don't have to prepare are my kryptonite. I got a salad and wished it was tacos.
You might be wondering why Mr. Lucy is at home to take me to lunch on a weekday. He's my publisher! Mr. Lucy runs That's What She Said Publishing. I write the books, he does literally all the other work except for social media.
Formatting, accounting, taxes, he's the point man for editors and designers, advertising, travel, de-escalating my artistic panic when I'm convinced this book will never end and it's a giant pile of garbage… he's a busy guy. Not gonna lie. It's pretty great!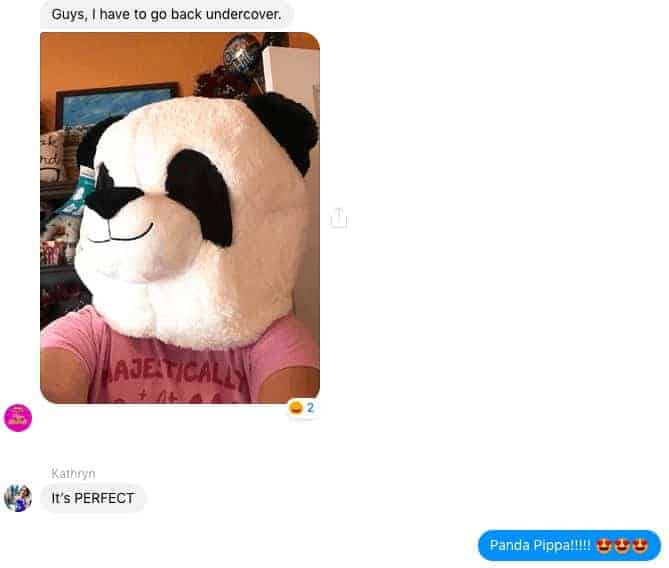 OK, back to work! I've got The Price of Scandal's launch coming up so most of my To Do list is centered around that. Fortunately, that means I have an excuse to talk to my author pals Claire Kingsley, Kathryn Nolan, and Pippa Grant about our year in the making collaboration with the Bluewater Billionaires books. As you can see, we get side-tracked easily.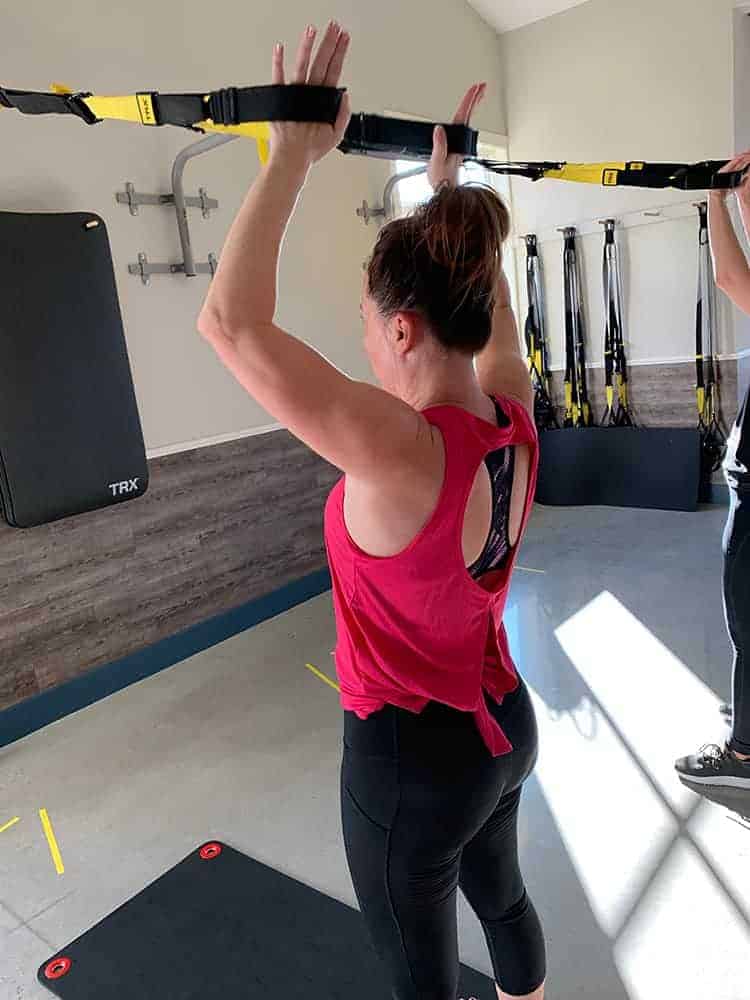 Work out time! I try to work out five days a week. Sometimes it's first thing in the morning. Sometimes it's a gym class in the evening. And sometimes I can't get off the couch. My favorites are yoga, barre, running, and high-intensity intervals. Today, it's a thirty-minute intervals class and my butt is kicked!
Ran a bunch of errands and felt like a superhero! I recycled 600 million plastic bags, returned an impulse-buy lip gloss to Rite Aid (hot pink is NOT my color), and got gas BEFORE the low fuel light came on. I am victorious!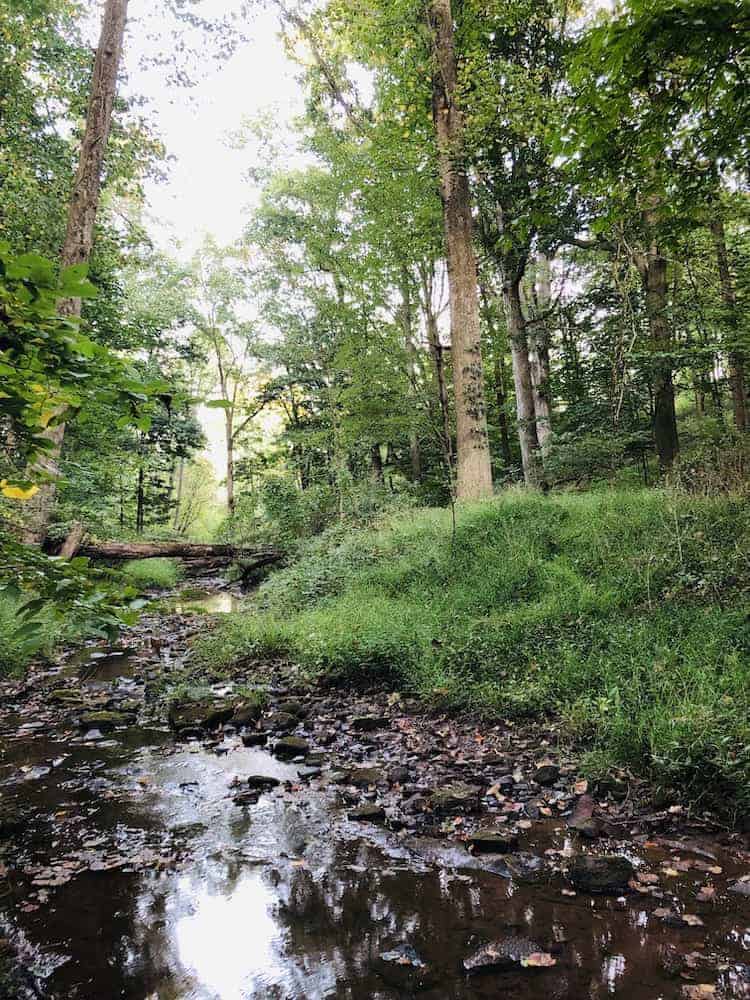 We just bought a hunk of land to build a house on and I drove over to walk it by myself. There's a stream and woods and birds and deer and all kinds of natural "stuff"! I'm not officially outdoorsy. I like lazy kayaking and bonfires. But I don't care for bugs or snakes or poison ivy. I am also convinced that bears are lurking in the shadows waiting to eat my face.
So, I'm slowly immersing myself in hopefully bear-free outdoor activities while slathered in bug spray to fully appreciate the majesty of Mother Nature.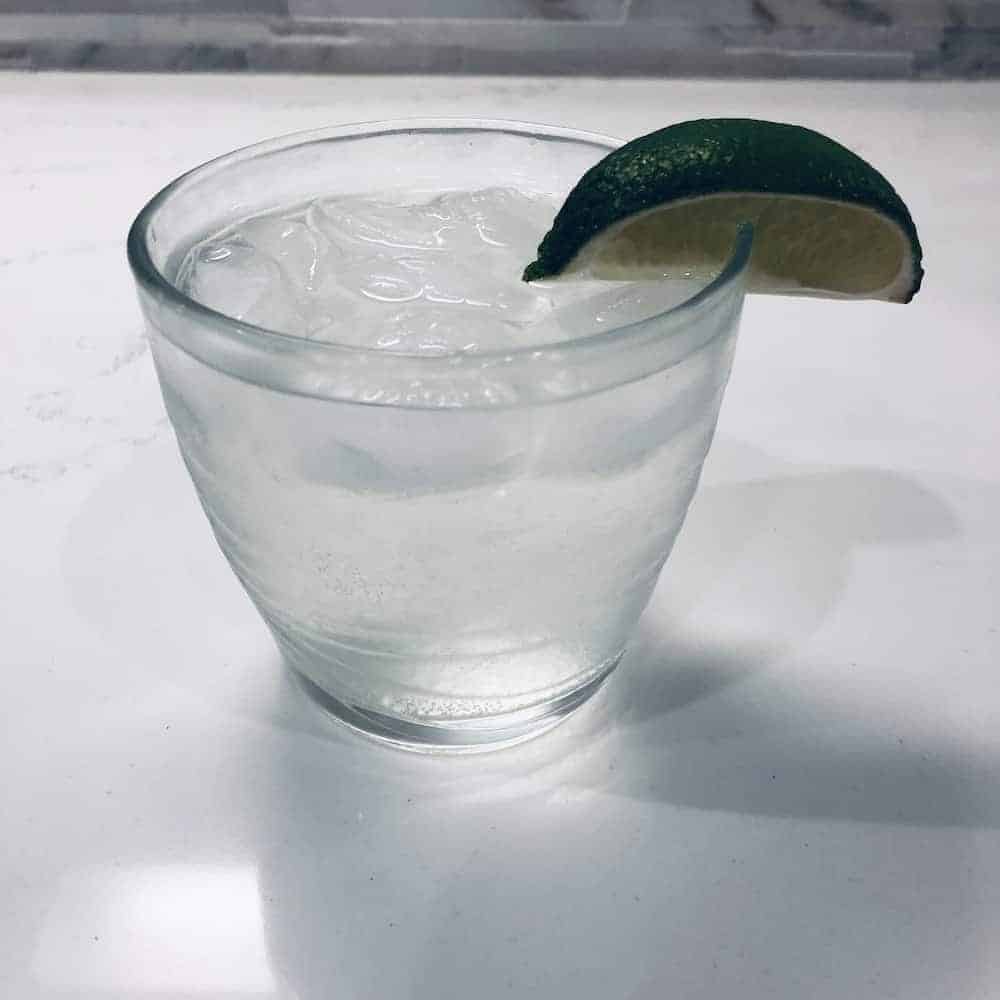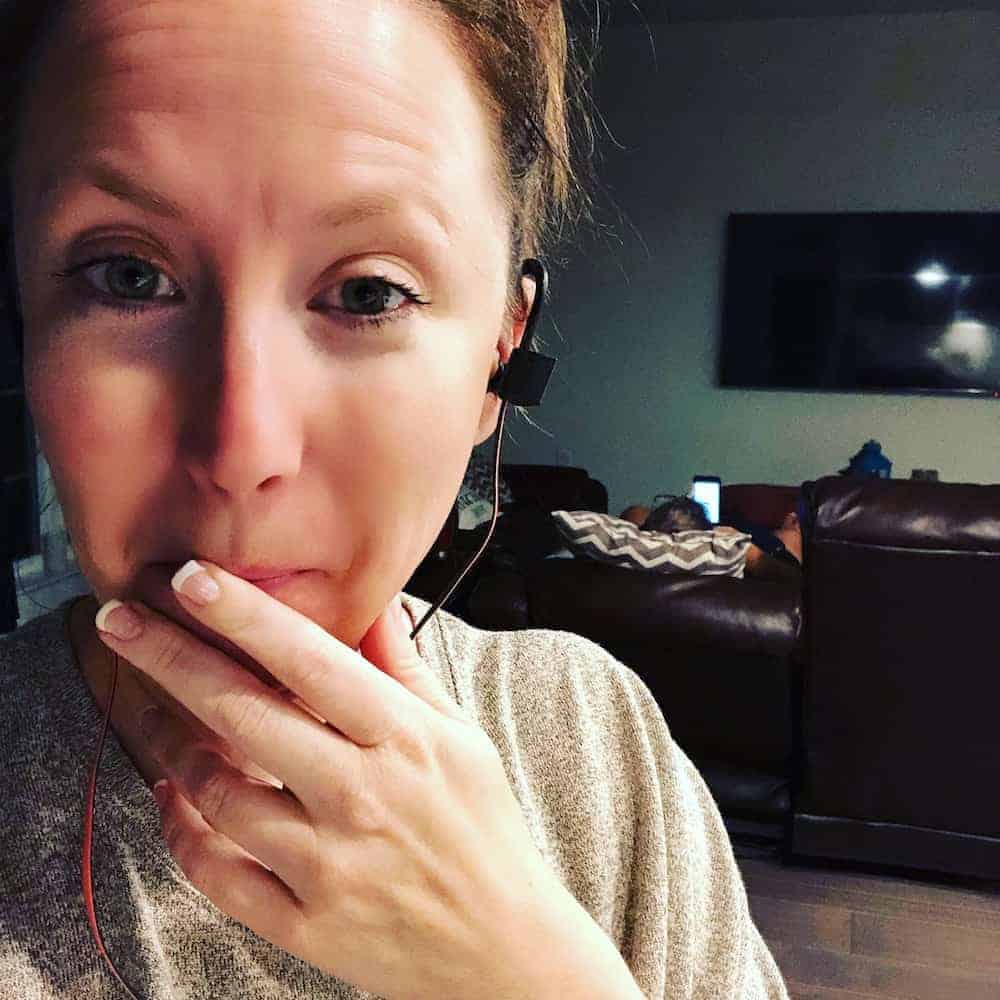 I love to cook… when I have time! And I usually enjoy an alcoholic beverage and loud music while cooking. Tonight, it's a gin and tonic with some Anderson East and KNGDAVD music while I make porkchops.
I also excel at salmon and chicken and waffles—the Pennsylvania Dutch kind with gravy, not syrup. Another thing I'm great at? Ordering Indian food and having it delivered. Or finding tacos anywhere.
Tonight, I rocked out on headphones while Mr. Lucy read The Price of Scandal on the couch! What was that? Did he just laugh or yawn? That better have been a laugh or his porkchop is getting dropped on the floor.
After dinner and a little more time catching up with readers on Facebook and Instagram it's officially time to veg on the couch. Mr. Lucy and I have very different viewing habits. He's into smart science and history shows or reruns of Cops.
I like lighter, fluffier things like Miz and Mrs., Queer Eye, or reruns of Parks and Rec and Arrested Development. However, I did get hooked on Air Ambulance ER (it started out as book research for my December firefighter release and now I can't stop watching it).
Since we rarely agree, we usually trade off as Captain of the Remote. Tonight we watched the first episode of the Bill Gates docuseries on Netflix (my pick)! I also polished off a couple of chapters in Michael Connelly's The Burning Room.
I'm ready for bed and for some reason I decided to step out on the deck to check out the moon. Since I'm romantic AF and all. It was perfect timing because I saw the biggest, brightest shooting star—or meteor, or flaming ball of space garbage—that I've ever seen in my entire existence on this planet. Magic.
Now it's time for the most comfortable bed in the universe! Stay awesome, friends. May your TBR lists be endless and your current reads be 5-stars! **faceplants**
I hope you enjoyed this first installment of AUTHOR UNEDITED!  A big thank you to Lucy Score for taking the time out of her busy schedule to give us a peek into her daily routine.  Be sure to check out her new book, The Price of Scandal.
The Price of Scandal by Lucy Score
"I'm the fixer your board hired to clean up your mess."
"So you show up here, break into my house, and take a bath?"

Emily Stanton's perfect life just became a disaster. She has a trust fund brother looking for a handout, a father who is more board member than dad, and a mother who thinks she should give up on this whole billionaire CEO thing and meet a man with a pre-nup and a yacht.

Oh, and then there's that "misunderstanding" with law enforcement witnessed by Miami's paparazzi. Now her billion-dollar deal is on the line, and there's a naked man in her bathtub who claims he's going to make all her problems disappear.

Charming—and happy to bend the rules when necessary—Derek Price has made a living polishing the tarnished images of the rich and famous. He's never lost, and he never takes clients to bed. Until the dazzling Emily. Derek promised her a win and offered up a lifetime supply of orgasms as part of the deal. But if he can't stop her enemies, he'll end up losing much more than he bargained for.

Author Notes: An enemies-to-allies-to-lovers workplace romcom with a meet-nude, four lady billionaire BFFs, a hero whose many talents include styling hair and picking pockets, the best dang drag queen brunch in Miami, and a shameless romance novelist cameo.
[mailerlite_form form_id=4]