Thank you for the advanced copy of OUT OF BOUNDS by Lauren Blakely. All opinions are my own.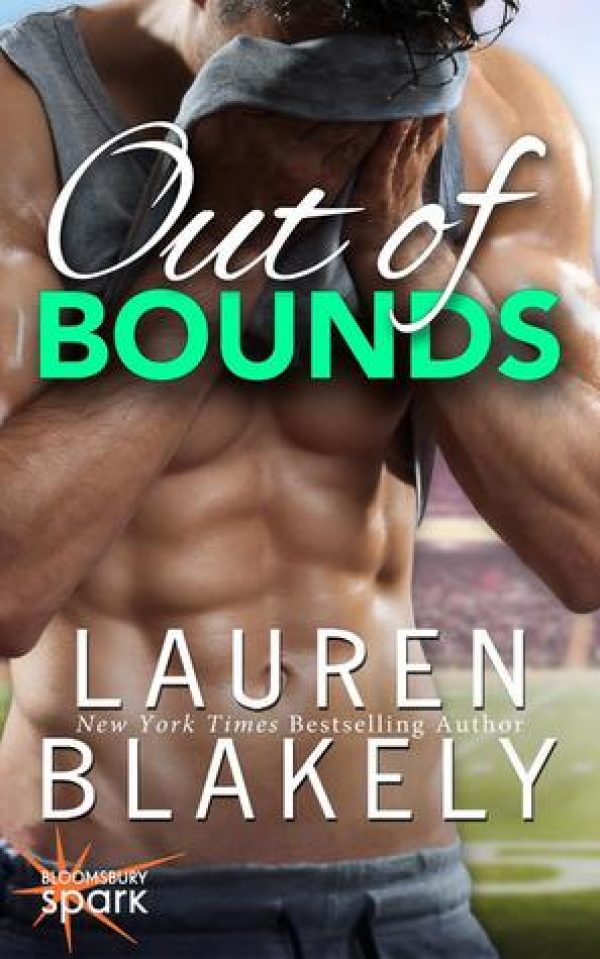 The first rule of football–don't screw with a streak.

My career is finally looking up, and I'm leading a new pro team down the field every Sunday. No way will I mess with that. But when I meet the most stunning and captivating woman I've ever seen, I tell myself one night will have to be enough.

But it's not. And now I can't get her out of my mind. Even when I'm playing. Even when I need to focus. Even when I'm on the hottest streak of my life.

And it turns out, she's not just some random woman I met. She works for the team. My team.

***

I only have one goal this season–do my part as the team's lawyer to keep them out of trouble. Help rebuild their reputation on and off the field. There's no room for error and certainly no room for a secret tryst with a player . . . even if he's the quarterback.

Right?
Note: Clicking links on this site will take you to the retailer's purchase page.
Totally Bex is a participant in the Amazon Services LLC Associates Program, an affiliate advertising program designed to provide a means for us to earn fees by linking to Amazon.com and affiliated sites.

Every once in a while you need a short and sweet story (or quick and dirty, if you will) to read in an afternoon.  Out of Bounds fits the bill at only 150 pages, but nothing is left out of this sexy, somewhat forbidden romance.  It's packed with heat, witty humor, delicious dirty talk, and sizzling chemistry!
Dani is a lawyer for a local football team, while Drew is the new star quarterback.  After their adorable meet-cute, they find out that they are now working together.  While it isn't technically against the rules to date, the team has suffered some major PR problems recently.  This puts the brakes on their instant connection, but gives us some major sparks of unresolved sexual tension every time they are in the same room together.
By now, you probably know that I love Lauren's writing.  I was curious about how that would translate to a sports romance (i.e. my fave genre) and she definitely didn't disappoint.
Out of Bounds is filled with everything I have come to expect: lovable, relatable characters, piping hot chemistry, witty, humorous banter, and lots of swoon thrown in the mix.
It may technically be a novella, but it reads as a full-length novel.  I really hope she continues this as a series because I need more hot and dirty athletes in my life!
When we reach her home, a cute little white bungalow, she gestures to the porch. It's teeming with potted plants and flowers, as well as pizza coupons and takeout menus stuffed behind the mailbox next to the doorway. "Thank you, Andrew. For the drinks and the escort service."
I wiggle my eyebrows because she says escort in kind of a naughty way. "And thank you for the surf angel-slash-nurse work."
"My pleasure. I was happy to save a guy in distress."
I narrow my eyes and protest her description. "Hey now. I'm not a dude in distress."
She whispers "just kidding" as she leans against her porch railing. I don't think it's intentional, but that pose shows off all her assets. The swell of her breasts in her tank top, her curvy hips, her strong legs. This woman just f*cking does something to me. Turns me on, that's what she does. Makes me hard as hell. Though she's made it clear that the night ends right here, I intend to make the most of this good-bye.
I move closer to her and run my hand down her arm. I watch as goose bumps rise in its wake. My voice goes low. "Do you know what I've been thinking about?"
She tilts her head to the side. "What would that be, Andrew?"
It still sounds funny to hear her call me that. But next time I see her I'll tell her that everyone calls me Drew. With my other hand, I brush her hair off her shoulder, cataloging her reaction to my touch. The way she shivers. How she sways closer. The rush of breath on her lips. I bring my mouth to her ear, and whisper. "What it would be like to kiss you."
I pull back, wanting to look at her. Her lips are parted, then she licks them and swallows. It's like she's taking a step closer, saying go for it. "You should absolutely find out then," she says, soft and inviting.
My fingers travel from her shoulder, up to her hair, and I rope my hand through those blond locks. I pull her close, savoring the warm feel of her sun-kissed skin and the smell of sand, surf, and sunshine in her hair.
I dip my mouth to hers, clasping her face in my hands. When I nip her bottom lip, she gasps. It's such an alluring sound, and it turns me the f*ck on even more. My d!ck would very much like to go inside her house tonight, but kissing is all that's on the menu, so I kiss her in a way that'll leave her wanting more. Because I want so much more of her, and I also want her to know that.
I'm not sure how I went from leaving the field when practice ended this morning, to spending the afternoon surfing to get my mind off all the changes I'm sure are coming, to kissing this beautiful stranger outside her Venice Beach home. But hell if I want to analyze this moment.
I spend my working hours making decisions, analyzing, choosing. Then executing.
Right now, I want to get lost in something that no one else controls but this woman and me.
Want more? Check out these posts!