This post contains affiliate links you can use to purchase the book. If you buy the book using that link, I will receive a small commission from the sale at no additional cost to you.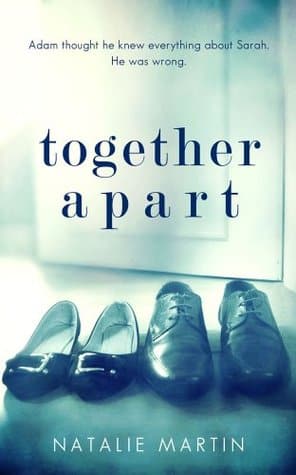 Together Apart
by
Natalie Martin
Published by
Lake Union Publishing
on June 23rd 2015
Genres:
Fiction
,
Romance
Number of Pages:
229
My rating:


Kindle
Paperback
When Adam proposes to Sarah, the last thing he expects is to be single and heartbroken less than forty-eight hours later. But Sarah has a secret, and she's willing to sacrifice everything to keep it.

Going through a break-up is hard enough but having to live together afterwards is even worse, especially when it's a break-up neither person wants. For Adam, only ways to deal with it are drinking and partying. For Sarah, it's keeping her distance and her secrets.

Against a backdrop of lies, betrayals and passion, the delicate threads holding Sarah's secret begin to unravel when her past and present collide.

Romantic, intense and heartbreaking, Together Apart explores what it really means to love and be loved.
I received this book for free from the publisher via NetGalley in exchange for an honest review. This does not affect my opinion of the book or the content of my review.
---
My Review of Together Apart
Together Apart by Natalie Martin is a realistic portrayal of love, relationships, and the effects of a breakup. It is realistic, raw, and full of tension. The dual point-of-view works well and gives you a glimpse into the mind of an ordinary guy in love with a woman who is leading a double life. While there is a suspense element to the story, I found that the dynamics of the main characters' relationship was the highlight of the book.
Adam is a kind, caring, and responsible partner, and he is completely in love with Sarah. Their relationship is perfect, or so it seems until he makes the rash decision to ask Sarah to marry him. Sarah does the last thing he would have expected and says no. This sets off a catastrophic chain of events in their relationship and they decide to break up.
The majority of the book is about them dealing with the breakup and its aftermath. Adam is heartbroken and Sarah slips into depression. They are forced to live together until their lease ends, they tiptoe around each other, and they try to deal with the loss in their own ways.
While it was excruciating to watch their partnership disintegrate, it was like a bad train wreck…I couldn't look away. Every hurtful word made me want to give them both a good shake and tell them to stop being immature and fight for what matters. However, their behavior was understandable considering the circumstances.
Meanwhile, Sarah has a devastating secret in her past and she does not believe Adam will still love her after he learns about what she has done. Once a former friend dies, Sarah is sent spiraling into the past and Adam is forced to collect clues as to why Sarah has shut down.
I was initially intrigued by the mystery of Sarah's secret when I chose this book, but I continued reading because of the genuine and convincing relationship dynamics between Adam and Sarah. That being said, however, the plot was a little slow moving until the final quarter of the book and the ending felt a little contrived. Discovering the details Sarah's secret was heartbreaking, I am pleased to say that I didn't guess what happened before it was revealed.
If you like romance/chick-lit with a little angst and mystery, I would totally recommend Together Apart. The clever title and beautiful cover is only the beginning of what this book offers.