5 Romantic Comedy Books That Made Me Laugh Out Loud
This post contains affiliate links. If you make a purchase using that link, I will receive a small commission from the sale at no additional cost to you.
Romantic comedies.  Who doesn't love a good rom-com?  I mean, they make you laugh and melt your heart at the same time.
I like to read a lot of 'heavy' books—usually the darker and twistier, the better—so every now and again I like to rotate in a light-hearted romantic comedy book to lift the mood and bring a smile to my face.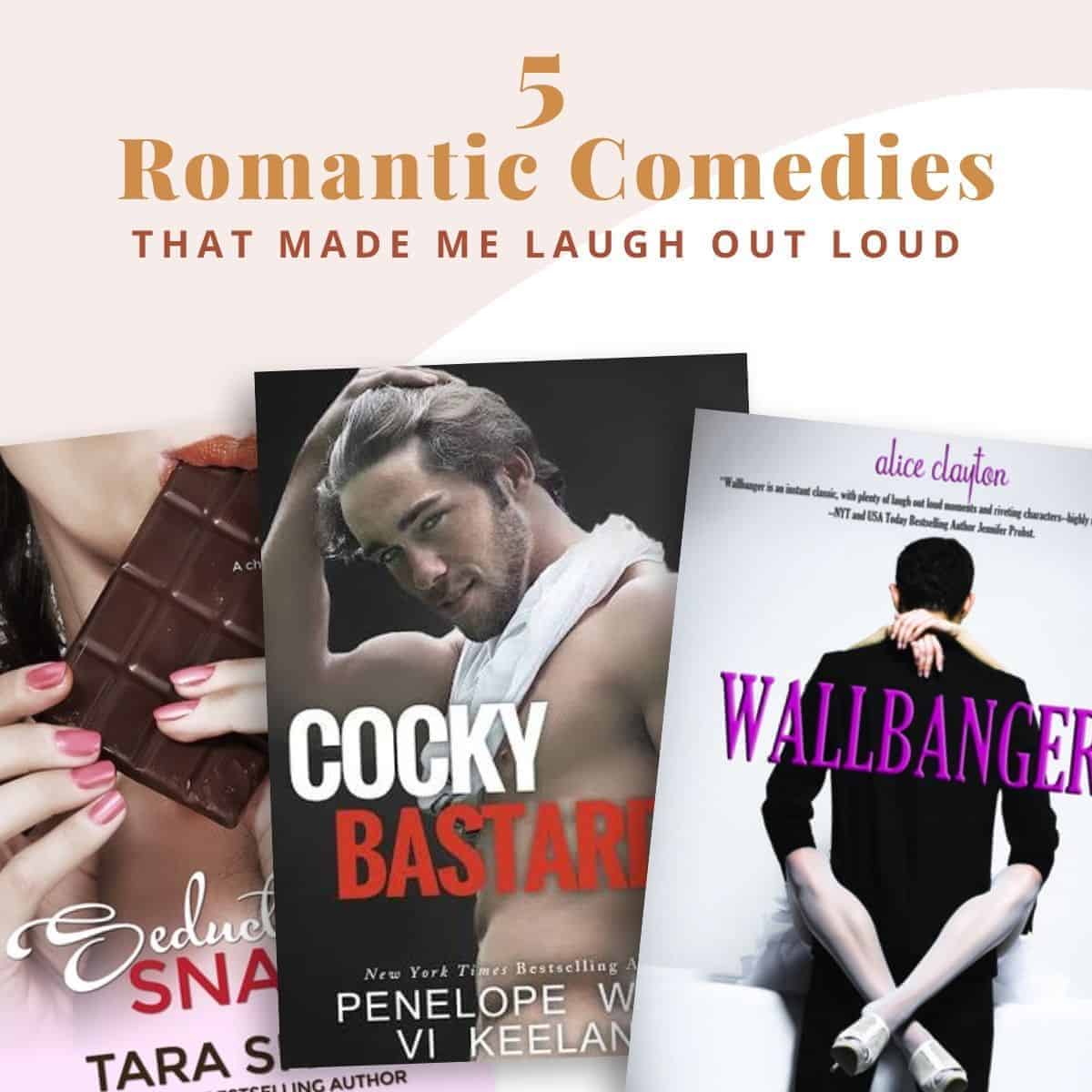 The Best Laugh Out Loud Romantic Comedy Books
Here are five romantic comedy books that made me laugh out loud, made me snort in public at inappropriate times, or made me try to contain my laughter so as not to wake my sleeping husband.
1. Cocky Bastard by Penelope Ward and Vi Keeland
"When my car broke down, we made a deal. Next thing I knew, we were traveling together, spending sexually-tense nights in hotels and taking unplanned detours.  My ordinary road trip turned into the adventure of a lifetime. It was all fun and games until things got intense."
This book had me laughing so hard at one point, I had tears rolling down my cheeks.  Let's just say, a road trip just isn't the same without a fainting goat. 
2. Truth or Beard by Penny Reid
"…after a case of mistaken identity, Jessica finds herself in a massive confusion kerfuffle. Jessica James has spent her whole life paralyzed by the fantasy of [twins] Beau and her assumptions of Duane's disdain; therefore she's unprepared for the reality that is Duane's insatiable interest, as well as his hot hands and hot mouth and hotter looks."
I fell in love with the entire Winston family while reading this book.  Even though all of the brothers are funny in their own way, Cletus stole the show.  
It's full of mischief, mayhem, and down-home southern charm.  Throw in a little nerdiness, and you have yourself a winner!
(The prequel to this book, Beauty and the Mustache was equally hilarious.  I highly recommend it!)
3. Wallbanger by Alice Clayton
"Caroline Reynolds has a fantastic new apartment in San Francisco, a Kitchen Aid mixer to die for, and no O (and we're not talking Oprah here, folks). She has a flourishing design career, an office overlooking the bay, a killer zucchini bread recipe, and no O. She has Clive (the best cat ever), great friends, a great rack, and no O. Adding insult to O-less, she also has an oversexed neighbor with the loudest late-night wallbanging she's ever heard…Enter Simon Parker. "
The cast of characters in this book is humorous and comical, the writing is sexy and sassy, and Caroline may win the award for 'The Most Human Cat Ever.'  
I loved this book from beginning to end and have never laughed as much while reading a romance as I did with this one.
4. Seduction and Snacks by Tara Sivec
"Claire is a twenty-something, single mom that grudgingly helps her best friend sell sex toys while she attempts to make enough money to start her own business to give her foul-mouthed, but extremely loveable (when he's asleep) toddler a better life."
That toddler?  Yeah, he made the whole book hilarious.  I kept reading just to see what was going to come out of his mouth next.  Well, that, and the romance was pretty good, too. 
5. Lingus by Mariana Zapata
"When twenty-five-year-old Kat is dragged to a porn convention by her best friend, she's both embarrassed and nervous. The last thing she ever expected was to meet someone who makes her laugh like no other. This is a story about acceptance and friendship, and a love born out of the most unexpected of places."
This is a slow-burning romance with quite an unusual first meeting.  I loved the main characters, but also enjoyed the supporting characters just as much.  Who knew that a porn star and his friends could be so funny? 
Do you like romantic comedies?  Which book is your favorite?  Let me know in the comments below!