Thank you for the advanced copy of VICIOUS by LJ Shen. All opinions are my own.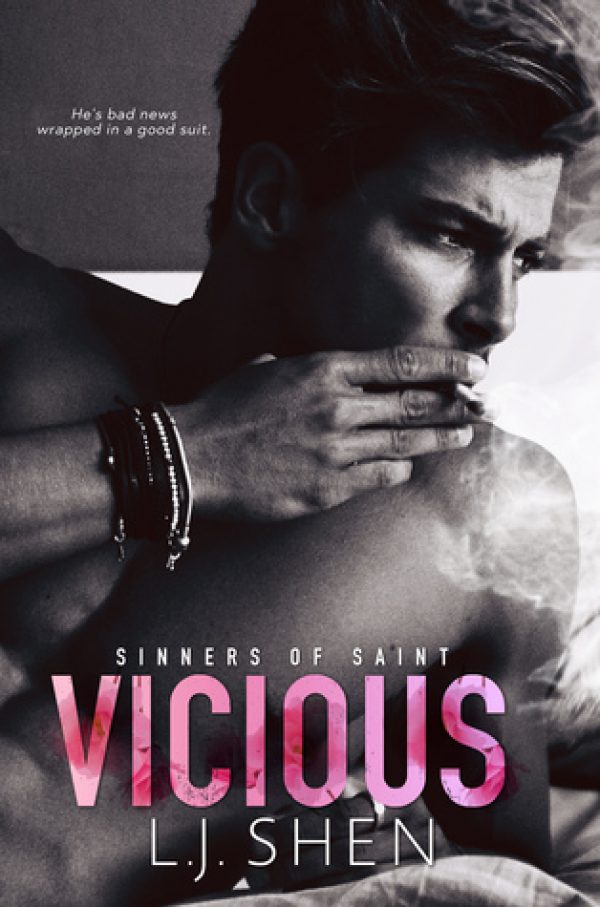 Emilia

They say love and hate are the same feelings experienced under different circumstances, and it's true.The man who comes to me in my dreams also haunts me in my nightmares. He is a brilliant lawyer. A skilled criminal. A beautiful liar. A bully and a savior, a monster and a lover.

Ten years ago, he made me run away from the small town where we lived. Now, he came for me in New York, and he isn't leaving until he takes me with him.

Vicious

She is a starving artist. Pretty and evasive like cherry blossom. Ten years ago, she barged into my life unannounced and turned everything upside down. She paid the price.

Emilia LeBlanc is completely off-limits, my best friend's ex-girlfriend. The woman who knows my darkest secret, and the daughter of the cheap Help we hired to take care of our estate. That should deter me from chasing her, but it doesn't. So she hates me. Big fucking deal. She better get used to me.
Note: Clicking links on this site will take you to the retailer's purchase page.
Totally Bex is a participant in the Amazon Services LLC Associates Program, an affiliate advertising program designed to provide a means for us to earn fees by linking to Amazon.com and affiliated sites.
Other books in this series:

I thought I knew what I was getting into when I started reading Vicious, but I was wholly unprepared for what I got.  It smacked me in the face, knocked me off my feet, and completely blew me away. The strength of the writing, the depth of the characters, and the intense emotions from start to finish were enough to do both my heart and my head in.  It's a fantastic enemies-to-lovers/revenge/redemption story that's complex, yet perfectly tied together, and I could not have loved it more.
Spanning the course of a decade, we follow Vicious and Emilia through their tumultuous and sometimes toxic relationship.  Baron "Vicious" Spencer is the king of the high school, while Emilia is the quirky outcast. Vicious and his friends make Emilia's life a living hell for their entire senior year.  When Emilia makes the mistake of dating Vicious' friend, he dials up the torture and gives her a heartbreaking ultimatum.   Fast forward ten years and he comes barreling back into her life only to turn it upside down once again.
The relationship between Vicious and Emilia is so hard to explain with words.  One minute there's so much animosity and acrimony, but then in next breath, there is a protective fierceness that comes out of nowhere.  As the blurb says, "love and hate are the same feelings experienced under different circumstances" and that sentiment could not be more true with these two. Even ten years later, there is so much animosity and pent up lust, Vicious and Emilia are absolutely explosive when they finally get together.
Vicious is just that–he's vicious, he's cruel, he's fierce, and he's a force to be reckoned with.  Like a caged animal who has been provoked one too many times, he strikes out when you least expect it.  Emilia is the polar opposite in that she is all light and goodness, yet she's no pushover.  Emilia is strong, smart, talented, and she can stand up for herself.  She's the antithesis of Vicious and I think she makes the perfect foil for someone like him.
This may have been my first book by LJ Shen, but I can assure you this will not be my last.  She has such a way with words and characters, I was completely caught up in the world of revenge, lust, and greed she created with Vicious.  I can safely say that I'm hooked and now I need more.  Do yourself a favor and give this one a go.  You won't regret it!