Thank you to Social Butterfly PR for the advanced copy of OUTMATCHED by Kristen Callihan and Samantha Young.  All opinions are my own.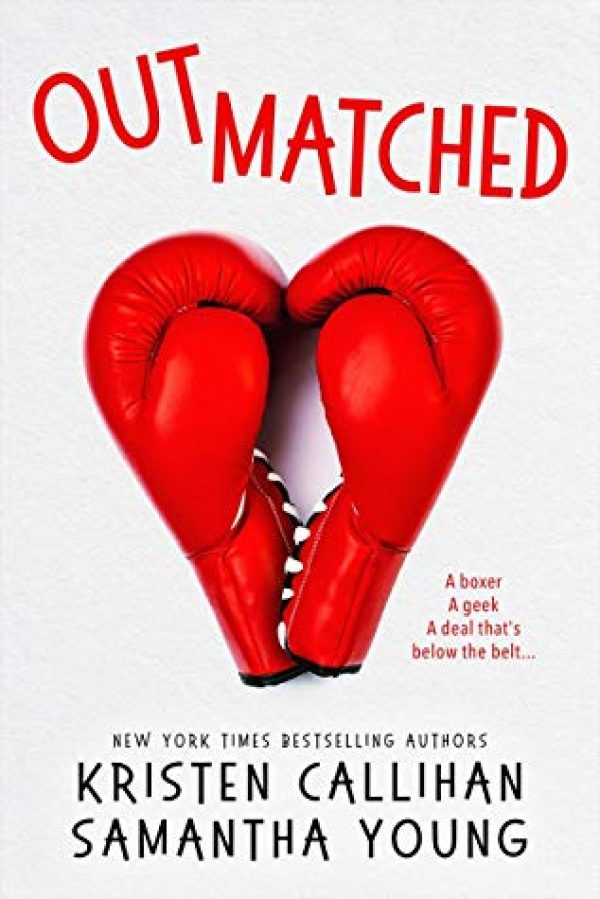 What happens when a boxer finds chemistry with a geek?

Parker Brown can't believe she needs to hire a fake boyfriend. When she landed her dream job in renewable energy, she thought she'd be entering a world at the forefront of progressive thinking. But the head boss prefers to promote employees who are "settled." Thankfully, she's found the perfect candidate, a fellow intellectual looking for some quick cash. What Parker gets is his protective big brother—Rhys Morgan. The tall, muscled ex-boxer with a foul mouth shows up just as her boss does, and now she's stuck with the manipulative jerk.

Responsibility weighs heavily on Rhys. Now permanently out of the ring, he's trying to hold together his late father's gym and keep his younger brother, Dean, on the straight and narrow. To save Dean from himself, Rhys takes his place, ready to give this society girl a piece of his mind. Instead, he finds an opportunity. Even though they can hardly stand each other, posing as Parker's boyfriend is a win-win deal. She gets to keep her job, and he'll charm her star-struck boss into sponsoring his gym.

Problem is, they can barely keep their hands off each other. And what started as an easy deal isn't so easy anymore. Because what future can a rough ex-boxer, afraid to open his heart, and a polished society geek, who has sworn off real relationships, possibly have?

They say opposites attract. These opposites are about to combust on impact.
Note: Clicking links on this site will take you to the retailer's purchase page.
Totally Bex is a participant in the Amazon Services LLC Associates Program, an affiliate advertising program designed to provide a means for us to earn fees by linking to Amazon.com and affiliated sites.

When two contemporary romance powerhouses in their own right join forces and release a book, you know it's going to be a knockout. Outmatched not only lived up to my sky-high expectations, but it also proved to be a one-two punch of swoon and sassiness I couldn't put down.
Parker Brown is an environmentalist working in green energy. She was born into a rich family, but she's determined to make her own way and succeed without their help. Parker is a pint-sized powerhouse, she's a problem-solver and a go-getter. When her misogynistic boss tells her that he only works with people in committed relationships, Parker takes matters into her own hands and hires a fake boyfriend to sway his opinion and offer her a permanent contract. Which is where Rhys Morgan comes in.
Rhys is a former prizefighter who has inherited a run-down and bankrupt gym from his deceased father. With the weight of the world on his shoulders, Rhys is struggling to keep all of the plates spinning. When he finds out that his genius baby brother has been hired as Parker's escort, he puts a stop to the shenanigans and winds up becoming her companion instead.
The banter between Rhys and Parker is epic. There is nothing I love more in a book than a slow-burn with fantastic banter, and this one has it in spades. The scorching chemistry between Rhys and Parker is fantastic and there's a bit of a Pride and Prejudice meets Beauty and the Beast dynamic that I loved.
Rhys and Parker may be the main attraction in Outmatched, but the secondary characters are also highly entertaining. Plus, the writing between the pair is seamless, smart, and snappy. There isn't anything I didn't like about this book and I really hope we get to see more from this writing duo very soon!
Want more? Check out these posts!