Thank you for the complimentary copy of LOVE SINCERELY YOURS by Sara Ney and Meghan Quinn. All opinions are my own.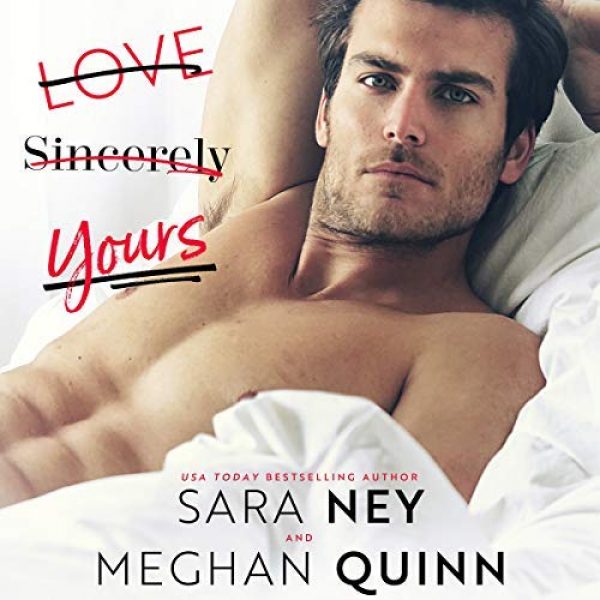 Dear Mister…**strike out** no, too formal.
Hey there sweet cheeks *strike out* no, too forward.

To whom it may concern,
Full disclosure; before we move forward with this email, I would like it to be known that I have consumed an adequate amount of alcoholic beverages to intoxicate myself tonight. Three margaritas, two shots, and one beer—because it was free.
I think it's important to be open and honest with your co-workers, don't you?
So here I am, being honest. Drunk but honest. Or just drunk with lust? You decide.
I like you so much it's clouding my judgment and making me do things I never would sober. Like write this letter.
I have a hopeless, foolish, schoolgirl crush on you when you are the last person on earth I should be falling for. Did you know people around the office call you a sadist? An egomaniac. An insensitive, arrogant prick. Your bark is worse then your bite, and you don't scare me. The fact is, I'd love that bite of yours to nip at my bare skin while we're both wearing nothing but sheets.
For once I want you to look at me as more than one of your employees. 
And as long as we're being honest, that navy blue suit you wear? With the crisp white shirt? It really makes me want to loosen your tie and show you who's boss. 
Love,
Sincerely,
Yours.
Note: Clicking links on this site will take you to the retailer's purchase page.
Totally Bex is a participant in the Amazon Services LLC Associates Program, an affiliate advertising program designed to provide a means for us to earn fees by linking to Amazon.com and affiliated sites.
Narrated by Ava Erickson and Alexander Cendese

When two rom-com powerhouses team up to write a story, I feel like it could go either way: hilariously funny or off-the-rails horrible.  I'm so happy to say that Love, Sincerely, Yours totally worked for me!  
The characters are quirky and funny, the banter is amazing, the storyline is unique enough to keep you guessing, and the slow-burning tension is thick enough to cut with a knife.
Peyton is about to resign from her job, but a night out with friends celebrating her big birthday changes the entire course of her last two weeks at work.  
What starts out as a drunken confessional email to her big-time crush—who happens to be her work-obsessed and completely grumpy boss—turns into a banter-filled anonymous flirtation. 
Rome is caught completely unaware of Peyton's infatuation and vows to find out who is using his company resources so inappropriately.  Along the way, Rome realizes that there's more to life than just work, and Peyton is just the woman to spend time with outside the office (but only after she has left the company—wouldn't want to violate that pesky 'no fraternization' policy Rome is so fond of).
This story is so lighthearted and just plain fun to read/listen to.  Peyton and Rome are all kinds of awkward from the start and their interactions are priceless.  
I found it hilarious how Rome would look past Peyton, finding her dull and boring, not realizing that she was his ardent anonymous admirer getting him hot under the collar over email.  Seeing him open up and grow over the course of the book was my favorite part.  
Peyton has been crushing on Rome for years and that really shows in the amount of detail she knows about him without actually having a conversation with him.    
Now on to the audiobook narration. Ava Erickson is a shining star as she vibrantly portrays Peyton and brings out all of the quirk and the sass.  
Alexander Cendese is a little… intense in his scenes, but he grew on me the longer I listened.  I loved his narration of The Bourbon Kings series by JR Ward, but here he was just a wee bit aggressive with his role.
The audiobook is great and time flies by as you're listening. In fact, I think I will go back and read this on my Kindle, just to pick up on any details I may have missed the first time around.  
If you're as big of a fan of office romances with a slow-burning, enemies-to-lovers storyline as I am, I highly recommend checking out Love, Sincerely, Yours. 
Want more? Check out these posts!