Thank you for the advanced copy of THE MOTHER ROAD by Meghan Quinn. All opinions are my own.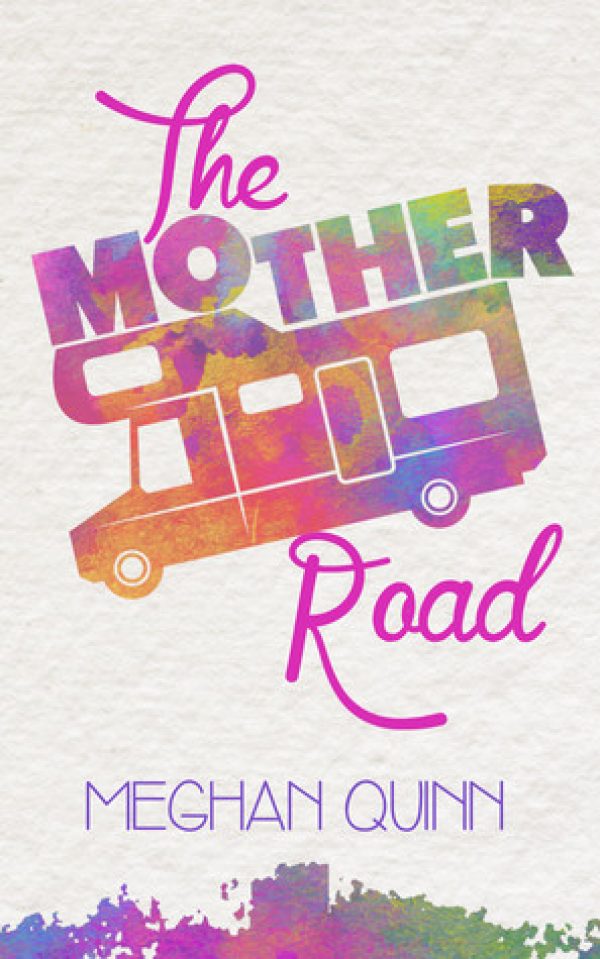 Never in a million years would I have pictured myself as an axe-wielding, dragon lady, chopping up multi-colored flannel shirts into my very own plaid mulch. But here I am, chopping away my frustrations.

It all started when my brother, Paul, convinced me to go on one last family road trip across the Mother Road with him and my dad.. Just like old times, right? Wrong. What Paul fails to mention is his best man, Porter, will be joining us, who just so happens to be my childhood crush and the man who broke my heart four years ago.

What is supposed to be a fun, family bonding experience across Route 66 turns into a war of pranks, awkward moments and bathrooms full of dirty flannel shirts and day old beard clippings. Paul's know-it-all attitude and Porter's devilish charm brings me to the brink of my sanity on my seven day trek across the United States with three bearded men in a small 1980's RV.
Note: Clicking links on this site will take you to the retailer's purchase page.
Totally Bex is a participant in the Amazon Services LLC Associates Program, an affiliate advertising program designed to provide a means for us to earn fees by linking to Amazon.com and affiliated sites.

Did I just lose weight? I swear I did because I completely laughed my ass off reading this book. No joke, it is probably the funniest book I have ever read. The comedy in this book goes way beyond just a little snicker here and there.  No, I'm talking full out, laugh-til-you-cry, roll-around-clutching-your-belly, almost-pee-your-pants kind of humor.

So, imagine you are stuck in an aging RV with your dad, your big brother, and his best friend for an entire week. These are men with beards, flannels, and flatulence.
Can you see where this is going?
I don't want to give you the wrong impression about this book. Yes, it is freaking hilarious, but it is also a heartwarming story with poignant family moments.
The road trip is a milestone for each of them, and with it comes with some heartfelt dialogue and maybe, if you're like me, a few tears.
What I loved about this book, first and foremost, is the characters. The more you read about them, the more they become a part of your crazy, extended family.
You have Paul, the brother who's a genius, but mostly acts like a teenage drama queen. Then there's Bernie (Dad), with his ninja eyebrows and Presidential swear words.
You also have the family friend, Porter. He's very sweet, loves unconditionally, and makes sacrifices at the expense of his own happiness. Finally, there's the heroine, Marley.
She's completely relatable, extremely caring, and highly ambitious.  I loved everyone, but the scenes with just Porter and Marley were definitely my favorite!
In the end, the combination of these four, plus the shenanigans of a week-long trip in a 1980's RV, makes for a delightfully entertaining read.
I highly recommend it–especially if you are in touch with your inner 12-year-old!
Beauty Tips from Marley.  Enjoy!
Celebrity beauty secrets
The Mother Road is a standalone, new adult, romantic comedy that revolves around a girl named Marley, who goes on one last road trip with her dad and brother across Route 66 before her brother gets married. What they fail to mention to her is her brother's best friend is joining them; her childhood crush and the boy who broke her heart four years ago. What is supposed to be a fun family road trip across the Mother Road turns into a trip full of sexual tension, pranks, and unfortunate reminiscing.
Since Marley is a beauty blogger living in Los Angeles, she is surrounded by celebrity beauty myths and secrets. In the book, she tests out some of these beauty secrets herself. Here are some of her suggestions:
Hey scaly 'bows, get some lotion!
Got some crust on those elbows? Don't fret; it happens to the best of us. Lotion is a good quick solution but if you really want to break down the wall of shell-like skin, try wine! Warm up some water, drop some wine in it, and soak those elbows. They will be smooth as ever after you get them all boozed up!
No one likes a sludge head.
Product build up is the number one offender to poorly styled hair – not an actual fact. But, if you do have some product build-up, don't worry, there is a way to vanish the sludge and gain some fresh follicles. Grab some beer! I would go for the cheaper stuff because your hair isn't going to care if you're treating it with a local microbrew. Pour it in a bowl, dip your entire head inside and then wrap your head in saran wrap to let it sit. After a quick rinse, you're follicles will be singing you heavenly – albeit, somewhat drunk – praises.
Is that a freckle? Nope, it's a blackhead.
Pesky little things, they have no right taking up residence on a lady's face, but unfortunately they are the party crashers in the skin department. If you want to clear out those pores, take some baking soda and add it to some water or your moisturizer to form a paste – Ross Geller style. Apply to your face and let the paste sit for a bit before rinsing it off to find your skin fresher and clearer.
Thanks, Meghan and Marley!  
Be sure to pick up a copy of The Mother Road today.  Trust me, you'll be happy you did!
Want more? Check out these posts!