Thank you for the advanced copy of MORNINGS ON MAIN by Jodi Thomas. All opinions are my own.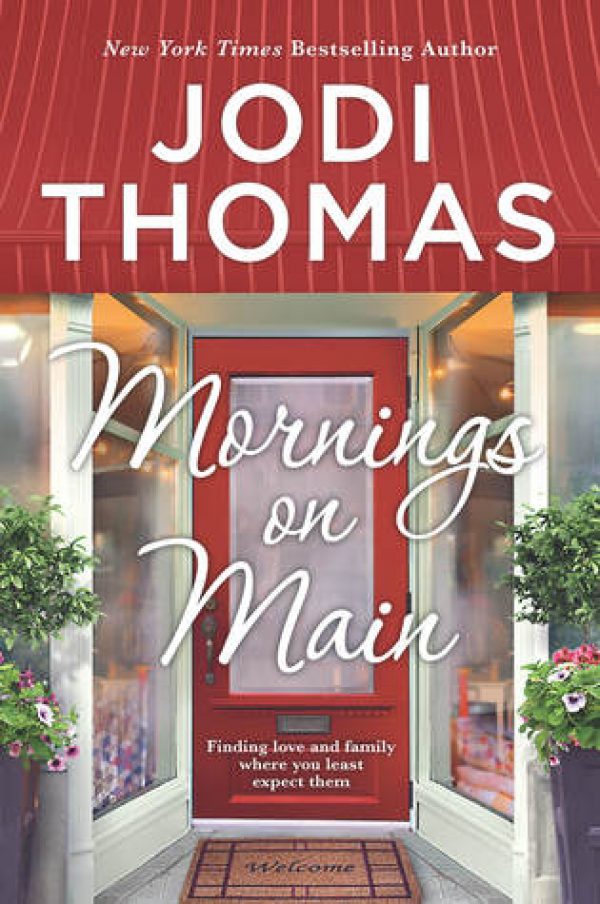 From the beloved and bestselling author of the Ransom Canyon and Harmony, Texas series comes a powerful, heartwarming story about generations of family and the ironclad bonds they forge.

When Jillian James lands in the small town Texas community of Laurel Springs, she's definitely not planning to stay–except to find a few clues about the father who abandoned her and destroyed her faith in family.

Connor Larady is a single dad, and the only one caring for his grandmother, Eugenia, who has Alzheimer's. And now he has to close Eugenia's quilt shop. When Connor meets down-on-her-luck Jillian, he's out of options. Can he trust the newcomer to do right by his grandmother's legacy? 

Jillian is done with relationships. But as she grows closer to Connor and Eugenia, she must consider giving up her nomadic life for a future with those who need her.

An inspiring family saga that asks us to consider what love and chosen family really mean.
Note: Clicking links on this site will take you to the retailer's purchase page.
Totally Bex is a participant in the Amazon Services LLC Associates Program, an affiliate advertising program designed to provide a means for us to earn fees by linking to Amazon.com and affiliated sites.

There's just something about small-town romances I can't resist.  Having grown up in a tiny town with dreams of someday living in a big city, I think I have finally realized that my dream isn't as appealing to me as I once thought.  Maybe that's the appeal of these kinds of stories?
Mornings on Main is more than just a small-town romance, though.  There are so many elements packed into this book, like exploring familial bonds and obligations, a lifelong mystery being investigated, and other funny happenings that can only take place in a smaller location.
Jillian drifts into town, intent on finding out why her father wrote down the zip code in his log book before she was born.  A drifter at heart, just like her father, she only plans to be in town for a short time.  She doesn't want entanglements and Jillian certainly doesn't want possessions or even memories weighing her down.
Conner wears many hats: father, grandson, mayor, newspaper owner, landowner, and more.  He's weighed down by all of the responsibilities he carries on his shoulders, from raising a daughter to watching over his forgetful grandmother.  He's initially intrigued by the stranger who blows into town, but as time passes, Jillian becomes both integral to his happiness and also lightens his burden.  The only problem is, he knows there's an expiration date to the happiness with the ever-wandering Jillian.
I thoroughly enjoyed the characters and the story, from the secrets of the town that are revealed through the quilt stories to the family ties that root the characters in their identity.  Everything seems to grow and come alive once Jillian arrives in town–like the old buildings that were sleeping until someone saw a vision for them, Conner's daughter, Sunnie, becomes a little wiser and mature, Jillian realizes that she never felt loved her entire life, and Conner realizes how important his responsibilities are to everyone in the town.
Mornings on Main was a wholesome and refreshing take on a small-town romance and it came along at a time when I needed something light and simple to read.  While it isn't as racy as some of the romance I typically read, it was a great way to spend a cozy afternoon with a sweet read.
Every inch of the twenty-foot-high walls was covered in colorful quilts; a collage of fabric rainbows.
Deep shelves lined the wall behind the wide front coun­ter. Folded quilts were stacked five deep for a dozen rows.
"This may take longer than three months," she whispered.
"I'll help," he offered. "But I should tell you, Gram is in charge here. This is her world, so whatever she wants goes. I don't want the cataloging to cause her any stress."
"I understand."
"I'm not sure you do." He looked at her closely, wondering how much to tell a stranger. "We're working against a ticking clock and it's in Gram's head. The cataloging, the inven­tory, may not always be her priority. You may have to gently guide her back to the task."
Her intelligent eyes looked straight at him, and he guessed she was one of those rare people who listened, really listened.
"I can put in overtime and will work Saturdays, but I can't promise you I'll stay in town more than three months. If you think I can complete the job by then, I'll give it my best shot."
"I understand," he said, even though he didn't. Why couldn't she stay longer? Who moves to a town for three months? Someone just killing time, he reasoned.
A mix of conversation and laughter came from the back of the shop where the ceiling lowered to eight feet, allowing room for a storage room above and a meeting room below.
Connor took the lead. Unlike the stranger, he knew exactly what he was walking into. The twice-a-week quilting bee. An old frame hung from the beams, allowing just enough room for chairs to circle the quilt being hand-stitched together. It might be a lost art in most places, but here, the women seemed to love not only the project, but the company.
The moment the ladies saw him their voices rose in greet­ing. All eight of them seemed to be talking to him at once. As soon as he greeted each one, he introduced Jillian James to them. "I've hired Jillian to help catalog my grandmoth­er's collection. Gram's got a great treasure here in her shop."
The ladies agreed with his plan, but two reminded him that it would be a long time before his gram retired.
His grandmother, Eugenia Ann Freeman Larady, slowly stood and offered her hand to Jillian. Where Connor had been told his eyes were Mississippi River brown, his gram's had faded to the pale blue of shallow water. Every year she'd aged he'd grown more protective of her, but today he needed to take a step backward and see how she got along with a stranger brought in to work with her.
Gram winked at Jillian as if she already counted her as a friend. "Call me Gram if you like. All Connor's friends do."
"Gram," Jillian said with a genuine smile.