Need to Love You by Megan Smith – Love Series Book 6
This post contains affiliate links. If you make a purchase using that link, I will receive a small commission from the sale at no additional cost to you.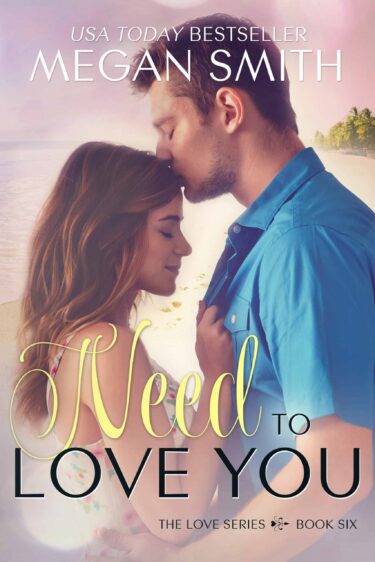 Need to Love You
by
Megan Smith
Series:
The Love Series #6
Published by
Self-Published
on October 26th, 2015
Genres:
Contemporary Romance
Number of Pages:
219
My rating:


Kindle
|
Paperback
Just when you thought you had it all.

Chloe Cahill's dreams changed after becoming pregnant in high school. She married her high school sweetheart just after graduation and together they welcomed a handsome son into the world. Now that Alex, her son, is in school she sets her eyes on finding the perfect job. Chloe feels the need to grow dependent upon herself instead of always relying on her husband.

But what happens when her husband's eyes start to wander?

Jackson Cahill thought he did the right thing by marrying his pregnant girlfriend just out of high school. Lately he's been feeling restless in his marriage. One late night of drinking turns his life upside down but it just doesn't end there. Jackson's got himself in a real mess, both at home and work. The dilemma may just be too big of a disarray for him to get out of.

Can Chloe and Jackson keep their marriage from falling apart? Or will they decide to veer down different paths?
I received this book for free from in exchange for an honest review. This does not affect my opinion of the book or the content of my review.
My Review of Need to Love You
Need to Love You is the sixth book in The Love Series by Megan Smith. This is the final book in the series and focuses on Chloe and Jackson. It is the emotional and moving story about a couple experiencing marital issues. It's one that everyone can relate to, regardless of your current situation.
The main characters, Chloe and Jackson, are currently married with a young son. Throughout the story, we get glimpses into their history: Chloe had strict parents who expected a lot from her; Jackson was her first love. When Chloe finds out she is pregnant at the end of her senior year, Jackson steps up to the plate, but her parents abandon her. As a stay-at-home mom married to Jackson, Chloe is dependent on him for everything—and it puts enormous pressure on both of them.
I really enjoyed Chloe and Jackson's story. They are two people who were brought together by circumstances beyond their control who drifted apart and lost focus on their relationship. The resentment is strong on both parts, so neither is completely blameless in the breakdown of their marriage.
There is a roller coaster of emotions as they separate and try to remember why they fell in love in the first place. Each plays a game of 'what if' throughout the book. Watching them work through their emotions and expectations was interesting. I thought that seeing them each grow up and gain some independence during the separation made reading about their journey worthwhile.
While I enjoyed the story of Chloe and Jackson, I did have a couple of minor problems with the book. The characters are a little one-dimensional and lacking depth. I had a hard time picturing them in my minds eye and it made it difficult to connect with them at first. Also, there are some grammar and spelling mistakes that took me out of the flow of the story as I was reading. With a little bit of editing and polish, this book would definitely get a higher rating from me.
Overall, it was a great end to the series and included bits and pieces of the characters from the previous books. The entire Cahill family is loyal, loving, and I enjoyed getting to know them.