Thank you for the advanced copy of EXRATED by Steve J Cole.  All opinions are my own.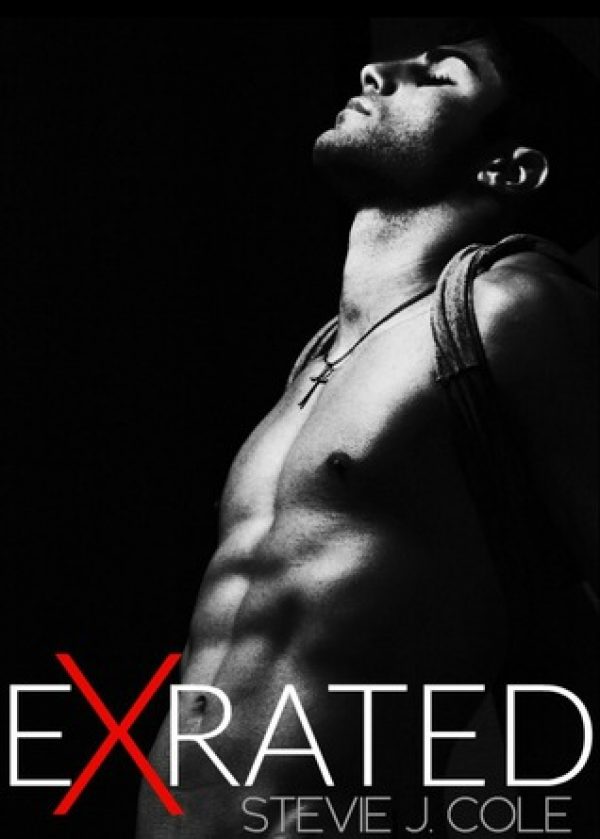 Tyler Westbrook, better known as Johnny Depth, is taking the adult film industry by storm. With his playboy looks, it's no surprise a few coworkers have attempted to take things off set and into the bedroom, but Tyler refuses to blur the lines between work and play…until the new assistant to the director walks in.

Jemma Morgan was recently fired from a lead role on a kid's TV show that was supposed to be her big break. Unable to get another acting gig, she's accepted a job in an industry she never expected to be a part of. Although she anticipates being shocked her first few days on set, nothing could prepare her for the moment she's asked to hold the reflector as her ex-boyfriend plows through a woman like a Kansas cornfield.

In a world of butt-plugs, lube, and fake moans, is there a place for a second chance? Exes and some serious ohs…the term ex-rated just took on a whole new meaning.
Note: Clicking links on this site will take you to the retailer's purchase page.
Totally Bex is a participant in the Amazon Services LLC Associates Program, an affiliate advertising program designed to provide a means for us to earn fees by linking to Amazon.com and affiliated sites.

I requested this book because of the blurb, but I kept reading because of the writing.  This is my first book by Stevie J Cole, so I didn't have any expectations going into in it.  I just knew that I was curious about what happens when you stumble upon your ex at a porn shoot.
Can you say awkward?
Let me start by saying that I think the author's writing is fantastic.  I enjoyed the book, even though I had a couple of problems with the actions of the characters (I'll get to that part in a minute).
Jemma is an out-of-work actress, having been fired from her children's TV show over a leaked sex tape (privately made, of course).  Tyler is a college drop-out and former stripper who finds himself making loads of cash in porn.  
Jemma and Tyler grew up together and thought they had a love that would last forever.  In reality, their relationship didn't make it past high school.  Now it is several years later and fate has brought them together again.  
After a chance run-in and a steamy night of passion, Jemma and Tyler realize that their love is still there, but life has made them into totally different people than they were as kids.
Jemma is struggling financially and finally scores a job as a PA to a porn director.  Her first day on set brings her face to face with Tyler as he is about to 'perform'.  Like I said…it's awkward. 
Truthfully, I didn't have a problem with Tyler working in the porn industry.  I mean, he's a grown adult and to each their own.  However, I did have a problem with Jemma holding it over Tyler's head for almost the entire book, using that as the reason she couldn't give him another chance.  It all felt very hypocritical on her part (I mean, she had a very public sex tape!) and the constant back and forth between them dragged on a little too long.  
I will say that Tyler's persistence to win Jemma back did score some redeeming points with me.
As I said before, what also saved this book from a lower rating is the writing.  I was definitely impressed by it and the story was told in such a way that I became totally absorbed while the pages flew by.  
I think I forgave some of the iffy plot points because of the way they were written.  All I know is that this book was entertaining if nothing else, and I will definitely be reading more work from this author based on the writing alone.
Hudson Matthews, the godfather of porn, has his face eye level with my c*ck—so close I can feel his warm breath blowing across the tip of my d!ck. My pulse is banging in my ears. I'm sweating bullets. What the f*ck am I doing here?
I wasn't exactly searching the classifieds for a job in the adult entertainment industry. Sh!t just kind of happened. I work at Dancing D!cks, an all-male strip club. You meet a lot of women at a club like that—you can f*ck a lot of women at a club like that, and I may have accidentally screwed one of the girls that work here. I had no idea she was a porn star—not that it would have mattered much, but she mentioned how much she made and dropped my name to Hudson, which is how I ended up on this…whatever this is—interview, c*ck inspection…
His gaze narrows as he nods his head. "Okay. Good size. Good girth. You got a good looking d!ck, man."
"Uh…" What the f*ck do I say to that? "Thanks…"
"I think you'll do just fine in this industry." He walks back to his desk and sits down, the chair creaking under his weight.
"But…" I shake my head, "No guys. Ever. That's a deal, right?"
"Sure. No guys. I'll have Amanda type that up in your contract if we sign you."
I start to pull my jeans back up—
"One more thing," he says. "Go ahead and beat one out, would you? Need to see if you're a dribbler or a shooter. That's gonna be one of two clinchers on whether you get the job."
I stand, holding the waist of my jeans and staring at him silently. "Like," I shrug, "right now? Just jerk off—right here—in your office?"
"Yeah." His face remains expressionless.  "You signed the waiver. My d!ck's not out. Not like I'm gonna rub one off. It's just part of it, and if you can't handle busting a nut in my office, well, then how the hell are you gonna bust one in front of an entire crew?" He shuffles the papers on his desk. "I mean, you're a good-looking guy." His eyes drag over my body, and it makes my d!ck lose a good inch, "And a good looking guy with a c*ck like that—" He points at my crotch. "Well, they're hard to come by. You could be the next big thing, so just get on with it." He pushes the piece of paper toward me, and I stare at the figure he wrote down earlier. Sh!t, that's a lot of money to let someone tape you f*cking other people. This is not amateur, middle of the road porn. This is the f*cking holy grail of the porn world. This man is porn himself. Walking, loaded porn.
He grabs the remote from the desk and turns on the TV hung on the far wall. The sound of fake, breathy moans immediately fills the room and my attention swings to the screen. Two girls are going at it. I swallow. Never would I have thought I would find myself in a man's office, beating one out to two chicks f*cking each other on an 80-inch plasma screen. But for the kind of money written on that piece of paper, well, you do a lot of sh!t you never thought you would.  I mean, being a porn star…how bad can it be? It's not like my family's going to fess up if they stumble across one of my films.
Taking a shallow breath, I fist my c*ck, focusing on the TV and the amount of money on that piece of paper. "I mean…" I stop jerking myself but don't look over at him because that would just be too f*cking weird. "Where do you want me to shoot my load?"
"I don't care just as long as it's not on the chair, that sh!t stains."
There's a first time for everything in life, but never did I imagine Hudson Matthews would one day ask me to beat off in his office and then pull out a measuring tape to see what kind of distance my ejaculation has.
Want more? Check out these posts!