Thank you for the advanced copy of THE SEXY ONE by Lauren Blakely. All opinions are my own.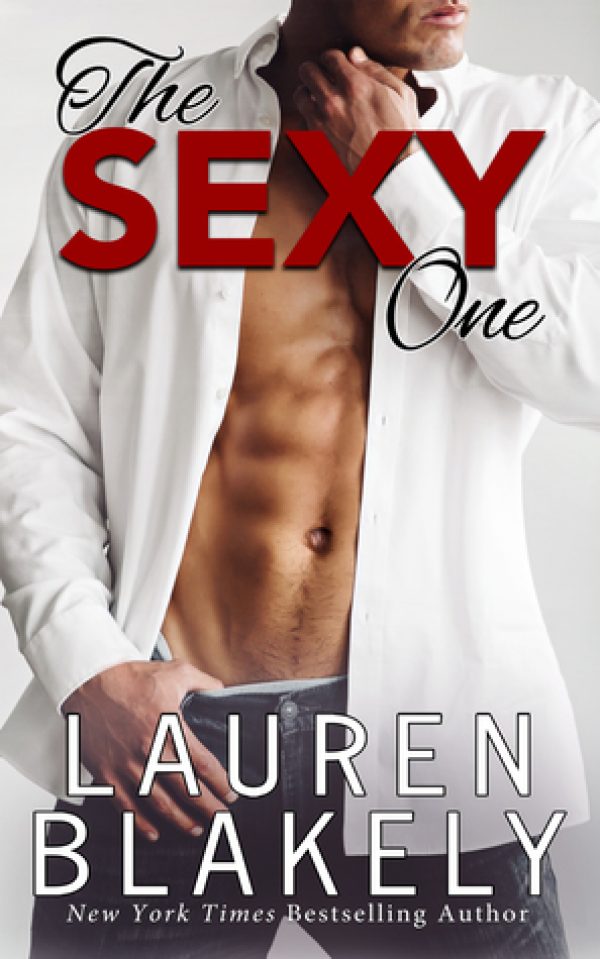 Let me count the ways why falling into forbidden love is not my wisest move…
1. She works with me every single day.
Did I mention she's gorgeous, sweet, kind and smart?
2. She works in my home.
Playing with my five-year-old daughter. Teaching my little girl. Cooking for my princess. Which means…
3. She's the nanny.
And that makes her completely off-limits… But it doesn't stop me from wanting her. All of her.

***

The other nannies in this city don't call him the Sexy One for nothing. My boss, the amazingly wonderful single father to the girl I take care of every day is ridiculously hot, like movie star levels with those arms, and those eyes, and that body. Not to mention, the way he dotes on his little girl melts me all over. But what really makes my knees weak are the times when his gaze lingers on me. In secret. When no one else is around.

I can't risk my job for a chance at something more… can I? But I don't know how to resist him much longer either…
Note: Clicking links on this site will take you to the retailer's purchase page.
Totally Bex is a participant in the Amazon Services LLC Associates Program, an affiliate advertising program designed to provide a means for us to earn fees by linking to Amazon.com and affiliated sites.
Other books in this series:

In the mood for an afternoon delight with a sexy and swoony single dad? Look no further than The Sexy One by Lauren Blakely! It's exceedingly romantic and decidedly steamy, with Blakely's signature heart and cleverness, making it the perfect treat to satisfy a craving for romance.
Simon is a highly successful restaurant investor, single dad to 5-year-old Hayden, and boss of Hayden's nanny, Abby. Abby is fluent in several languages, freelances as a language teacher, and loves Hayden like her own daughter.
Simon and Abby have been orbiting around one another for months, unaware that the other is attracted to them, and afraid to act on their feelings.
Simon and Abby were perfect for each other and I enjoyed the discovery of their mutual attraction and their witty banter. I have a bit of a weakness for single dads, so I swooned every time Abby did over the things Simon did with his daughter. He's quite the catch!
The humor is toned down from the three previous books set in this world but lacks none of the finesse or smarts. My cold, black heart could have used a little more conflict and friction (especially with Simon's ex-wife), but The Sexy One is a cute and fast read that I enjoyed from start to finish. It also introduces the characters of the next two books, so I am ready for more of Blakely's delicious men and smart and strong heroines!
"I want to talk to you about the other day." He sounds so serious.
All of a sudden, the weight of my mistake crashes down. "Are you firing me?" I blurt out.
His jaw drops. "What?"
"I'm sorry," I say, and the wild anxieties consume me once more. "I love this job, and I love working with Hayden, and I didn't mean to jeopardize it by . . ."
By making out with you? By touching you? By murmuring your name when you kissed me senseless in the cab, and would you please just do it again?
He steps closer. My stomach makes like a skydiver.
"You did not jeopardize a thing. I'm not firing you. I promise." His blue eyes are locked to mine. "I hope I didn't make you uncomfortable. And I hope I didn't lose you, either. You're so good at what you do, and I value your skills so much. You're great with Hayden, and I don't want to mess that up. I'm sorry for crossing the line."
I shake my head. "It's okay. I crossed it, too."
He licks his lips. "And I really appreciated you inviting me out with your friends. I wanted to go, but I didn't want to mess up your night. I didn't want to make you uncomfortable."
A grin threatens to take over my face because my heart soars. I thought he was turning me down. Instead, he was thinking of me. "You wouldn't have messed it up."
"I wouldn't have?"
"No." I latch onto Harper's advice. Talk to him. "I wanted you there."
My breath comes fast, and the hairs on my arms stand on end. We're so near to each other—our words, our voices, our bodies. Everything in me reaches for him.
"I'm glad," he whispers.
"And you don't make me uncomfortable. I promise."
He doesn't say anything in response. Just nods. I press my teeth into my lips. My back is against the sink, and he's standing so close I can smell him. The faint scent of his soap intoxicates me. He must have gone to the gym after work and taken a shower, and oh God, now I'm imagining him naked in the shower, soaping up his strong body. I go up in flames.
"What happened in the cab was"—he pauses as if he's searching for the right word—"crazy." But the way he says it in a voice full of longing doesn't sound like crazy-bad. It sounds like . . .
"Crazy-good," I supply.
He nods. "So good," he whispers and inches closer.
"It was so good," I echo, my voice breathy, full of this potent need for him.
He stares at me, his eyes brimming with heat. I exhale, and my lips part slightly. He's looking at my mouth now, and I'm burning all over.
We collide.
His hands are in my hair, and his lips crush mine. My fingers race up his shirt and around his neck. I pull him against me, his strong, hard body aligned with mine. His erection presses against my belly, and the realization that he's already hard thrills me. Sparks fly through me as I register how hard he is, and my God, I want him. I want to feel him slide into me, I want to take him deep into my body. I want him to know what he does to me, too—that I'm as turned on as he is, and I can't stop kissing him.
His big hands curl around my head, and I moan into his mouth. I love how much bigger he is than I am—taller, broader, stronger. He meets every primal desire I have to be taken. I want this man to consume me. I want to be under him, I want to be pinned by him—I want the full weight of him moving over me.
His lips are demanding, coaxing out more and more kisses from me. More murmurs, more sighs. As I arch into him, he groans, rough and husky.
Then, he breaks the kiss.
"This is bad," he says firmly, his breath coming heavily. But then, he's not so certain at all. "Is this bad?"
"Yes," I answer quickly. "It's bad. But it's so good."