Thank you for the advanced copy of STROKED by Meghan Quinn.  All opinions are my own.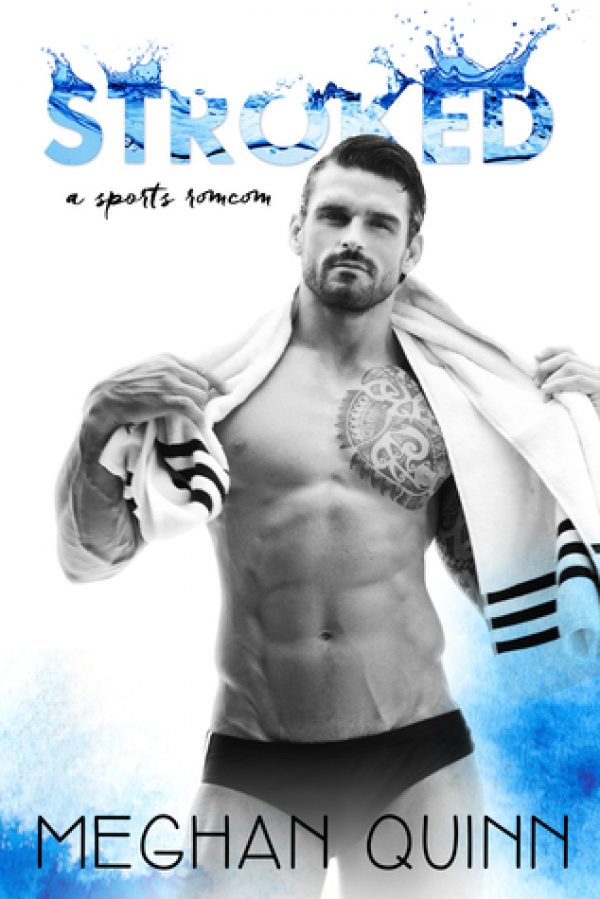 Reese King: Olympic medalist, underwear model, Greek god.

His body is chiseled from rock, sculpted by the weight room, and refined by water.

On a daily basis his skin is completely bare for everyone to see, tan and defined, only covered up by a minuscule piece of spandex. There is no denying his sex appeal.

I hate to admit it, but I'm head over heels infatuated with him.

There is one HUGE problem though. His achingly gorgeous abs, inked up arm, and cocky swagger belong to my boss, the high-profile, reality star bitch from hell and certified heinous human being, Bellini Chambers.

What I think is going to be an easy job assisting a glorified wench turns into a cluster f*ck of epic proportions.
Note: Clicking links on this site will take you to the retailer's purchase page.
Totally Bex is a participant in the Amazon Services LLC Associates Program, an affiliate advertising program designed to provide a means for us to earn fees by linking to Amazon.com and affiliated sites.
Other books in this series:

I love Meghan Quinn's romantic comedies.  Her humor is belly-laugh inducing while being slightly over the top (that's what I love about them!).  When I heard she was doing a sports-themed romantic comedy, I knew I had to read it.  The fact that the athletes are swimmers?  Total bonus!
Reese is an Olympic-level swimming god. He's about to compete in his third and final Olympics and he's starting to think about life after retirement.  Reese gets talked into being a 'fake boyfriend' for Bellini, a Paris Hilton-type with a reality show.  However, Bellini's new assistant immediately catches his eye and makes it infinitely more difficult to juggle all of Bellini's neuroses with his attraction to Paisley.
Paisley is a struggling sound engineer in Hollywood who recently lost her job due to an innocent mistake.  She takes the job as horrible Bellini's assistant to get back on her feet and make contacts within the industry.  When Paisley meets Reese, she is instantly attracted, but he is her boss's boyfriend and she does not want to lose her job or be the other woman.
Reese and Paisley's friendship quickly escalates into a physical relationship and it is a hot one.  Honestly, I think this is the steamiest book I have read from Meghan Quinn—and I definitely liked it.  Reese is a jealous and possessive alpha male, but his tender side is equally shown and quite unexpected.  Paisley is a good complement to Reese, but she is also a contradiction in personalities.  She's both tough and soft at the same time.  I really liked the progression of their relationship; it felt realistic and genuine.
Having said all of that, I have to be upfront about Bellini and her point of view that is written into the story (yes, there are three POVs).  Being inside of Bellini's head is the last place I wanted to be.  After her first appearance, I ended up skimming most of her chapters.  I just couldn't take the self-centered, overblown ego and condescension that was rolling around in her brain.  I think the story could have been carried without her vapid and shallow POV.  I understand that she is an antagonist, but we can clearly see that she is simply horrible through her interactions with others alone without getting up close and personal with her thoughts.
Stroked sets the scene for more books featuring the other swimmers and I am planning to stick around for the next release–preferably Bellini-free.
Want more? Check out these posts!