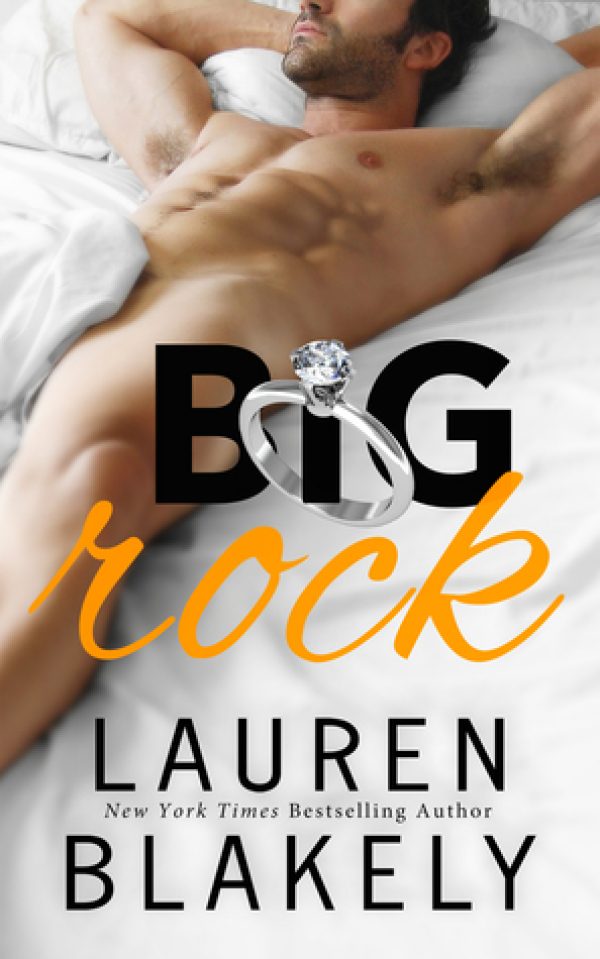 It's not just the motion of the ocean, ladies. It's definitely the SIZE of the boat too.

And I've got both firing on all cylinders. In fact, I have ALL the right assets. Looks, brains, my own money, and a big c*&k.

You might think I'm an a*&hole. I sound like one, don't I? I'm hot as sin, rich as heaven, smart as hell and hung like a horse.

Guess what? You haven't heard my story before. Sure, I might be a playboy, like the NY gossip rags call me. But I'm the playboy who's actually a great guy. Which makes me one of a kind.

The only trouble is, my dad needs me to cool it for a bit. With conservative investors in town wanting to buy his flagship Fifth Avenue jewelry store, he needs me not only to zip it up, but to look the part of the committed guy. Fine. I can do this for Dad. After all, I've got him to thank for the family jewels. So I ask my best friend and business partner to be my fiancée for the next week. Charlotte's up for it. She has her own reasons for saying yes to wearing this big rock.

And pretty soon all this playing pretend in public leads to no pretending whatsoever in the bedroom, because she just can't fake the kind of toe-curling, window-shattering orgasmic cries she makes as I take her to new heights between the sheets.

But I can't seem to fake that I might be feeling something real for her.

What the fuck have I gotten myself into with this…big rock?
Note: Clicking links on this site will take you to the retailer's purchase page.
Totally Bex is a participant in the Amazon Services LLC Associates Program, an affiliate advertising program designed to provide a means for us to earn fees by linking to Amazon.com and affiliated sites.
Other books in this series:

A brief disclaimer: I floved this book and more specifically, Spencer! Most of this review is going to be about him and my love for his character. *cue blubbering and gushing*  Ok, moving on…
There are several things you know you are going to get when you read a Lauren Blakely book: hot characters, steamy scenes, great writing, and a story you will love. Big Rock is all of that and more! Lauren Blakely over delivered with Spencer and Charlotte's story, and I'm overjoyed by how much I loved it. I truly enjoyed every minute of being inside Spencer's head. Big Rock is big fun and totally adorable.
I am a massive fan of male point-of-view stories, and from just reading the blurb, I knew that Spencer was going to be awesome. What I didn't expect is that while he's confident (*cough* cocky), he also has a heart of gold.
I have big love for Spencer, and I think he's a fabulous character. Like, Samantha Jones from Sex and the City fabulous, and I am convinced he is the male version of Samantha.
My reasons:
1) He knows he's fabulous and he's not shy about it.
2) He loves sex.
3) He doesn't 'do' commitment or emotional attachments.
4) He's always got your back, no matter the situation.
5) He's speaks his mind and he knows how to talk dirty.
6) He knows his booze.
7) He knows what he wants in life and he's not afraid to work hard for it.
(See what I mean??)
Meanwhile, Charlotte is no wallflower in this story. She has moxie, and she has it in spades. Her willingness to help Spencer when he needed her most was enough to endear her to me immediately. There are several laugh-out-loud funny moments during the banter between Spencer and Charlotte that had me cracking up. They're best friends for a reason, and I found myself wanting to be besties with them, too.
I also admired Spencer's relationship with his family. His sister and parents provide laughs and advice, but they aren't afraid to slap him upside the head when he needs it. There is no animosity or brokenness here–that in and of itself is a breath of fresh air.
There is no doubt in my mind that Big Rock is my favorite book by Lauren Blakely. I can say with 100% certainty that it will be on my Best Reads of 2016 list. I can't wait to see more of these characters when Mister O comes….I mean, arrives in October.
---
Sidenote:  If you haven't had a chance to watch Lauren's naughty book readings and puppet theater, please do yourself a favor and head over to her Facebook page to watch them. Her voice was in my head the entire time I was reading this book. You're welcome.
I do my best work in the bedroom. This is completely my domain. So it should be no big deal that she asked me to wait here. But something about being in Charlotte's bedroom is wigging me out.
            Mostly because there's nearby nudity transpiring mere feet away.
            She's taking a shower, and no matter how you slice them, New York apartments are approximately thimble size. Let me spell this out—wet, naked, hot woman in a ten-foot radius.
            Got it? Okay. Moving on.
            I pick up a picture frame on her sky blue bureau of the dog her parents have. A fluffy brown summa dog—some of this, some of that. I'm going to focus on this mutt. Zero in on him. Look at his tail. Check out his ears. Yup, this picture is doing the trick. It is helping me not to linger on the naked woman and how well she kisses.
            Or how much I liked it.
            Why the f*ck did I like it so much?
            Of course you liked it, idiot. A pretty woman kisses you, and you're straight—you'd be stupid not to like it. End of story. Doesn't mean anything. Stop analyzing.
            Especially since she just turned off the shower.
            Maybe she forgot a towel. Maybe she'll open the door a crack, and ask me to grab one for her.         
            I smack my forehead. Get it together, Holiday.
            I set down the picture, draw a deep inhale and straighten my shoulders. The door creaks open. She steps out of the bathroom wearing only a white fluffy towel wrapped above her breasts.          
            "You might be wondering why I asked you to wait in my bedroom instead of the living room," she says, in the most matter-of-fact tone.
            I have no clue how she can be talking like we're having a business transaction when droplets of water slide down her bare legs. But I'm a strong man. I can handle this. I'm not tempted at all by my best friend. Though my dick begs to differ, the traitorous prick.
            "The thought crossed my mind," I say, as I lean against the bureau, striking a casual pose.
            "Because if you're my fiancé, you need to be comfortable with me being naked," she says with a crisp nod.
            Shit, she's going to do it. She's going to drop the towel. She's going to make us practice f*cking. I am the luckiest man on the face of the earth.
            Wait. No. I can't f*ck my best friend. I absolutely, positively, can't screw Charlotte. Even if she tosses the towel on the floor and begs me to.
            I lace my fingers together behind my back, linking these twitchy hands.
            "Okay, so you're getting naked," I say, doing my best to imitate her cool-as-a-cucumber tone that is throwing me off big time.
            "No. It's the idea of me naked," she corrects.
            I give her a pointed look. "Seems to me it's both the idea and the reality."
            "Fine, fine. They're one and the same, and it's part of the debrief."         
            "Is this the exam portion?"
            She walks past me, her arm brushing against mine before she yanks open the top drawer of the bureau. "Yes. This is the practical portion."
            "And this is because you somehow think we're going to be required to be naked together in front of Mr. Offerman in order to pull this off? This isn't like some feats-of-strength style fake engagement where we have to pass certain skill sets in an obstacle course. You know that, right?"
            She nods, as she hunts around in the drawer. "I'm aware of that. I see this as more like the Newlywed game."
            "And in this version of the game we're quizzed on how I get used to the idea of you naked and vice versa?"
            Her breath hitches when I say that—vice versa.
            I don't know what to make of that small gasp, or if it means something about the idea of me au naturel.
            She spins around, and holds up two pairs of panties, one in each hand. "Quick. Do you prefer it when your fiancée wears the black lace thong?" She waggles a scrap of silky-looking fabric that is so hot my face might be engulfed in flames right now because Charlotte owns that? "Or do you prefer her in the white side-string bikini?" She waves the white pair before my eyes, and all I can see is a tiny triangular patch of fabric that's the slightest bit see-through.
            Forget the flames. I am a f*cking inferno right now knowing she owns this too. White panties that reveal pretty much everything.
Want more? Check out these posts!