11 of the Best Slow Burn Romance Novels of 2019
I absolutely adore slow burn romance novels and my love for them runs deep.  I mean, I have a specific shelf on Goodreads and an entire page dedicated solely to slow burn books.  I seek them out on social media and Amazon, I follow other slow burn readers for recommendations, and I always come back to my tried-and-true favorite authors for regular doses of character-driven, long-game romance.
So, I put together a round-up of 11 of the Best Slow Burn Romance Novels of 2019.  These are my personal favorites of the year, in no particular order.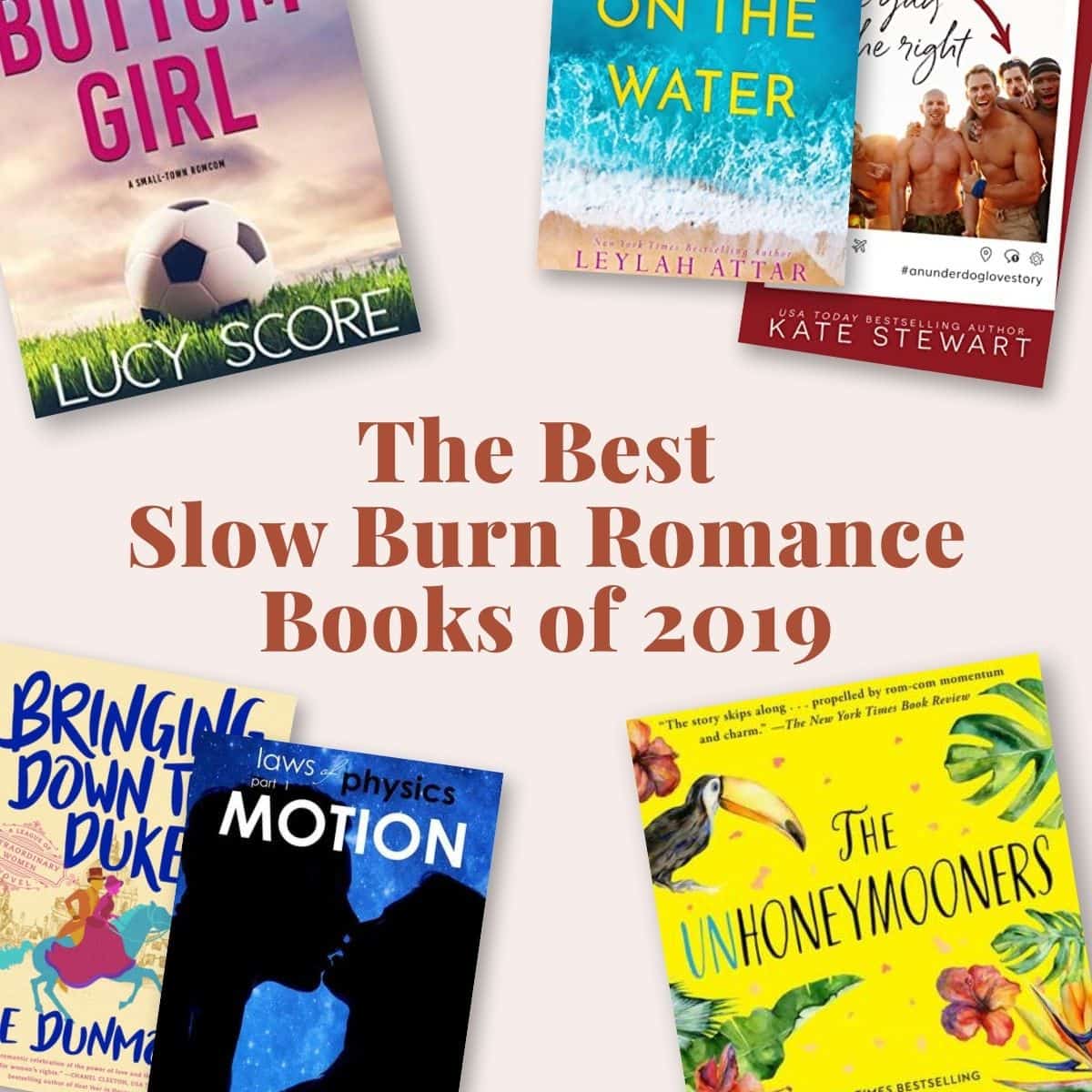 The Best Slow Burn Novels 2019
If you've read any of these, I'd love to hear your thoughts.  Also, if you have any other recommendations for me to check out, leave those in the comments, too.  I need allll the slow burns in my life!
Penny Reid is one author I come back to time and again.  I love her quirky and intelligent characters, smart writing that challenges me to learn something new (with topics like Bitcoin when it was virtually unknown and, occasionally, words that require a dictionary), and storylines that are anything but formulaic. 
Motion is the first book in the verrrry slow-burning Laws of Physics trilogy (and part of the Hypothesis series) and each book had me dropping everything to read it the minute it hit my Kindle.  All three books are out now, so you don't have to suffer the cliffhanger endings between books like I did!
2. Make Me Bad by R.S. Grey
R.S. Grey is another automatic-read for me.  Her rom-coms never fail to make me laugh out loud, her characters are always charming, and they usually start out as enemies which is one of my favorite tropes. 
Make Me Bad is one of my favorites because of the introverted librarian heroine, the sweet knight in shining armor hero, and the witty banter throughout the entire book. 
One things for sure, Grey has me hooked and I keep coming back for more!
3. The Unhoneymooners by Christina Lauren
Mortal enemies, a free 'honeymoon' vacation in Hawaii, a fake relationship, and a week of forced proximity with said enemy?  YES, PLEASE!  
Add the smart writing, excellent banter, and hilarious shenanigans to all that, and The Unhoneymooners makes my Best Reads of the YEAR list.  I loved this one so much, I've already reread the paperback and I'm about to listen to the audiobook.
4. The Bride Test by Helen Hoang
After reading and loving The Kiss Quotient, I couldn't wait to get my hands on The Bride Test, and Helen Hoang didn't disappoint!  I loved Khai and Esme's journey from a potential arranged marriage to an actual couple.  The characters are real and flawed and I just loved them.
5. Rock Bottom Girl by Lucy Score
Somehow this was my first book by Lucy Score, but I absolutely fell in love with her writing in Rock Bottom Girl.  It's a charming small-town romance with dry, sarcastic humor (my fave!), smart wit, and relatable characters.  Not only was it hilarious and entertaining, it was heartwarming to boot–and Jake may be the swooniest teacher ever written.
6. The Guy on the Right by Kate Stewart
Nerdy hero meets quirky heroine in The Guy on the Right!  Theo is a band geek who is stunned by a recent break-up.  Laney is out of his league, but they forge an amazing friendship that eventually leads to more.  Heavily influenced by Steel Magnolias and Madea, Laney is a trip and a half!  I laughed out loud through most of the book, but I definitely swooned when the underdog finally got the girl.
7. Baking Me Crazy by Karla Sorensen
I was a little worried about how good the Smartypants Romance books were going to be, but my concern was totally unnecessary!  My first Smartypants Romance book is a success! I loved Joss and Levi, I loved that the story is set in Green Valley, and I loved the cameos of characters we adore from previous books. This story was so sweet and it is a cute unrequited love/best friends-to-lovers slow burn that I just loved!  Joss doesn't have a clue that Levi is in love with her, so it makes for some very interesting situations.
8. Outmatched by Kristen Callihan and Samantha Young
When two contemporary romance powerhouses in their own right join forces and release a book, you know it's going to be a knockout!  The banter between Rhys and Parker is epic. There is nothing I love more in a book than a slow-burn with fantastic banter, and this one has it in spades. The scorching chemistry between Rhys and Parker is fantastic and there's a bit of a Pride and Prejudice meets Beauty and the Beast dynamic that I loved.
9. The Risk by Elle Kennedy
I swear Elle Kennedy has the new adult sports romance genre on lock. From the snappy banter to the well-developed characters, plus her obvious knowledge of the sport she's writing about, I love visiting the Briar University world with each new book. Not only is The Risk an enemies-to-lovers trope, but it also has the 'forbidden romance' angle covered and it works really well.
10. Bringing Down the Duke by Evie Dunmore
Every once in a while I get a craving for a good historical romance.  I picked up Bringing Down the Duke on Audible, and I'm so glad I listened to this story instead of reading it on my Kindle.  The narration is excellent, as are the storyline and characters.  Kickass women taking charge and fighting for voting rights in the 1870s.  I loved this one!
11. Moti on the Water by Laylah Attar
Set against the vibrant landscape of the Greek Isles, Moti stands out as a gem of a story.  It's light-hearted with a little angst, has delicious food and exotic locales, and the hero is super sweet and swoony.  It's the perfect beach read to read any time of the year!
Are any of your favorites here?  I'd love to hear your suggestions for more slow burns to add to my list, so leave me a comment below with your best reads!