Thank you for the advanced copy of RIOT STREET by Tyler King.  All opinions are my own.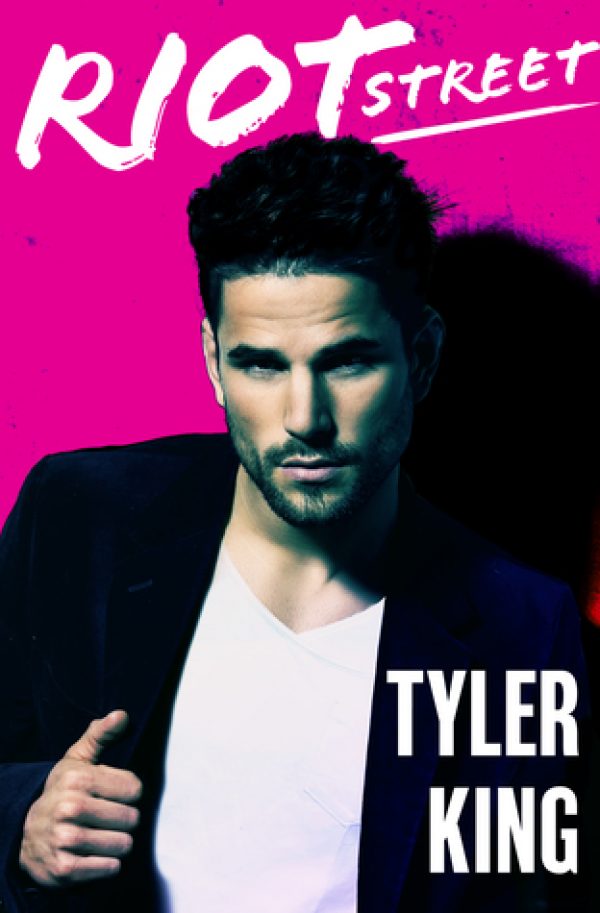 Sometimes, getting in too deep is the only way to survive . . .

As darkly charismatic as he is unpredictable, Ethan Ash knows me better than I know myself. He's spent years unraveling the family scandal I've tried desperately to escape. I once thought that made us adversaries. Now he's the closest ally I have left.

Ethan's both the chaos around me and the deep, calm center where I feel safe. People warn me about him, tell me he's dangerous. Don't fall for him. But it's too late. Because I can't tell where my addiction ends . . . and his obsession begins.
Note: Clicking links on this site will take you to the retailer's purchase page.
Totally Bex is a participant in the Amazon Services LLC Associates Program, an affiliate advertising program designed to provide a means for us to earn fees by linking to Amazon.com and affiliated sites.

Riot Street begins as a typical contemporary romance: young woman graduates from college, works for peanuts, writes an essay that goes viral overnight, gets dream interview. 
But that's where the similarities to anything you have read before ends and the story veers off the traditional and expected course.
The story of Avery and her journey as a journalist unfurls slowly with details dropped like tiny little bombs when you least expect them.
Intelligently written, the prose is poetic without being flowery, sparse yet full at the same time. I found the writing to be both unique and intriguing.
The main characters, Avery and Ethan, give good snarky banter and one-liners, which creates an excellent break in the heaviness of their past.
There is a depth to the characters, but it doesn't seem to be meant to endear them to you. Instead, there is a feeling of sterility to the story that makes it difficult to decide if you are rooting for Avery or if you're just going to be an innocent bystander as she self-destructs.
For both Avery and Ethan, moving on is difficult when vestiges of your old, almost forgotten life keep popping back up to ruin your day. Throughout the first half of the book, I was waiting for the other shoe to drop. 
However, when it does, it wasn't in the direction I thought it would go. Instead of Avery needing rescuing as I expected, it was Ethan who needed saving.  Like I said, this book turns the expected on its head.
Anxiety, desperation, loneliness, heartbreak, devastation, ambition, and ultimately, growth are all themes woven into the story–sometimes delicately and sometimes more harshly. If nothing else, this story kept me on my toes and flipping pages to get to the conclusion.
Tyler King is an author to watch because I think there will be great things to come from her in the future.
I enjoyed the intricate storyline, the layers of the complexity in each of the characters, and the unexpected angles exposed throughout the story. 
I recommend Riot Street for anyone who likes a little suspense mixed with their drama and romance.
Just leave your expectations at the door and plan to discover each of the intertwined layers of this story as they unfold.
"You awake?" Ethan shifts next to me in bed beneath the blankets. "Something wrong?"
"I'm fine. Go back to sleep."
He rolls to his side, wrapping his arm around my waist. "Talk to me."
"Really, it's nothing. I'm just restless."
"You're safe with me." His fingers slide under the hem of my tank top to lightly brush bare skin. "I won't let anything happen to you."
"No, I know. It isn't that, I'm just…"
I don't have the words to articulate it. Even if I could, I'm not sure it'd make sense.
"What can I do?" he asks, trying to understand.
Ethan needs a problem he can fix. Something with bolts and buttons. Something he can take apart, reassemble, or knock with a hammer. People aren't as easy.
Instead, I kiss him. My lips against his, it isn't a solution, but it makes me feel better. Wrapped in blankets, secluded in darkness, he overwhelms my senses. The taste of mint on his tongue, the clean, rich scent of his skin—they drive all other thoughts from my mind. I feel only his mouth, his tongue teasing mine, and his heart beating under my palm.
"Avery," he hums against my lips. "Wait a minute."
My fingers comb into his hair, tugging. I don't want him to speak. To let words break the illusion. I just want him, everywhere, all at once and nothing else.
"Listen to me." He breaks away. "I want you to hear this."
Hand caressing the side of my face, he runs his thumb under my bottom lip until I settle.
"I mean it. Whenever you're scared or hurting, I want you to feel safe with me. I want to be the person you talk to, not the one you hide from. Anything at all, or nothing, whatever it is that gets inside your head and makes you want to run, give it to me. I'll take it away. I'll bury it in the ground, and never let it hurt you again. I promise, Avery, with all my heart. You never have to be afraid of anything when you're with me."
The darkness turns liquid and my chest clenches.
"Why do you say things like that?" I barely whisper.
"Because they're true. And because I love you."
Want more? Check out these posts!