Thank you for the advanced copy of DATING-ISH by Penny Reid. All opinions are my own.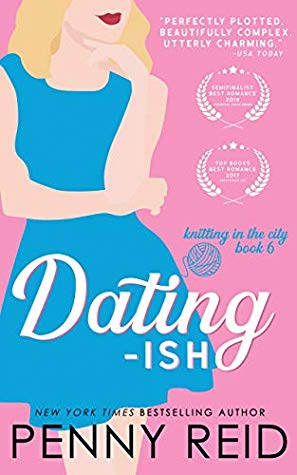 There are three things you need to know about Kat Tanner (aka Kathleen Tyson. . . and yes, she is *that* Kathleen Tyson): 
1) She's determined to make good decisions, 
2) She must get married ASAP, and 
3) She knows how to knit.
Being a billionaire heiress isn't all it's cracked up to be. Determined to live a quiet life, Kat Tanner changed her identity years ago and eschewed her family's legacy. But now, Kat's silver spoon past has finally caught up with her, and so have her youthful mistakes.
To avoid imminent disaster, she must marry immediately; it is essential that the person she chooses have no romantic feelings for her whatsoever and be completely trustworthy. Fortunately, she knows exactly who to ask. Dan O'Malley checks all the boxes: single, romantically indifferent to her, completely trustworthy. Sure, she might have a wee little crush on Dan the Security Man, but with clear rules, expectations, and a legally binding contract, Kat is certain she can make it through this debacle with her sanity—and heart—all in one piece.
Except, what happens when Dan O'Malley isn't as indifferent—or as trustworthy—as she thought?
Note: Clicking links on this site will take you to the retailer's purchase page.
Totally Bex is a participant in the Amazon Services LLC Associates Program, an affiliate advertising program designed to provide a means for us to earn fees by linking to Amazon.com and affiliated sites.
Other books in this series:

Oh, Penny Reid, how do you do the voodoo that you do so well?  Just when I think I couldn't love her books any more than I already do, she goes and delivers a smart, slow-burning, heartfelt book like Dating-ish!  My love for this book is epic in its proportions and I don't think my review will do it one bit of justice.
Marie is a journalist looking for love in the modern age and Matt is a scientist working in artificial intelligence.  Their relationship starts with an epic fail – like the worst first meeting in the history of meet-cutes – but it leads us on an adventure into the world of alternative human connections, both intimate and simple companionship.
Once Matt and Marie put aside their initial miscommunication, their chemistry almost becomes another character to the story, unmistakable and palpable. I think what's amazing is that even with all of the 'sciencey stuff' going on, their enemies-turned-friends-turned-lovers story is beyond emotional and even hilarious at times. 
Oh, the FEELS!  The feelings in this book are deeply intense, from the longing and devastation to the happiness and elation.  Trust me, you feel every.single.thing.  I laughed, I cried, I wanted to give them both big, squishy hugs.
Of course, the entire Knitting gang is back with their insights and advice, which is another favorite aspect to the story.  I love each of these quirky characters and I'm going to be sad to say goodbye to them, but I can't wait for Kate and Dan's story in Marriage of Inconvenience.  
Dating-ish is easily my favorite book of Penny's (so far)!  Matt and Marie's story will have you questioning societal norms, dating in the 'virtual world', and the meaning of true love and family.
Want more? Check out these posts!