Thank you for the advanced copy of RULED by Elle Kennedy.  All opinions are my own.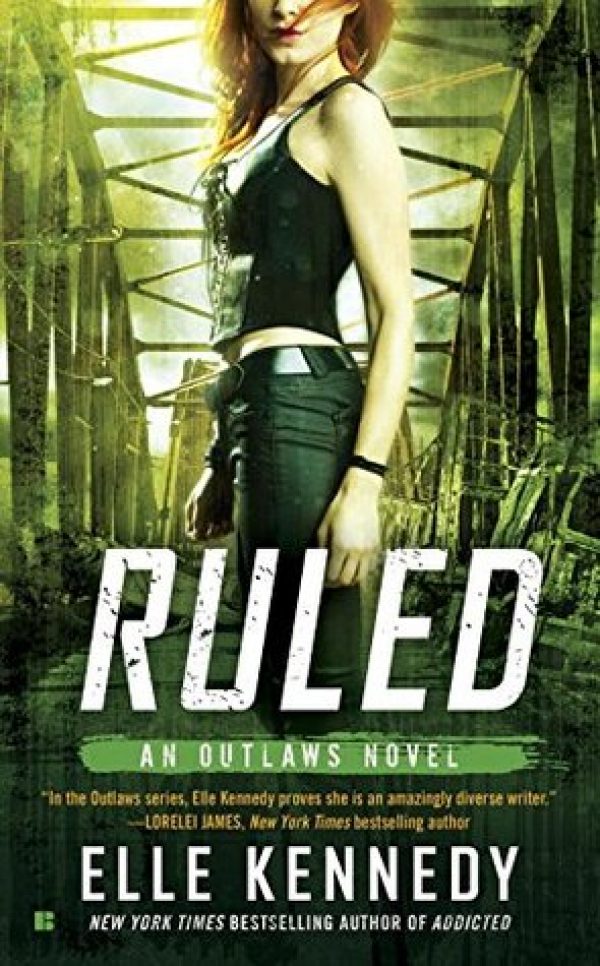 In the latest novel in the series with the "sexiest, baddest, hottest"* outlaws around, one woman must choose between the two men who want to claim her…
 
…Or does she?
 
Despite his magnetic personality, Rylan can't seem to seduce Reese, the deadly leader of their town of outlaws. Winning her over is a welcome challenge, but her indifference isn't the only thing standing in his way. If he wants Reese, Rylan must also win over Sloan, her stoic protector…
 
Sloan has always loved Reese, but their painful past has stolen his chances of a future with her. Rylan's interest in Reese only intensifies the tension—until Sloan begins to wonder if the reckless man might be the one person who can bridge the distance…
 
The last time Reese fell for the wrong man, she had no choice but to kill him. Now, she desperately wants to take what both Rylan and Sloan are offering. But if she makes the wrong call again, she risks losing them both.
Note: Clicking links on this site will take you to the retailer's purchase page.
Totally Bex is a participant in the Amazon Services LLC Associates Program, an affiliate advertising program designed to provide a means for us to earn fees by linking to Amazon.com and affiliated sites.
Other books in this series:

Having read Elle Kennedy's Off-Campus sports romances, I thought I knew all about her hot guys, but I couldn't have been more wrong.  The men in Ruled make her hockey players look like babies on the hotness scale.  Ruled takes the things I like about Elle's writing and amps it up, from the characters to the story to the world it is set in.  All of it is intense, emotional, suspenseful, and hot.  Definitely, can not forget hot.
Reese is the badass leader of a group of outlaws fighting for freedom against the government.  Sloan is her right-hand-man, the person she trusts with her life and to give her honest advice.  They are not only inseparable but also secretly in love with each other.  Not wanting to ruin their friendship, Reese decides to finally give into Rylan's advances.  Rylan is a fighter from another camp who is also lusting after Reese.  One night of passion between the three of them is not enough and soon they are navigating the polyamorous waters between fights with government enforcers.
I don't often read sci-fi or dystopian novels, but I love Elle Kennedy, so when I had a chance to read this, I jumped on it.  I have been curious about her work outside of her hockey series, so I jumped into book 3 without any problems.  The world and the characters are clearly defined, so I had little problem keeping up.  I enjoyed the intense chemistry between Reese, Sloan, and Rylan.  Their developing relationship was dynamic and powerful.  The element of danger definitely heightened the suspense.  Also, did I mention that this book made me blush a few times?  Yeah, it is H-O-T!
If you are a fan of MFM romance, dystopian romance/erotica, or just a fan of Elle Kennedy's writing, I definitely recommend this series.  Just buckle up and have a fan or a cold drink nearby.  You'll need it.
Want more? Check out these posts!