Thank you for the advanced copy of GHOSTED by JM Darhower. All opinions are my own.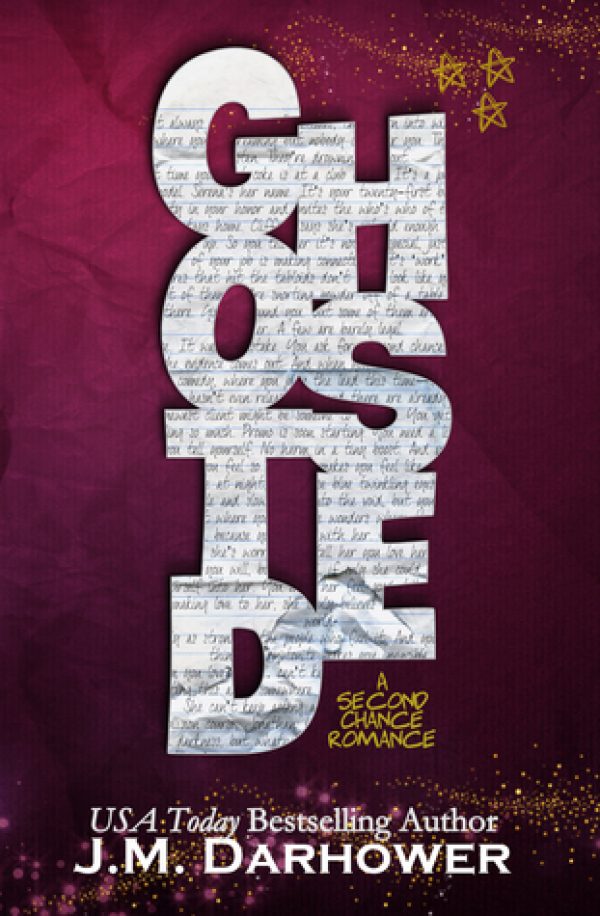 He's a troubled young actor, Hollywood's newest heartthrob, struggling with fame as the star of the latest superhero franchise. Through scandal after scandal, addiction on top of addiction, a flurry of paparazzi hunt him as he fights to conquer his demons.

She's a single mother, assistant manager at a grocery store, existing in monotony with her five-year-old daughter. Every day when she goes to work, lurid tabloids surround her, the face of a notorious bad boy haunting her from their covers.

A man and a woman, living vastly different lives, but that wasn't always the case. Once, they were just a boy and a girl who bonded over comic books and fell in love unexpectedly.

When Kennedy Garfield met Jonathan Cunningham back in high school, she knew he had all the makings of a tragic hero. With stars in his eyes, and her heart on her sleeve, the pair ran away together to follow their dreams.

But dreams, sometimes, turn into nightmares.

Now, years later, the only thing they share is a daughter—one who has no idea her father plays her favorite superhero. But Jonathan is desperate to make amends, and at the top of his list is the woman who gave up everything for him and the little girl he hasn't yet met.
Note: Clicking links on this site will take you to the retailer's purchase page.
Totally Bex is a participant in the Amazon Services LLC Associates Program, an affiliate advertising program designed to provide a means for us to earn fees by linking to Amazon.com and affiliated sites.

Why did I wait so long to read my first book by JM Darhower?  WHY??  After reading Ghosted, I can honestly say I am kicking myself for waiting so long…because what I just read was amazingly EPIC!! 
If you like second-chance romance, you are going to love Ghosted because it is beautifully written, plotted perfectly, and pours on the feelings and emotions.  I couldn't put it down and if you're anything like me, you know that's the sure sign of being pulled in and completely immersed in the story.
Kennedy is a single mother to a daughter, working at a local grocery store to make ends meet.  She's hardworking and trying her best to provide for her child, since Madison's dad is out of the picture.  What most people don't know is that he is a world-famous Hollywood heartthrob who makes superhero action movies. 
Jonathan grew up as the rebellious son of a Congressman, being punished for not wanting to follow in his dad's footsteps.  He's talented, has stars in his eyes, and knows that he can make it as an actor if given the chance.  After years of scraping by, he finally gets his big break, but he loses everything that is dear to him in the process—his dedicated girlfriend, a chance to be a dad to his daughter, his sobriety, and even his own happiness.
Ghosted is one of the best second-chance romances I have ever read and there isn't anything that I didn't love about it.  I felt the emotions of the characters, I loved seeing the flashbacks to the beginnings of their love story, I laughed at their humorous exchanges, I geeked out at their comic book/real life parallels, and I swooned at their reconciliation.  It is perfection on the page.
I also have to mention that Madison is one of my favorite characters of the book.  She steals the show and gives her parents a run for their money.  She's precocious and perceptive, and I loved everything that came out of her mouth.  Not everyone is a fan of kids in romances, but I guarantee you will love Madison.
I've read several of the "Hollywood hero falls in love with the unknown, small-town heroine" stories before, but none of them have impacted me like this one.  We see the entire love story unfold throughout high school, which progresses into an LA dream-come-true-turned-nightmare, then the aftermath of things falling apart, picking up the pieces, and putting them back together several years later.  Like I said, it is epic and I am so happy I read this book.  I'm still thinking about it two days later (and feeling giddy), so believe me when I say it's amazing!
Want more? Check out these posts!