Thank you for the advanced copy of SETTLING THE SCORE: THE SUMMER GAMES by RS Grey. All opinions are my own.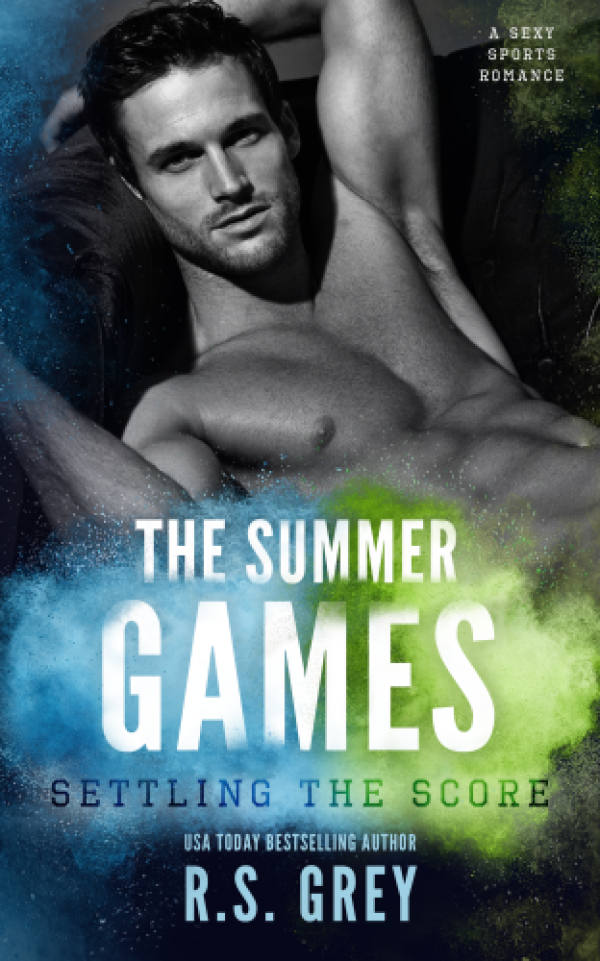 As an Olympic rookie, Andie Foster has spent far more time in her cleats than between the sheets. For 21 years, her Friday nights have consisted of blocking shots rather than taking them. But now that she's landed in Rio, she's ready to see for herself if the rumors about the Olympic Village are true:
• The athletes are all sex-crazed maniacs…
• The committee passes out condoms like candy…
• The games continue long after the medals have been handed out…
As Andie walks the line between rumor and reality, she's forced into the path of Frederick Archibald, a decorated Olympic swimmer and owner of a sexy British accent–too bad he's unavailable in a way that "it's complicated" doesn't even begin to explain.

In other words: off limits.

It doesn't matter that he has abs that could bring peace to the Middle East and a smile that makes even the Queen blush; Andie fully intends on keeping her focus on the soccer field. But the Village is small. Suffocating. Everywhere Andie goes, Freddie happens to be there–shirtless, wet from the pool, and determined to show her a whole new meaning of the phrase "international affairs".
Note: Clicking links on this site will take you to the retailer's purchase page.
Totally Bex is a participant in the Amazon Services LLC Associates Program, an affiliate advertising program designed to provide a means for us to earn fees by linking to Amazon.com and affiliated sites.
Other books in this series:
Settling the Score: The Summer Games

Sports romances are my weakness–they're like catnip to me and I can't resist.  So when I read the blurb for The Summer Games, I knew it was a must-read!  
I am happy to report that it totally ticked all of my boxes and left me feeling happy and swoony:
Hot, beautiful, gifted athletes?
Behind-the-scenes look into the world of sports?
On-field action as well as off?
Angst and drama?
Check, check, check, and check!
The Summer Games follows Andie, an American soccer player, and Freddie, a Michael Phelps-level swimmer, as they compete in the Summer Olympics in Rio.  Andie has been living and breathing soccer for years to make it to the Olympics, so when she gets to Rio, she's ready to work hard and play harder.
When she meets Freddie, sparks fly and they have an immediate connection.  However, there are some major roadblocks to a happy ending as Freddie may or may not be engaged-to-be-engaged (!!!).  
Yes, Andie and Freddie's relationship is a bit of rollercoaster, but I found myself totally caught up in it.  I was rooting for them to figure things out and fight for their happiness.
Things between Freddie and Andie seem to move quickly, but I have a feeling that's what really goes on in the Olympic Village.  Everything there has an expiration date, so I didn't feel like it was out of line at all.  
I didn't like that Freddie seemed to be so passive with certain situations in the book, however.  He could have (and should have been) much more proactive when dealing with his mother and even Andie.
The secondary characters are also great, especially Freddie's sister, Georgie. I enjoyed her scenes and found her funny, sarcastic, and completely quirky.  We definitely need to see more from her in the future!  
Fans of Scoring Wilder will also be happy to see that Liam, Becca, and Kinsley are all back and we're given glimpses of their lives after the book ended.
If you're looking for a fun, sweet, and sexy read with a touch of drama and angst, The Summer Games should be a perfect fit.  The writing is great, the characters are well-developed, and the ending left me with a smile on my face.  I can't really ask for anything more!
Want more? Check out these links!