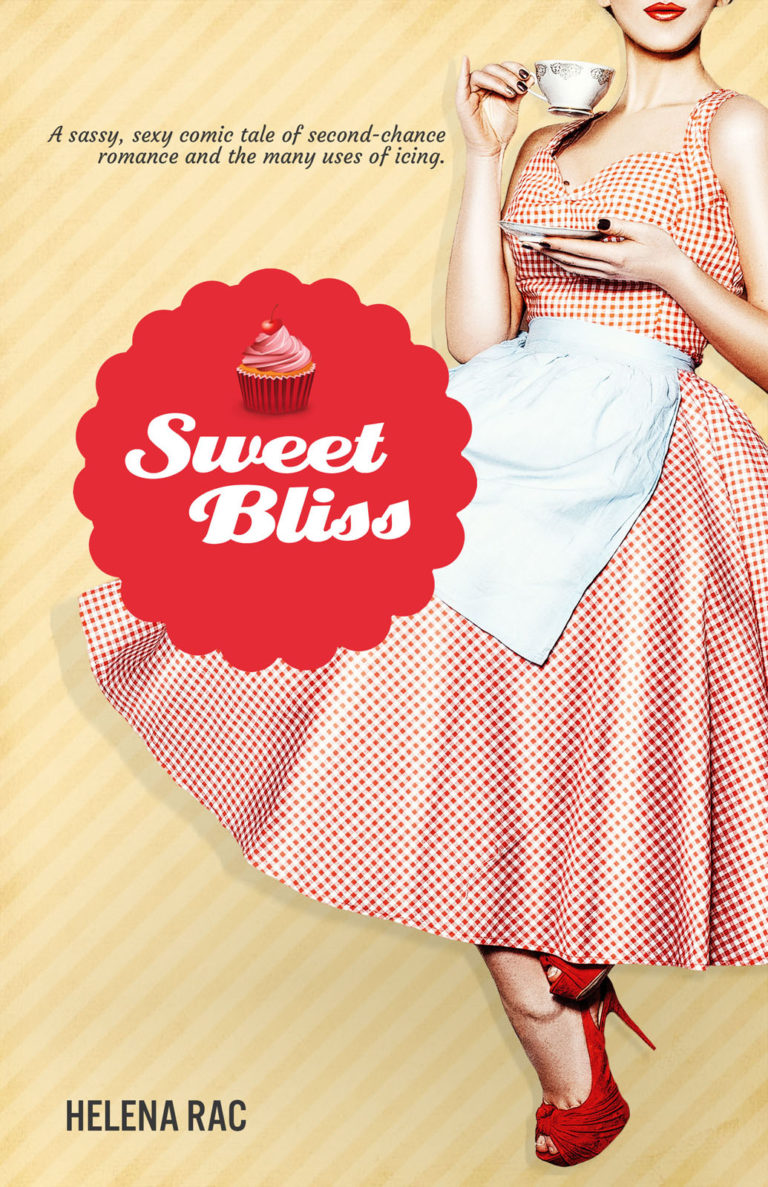 Sweet Bliss
by
Helena Rac
Published by
Tryst Books
on November 30th, 2015
Genres:
Contemporary Romance
Number of Pages:
234
My rating:


From debut author Helena Rac, a sassy, sexy comic tale of second-chance romance and the many uses of icing.

Tessa loves cupcakes. They're tasty and comforting, and they've made her bakery a success. Men, on the other hand, are unreliable jerks who are bound to break her heart. Even if they're hot enough to melt her frosting.

Tessa is smitten with Luke after a less than graceful encounter on the streets of Chicago, and fate keeps reuniting them. She's certain he'd be delicious in bed, but there's just one problem: Tessa's sworn off long-distance romances, and Luke lives in London. Besides, he's proven himself to be bad news.

Although Tessa's sexy stranger swears to set aside his player ways after she carries out sweet revenge, she's far too smart to believe in happily-ever-afters. Luke will need to use every weapon in his arsenal - including a spatula or two - to convince Tessa they're meant to be together.
I received this book for free from the publisher in exchange for an honest review. This does not affect my opinion of the book or the content of my review.
My Review of Sweet Bliss
Sweet Bliss by Helena Rac definitely lives up to its name. The story of Tessa and Luke is a lot like Tessa's cupcakes–sweet, fun, and light. Add a side of sexy, and you have Sweet Bliss in a nutshell.
Tessa is a smart, independent woman, who is also hard-working and a little quirky. Predictability and list-making are necessary for her Type-A personality. So, after she literally falls for Luke during an adorable chance meeting, Tessa's life is tilted on its axis. Since "Fall in love" is not an item on her to-do list (like, ever), Tessa is scared to take a chance on Luke.
Tessa makes Luke work hard for a first date (and almost every step after), but once he wins her over, they start a flirty and hot relationship. Between her past experience with a bad long-term relationship and Luke's lack of one, Tessa is extremely reluctant to let down her guard. She holds tightly to her perceptions of Luke's character and his player ways, showing her insecurity on several occasions.
If I were to nit-pick and choose a part of the story that bothered me, this is what I would choose. Tessa needed to take a step back and realize that she wasn't being fair to Luke or to herself.
However, there is a lot of funny banter and plenty of steam between the main characters to lighten the mood. The secondary characters are also a great break from the angst. So, if you're in the mood for a light, fun, and filling dose of love and cupcakes, Sweet Bliss is an excellent choice!