Thank you for the advanced copy of A BAD DAY FOR SUNSHINE by Darynda Jones.  All opinions are my own.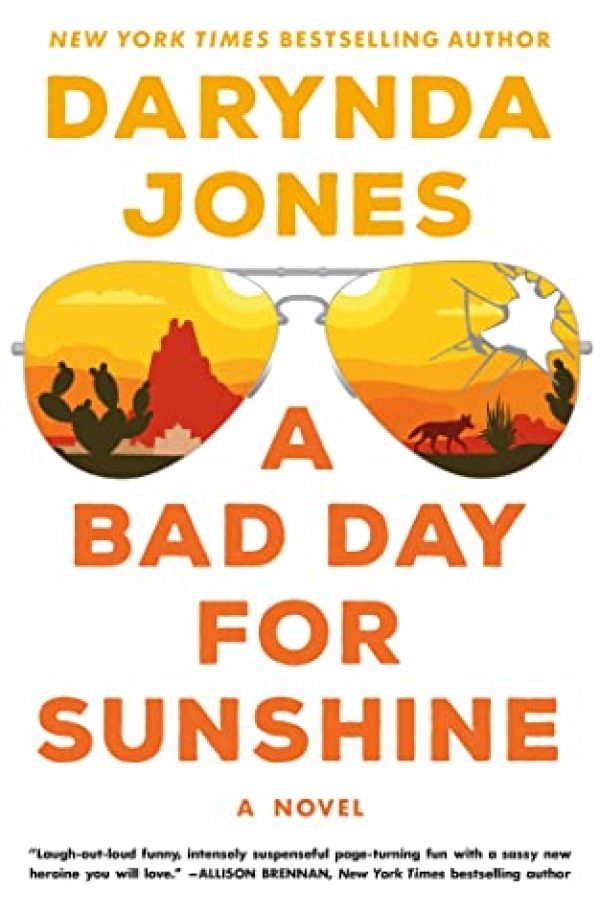 Sheriff Sunshine Vicram finds her cup o' joe more than half full when the small village of Del Sol, New Mexico, becomes the center of national attention for a kidnapper on the loose.

Del Sol, New Mexico is known for three things: its fry-an-egg-on-the-cement summers, its strong cups of coffee—and a nationwide manhunt? Del Sol native Sunshine Vicram has returned to town as the elected sheriff—an election her adorably meddlesome parents entered her in—and she expects her biggest crime wave to involve an elderly flasher named Doug. But a teenage girl is missing, a kidnapper is on the loose, and all of it's reminding Sunny why she left Del Sol in the first place. Add to that trouble at her daughter's new school and a kidnapped prized rooster named Puff Daddy, and Sunshine has her hands full.

Enter sexy almost-old-flame Levi Ravinder and a hunky US Marshall, both elevens on a scale of one to blazing inferno, and the normally savvy sheriff is quickly in over her head. Now it's up to Sunshine to juggle a few good hunky men, a not-so-nice kidnapping miscreant, and Doug the ever-pesky flasher. And they said coming home would be drama-free.
Note: Clicking links on this site will take you to the retailer's purchase page.
Totally Bex is a participant in the Amazon Services LLC Associates Program, an affiliate advertising program designed to provide a means for us to earn fees by linking to Amazon.com and affiliated sites.

I was a huge fan of the Charley Davidson series and a little sad to see it come to an end, even after thirteen books.  However, when I heard that Jones had a new book coming out, I couldn't wait to see what she would come up with next. 
I will say that there are some general similarities between Charley and Sunshine, but this new book certainly stands on its own two feet. Jones has a distinctive writing style, and you definitely see that shine through in Sunshine.
Sunshine Vicram returns to her hometown as the newly-elected sheriff (an election she won without even knowing she entered).  Sunshine is also a single mother, so she and her daughter move into her parents' guest house and try to adjust to life back in a small town.  Their respective first days, at the high school and the station, are anything but boring, with the action starting right off the bat.
Like Charley, Sunshine is a kickass heroine with preternatural wisdom that comes in handy with solving cases and a snappy, sassy sarcasm that provides levity to the serious nature of the storyline.  There's an overall mystery that needs to be solved, tons of quirky characters are introduced, and Sunshine has some old demons that aren't buried as deeply as she thought. 
Jones weaves a suspenseful and multilayered tale with the added benefit of an elusive love interest, a precocious teen, and a loving family dynamic.  I was on the edge of my seat for the last 25% of the story and the resolution of the case took me by surprise.  Being unable to guess the outcome is how I judge a good mystery, and I wasn't disappointed one bit. 
I'm so happy to have a new world of unique characters from Jones to love and I can't wait for my next hit of Sunshine!
Want more? Check out these posts!