Thank you for the advanced copy of CHASING RIVER by K.A. Tucker.  All opinions are my own.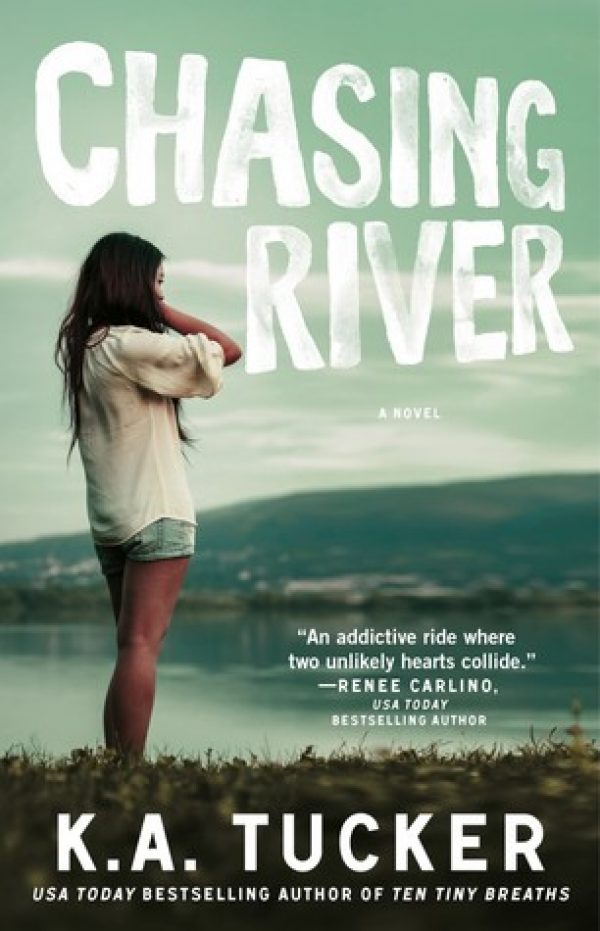 Armed with two years' worth of savings and the need to experience life outside the bubble of her Oregon small town, twenty-five-year old Amber Welles is prepared for anything. Except dying in Dublin. Had it not been for the bravery of a stranger, she might have. But he takes off before she has the chance to offer her gratitude.

Twenty-four-year-old River Delaney is rattled. No one was supposed to get hurt. But then that American tourist showed up. He couldn't let her die, but he also couldn't risk being identified at the scene—so, he ran. Back to his everyday life of running his family's pub. Only, everyday life is getting more and more complicated, thanks to his brother, Aengus, and his criminal associations. When the American girl tracks River down, he quickly realizes how much he likes her, how wrong she is for him. And how dangerous it is to have her around. Chasing her off would be the smart move.

Maybe it's because he saved her life, or maybe it's because he's completely different from everything she's left behind, but Amber finds herself chasing after River Delaney. Amber isn't the kind of girl to chase after anyone.

And River isn't the kind of guy she'd want to catch. 
Note: Clicking links on this site will take you to the retailer's purchase page.
Totally Bex is a participant in the Amazon Services LLC Associates Program, an affiliate advertising program designed to provide a means for us to earn fees by linking to Amazon.com and affiliated sites.
Other books in this series:

Chasing River is the third book in the Burying Water series, but the first one that I have read. The author recommends reading book one, Burying Water, to get to know Amber Welles and her family. However, being the rebel that I am, I just jumped right in.  
(Note: In my opinion, there is enough backstory about Amber that you do not need to have read Burying Water.)
I have to admit, I am not much a history buff. I didn't know very much about Ireland's rich history or the role of the IRA until I read the prologue of this book. K.A. Tucker does an excellent job of giving you what you need to know, as well as weaving the history of Ireland into Amber and River's story.
Needing to spread her wings, Amber takes her savings, makes a travel bucket list with her friend, and sets out on a multi-country adventure.  Unfortunately, the excitement comes to her on the first morning in Dublin–in the form of a pipe bomb.  
The handsome stranger who saves her runs off after making sure she is okay.  Even though she only saw him for a few moments, she intends to thank him for saving her life.  When Amber finds him, she discovers he's a charming bartender at his family's pub.  
They have immediate chemistry, but she is completely unaware that River knows exactly who planted the bomb in the park.  His knowledge of the bomber makes their situation dangerous for everyone involved.
I liked Amber as a heroine.  She is strong enough to travel to world on her own, but I think she needed to stretch herself and mature.  Having grown up in a small town and as the sheriff's daughter, she has been sheltered and sees things only in black and white.  Thus the need for her travel bucket list with items like "Have a torrid affair with a foreigner" on it.
River is a great compliment to rule-following Amber.  On the surface, River is just a cute guy with an adorable accent who happens to be a life-saving hero.  I liked that he is strong and sweet, but that there is more to him than meets the eye.  
He has a slightly unsavory past, and that is something he isn't interested in sharing with Amber.  Knowing that they only have a short time together, he wants to remain the knight in shining armor that she sees in him.  I felt his dishonesty as much as Amber did, but it didn't make me like him any less as a character.
Strong family bonds, traditions, and loyalty play a big part in this story.  River never thought he would turn on his family, but once he meets Amber all bets are off.  They are both tested by the aftermath of the bombing, finding where to draw the hard line on their beliefs.
I really enjoyed this book from beginning to end.  There was plenty of suspense that kept me flipping pages until late in the night.  I had to know how everything would come together.  It was unique, well-written, and engaging.
The secondary characters were intriguing, so I am looking forward to not only reading the next book in the series, Surviving Ice, but also going back to the beginning to fill in what I missed.
He comes out of nowhere, from the left.
My only warning is the sound of his feet pounding against the grass. I turn my head just as he plows into my side, sending me sailing through the air. Pain explodes in a dozen different body parts as I hit the hard ground, my lungs grappling for oxygen.
He's on top of me in an instant, crushing me under his weight, his thick arms roping around either side of my head, smothering me. I can't breathe, or scream, let alone fight him off right now.
I manage just one fleeting thought—that this man, with his forehead pressed against mine and his ragged breaths assaulting my face—is about to rape me in broad daylight in a city park.
And then I'm plunged into a strange void that devours all my pain and fear.
A wave of pressure races past a split second before all of my senses are swallowed by a deafening bang that rattles my brain and the ground beneath me. Then . . . nothing at all. Only eerie silence and air.
I know that time has passed, but I can't say whether it's been a split second or ten minutes or an hour when I realize I'm lying on my back, staring up at a plume of white smoke, the familiar sweet metallic scent of expended gunpowder permeating my nostrils, my head stuffed with cotton. That eerie silence has given way to a high- pitched ringing and I cringe as it echoes in my eardrum. Maybe I cry out, too. If I do, I can't hear it. I'm struggling to string together enough thoughts to understand what the hell just happened.
"Are you okay?" The question floats in from somewhere distant. And then suddenly a man hovers over me, a fringe of coppery hair like an untidy halo framing his face, staring down at me through mossy green eyes.
"What happened?" I manage to ask, though my voice sounds far away. At least I'm no longer winded.
"An explosion. A bomb."
A bomb? A chill runs through my limbs as my brain wraps around that word, delivered in a light Irish brogue.
I sense hands slide along my thighs, over my knees, curling to the undersides, but I don't think to deflect them. "You'll be fine," he mutters, a sigh of relief sailing from his lips. He shifts on his knees, making to stand.
And I seize his forearm, surprising myself with a sudden wave of strength as I hold him down. "Stay."
His muscles tense beneath my fingertips. "I can't. But please know that I didn't do this." Honest, pleading eyes implore me silently for a few heartbeats, and then he's gone, running—albeit staggered and off-balance—before I can ask more questions. I roll my head to the side and watch him disappear into a line of trees, a dark stain blooming in the material of his vibrant green T-shirt.
Want more? Check out these posts!