Chasing River
by
K.A. Tucker
Series:
Burying Water #3
Also in this series:
Surviving Ice
Publisher:
Simon and Schuster
Publication Date:
July 7th 2015
Genres:
Romance
,
New Adult
Pages:
336
Format:
eARC
Source:
the publisher via NetGalley
Add to Goodreads

Armed with two years' worth of savings and the need to experience life outside the bubble of her Oregon small town, twenty-five-year old Amber Welles is prepared for anything. Except dying in Dublin. Had it not been for the bravery of a stranger, she might have. But he takes off before she has the chance to offer her gratitude.
Twenty-four-year-old River Delaney is rattled. No one was supposed to get hurt. But then that American tourist showed up. He couldn't let her die, but he also couldn't risk being identified at the scene—so, he ran. Back to his everyday life of running his family's pub. Only, everyday life is getting more and more complicated, thanks to his brother, Aengus, and his criminal associations. When the American girl tracks River down, he quickly realizes how much he likes her, how wrong she is for him. And how dangerous it is to have her around. Chasing her off would be the smart move.
Maybe it's because he saved her life, or maybe it's because he's completely different from everything she's left behind, but Amber finds herself chasing after River Delaney. Amber isn't the kind of girl to chase after anyone.
And River isn't the kind of guy she'd want to catch.
Buy this book!
Kindle  |  Paperback
I received this book for free from the publisher via NetGalley in exchange for an honest review. This does not affect my opinion of the book or the content of my review.
Review of Chasing River by KA Tucker
Chasing River is the third book in the Burying Water series, but the first one that I have read. The author recommends reading book one, Burying Water, to get to know Amber Welles and her family. However, I am a rebel, so I just jumped right in.  (Note: In my opinion, there is enough backstory about Amber that you do not need to have read Burying Water.)
I have to admit, I am not much a history buff. I didn't know very much about Ireland's rich history or the role of the IRA until I read the prologue of this book. K.A. Tucker does an excellent job of giving you what you need to know, as well as weaving the history of Ireland into Amber and River's story.
Needing to spread her wings, Amber takes her savings, makes a travel bucket list with her friend, and sets out on a multi-country adventure.  Unfortunately, the excitement comes to her on the first morning in Dublin–in the form of a pipe bomb.  The handsome stranger who saves her runs off after making sure she is okay.  Even though she only saw him for a few moments, she intends to thank him for saving her life.  When Amber finds him, she discovers he's a charming bartender at his family's pub.  They have immediate chemistry, but she is completely unaware that River knows exactly who planted the bomb in the park.  His knowledge of the bomber makes their situation dangerous for everyone involved.
I liked Amber as a heroine.  She is strong enough to travel to world on her own, but I think she needed to stretch herself and mature.  Having grown up in a small town and as the sheriff's daughter, she has been sheltered and sees things only in black and white.  Thus the need for her travel bucket list with items like "Have a torrid affair with a foreigner" on it.
River is a great compliment to rule-following Amber.  On the surface, River is just a cute guy with an adorable accent who happens to be a life-saving hero.  I liked that he is strong and sweet, but that there is more to him than meets the eye.  He has a slightly unsavory past, and that is something he isn't interested in sharing with Amber.  Knowing that they only have a short time together, he wants to remain the knight in shining armor that she sees in him.  I felt his dishonesty as much as Amber did, but it didn't make me like him any less as a character.
Strong family bonds, traditions, and loyalty play a big part in this story.  River never thought he would turn on his family, but once he meets Amber all bets are off.  They are both tested by the aftermath of the bombing, finding where to draw the hard line on their beliefs.
I really enjoyed this book from beginning to end.  There was plenty of suspense that kept me flipping pages until late in the night.  I had to know how everything would come together.  It was unique, well-written, and engaging.
The secondary characters were intriguing, so I am looking forward to not only reading the next book in the series, Surviving Ice, but also going back to the beginning to fill in what I missed.
Other books in the Series
[ezcol_1third]
[/ezcol_1third] [ezcol_1third]
[/ezcol_1third] [ezcol_1third_end]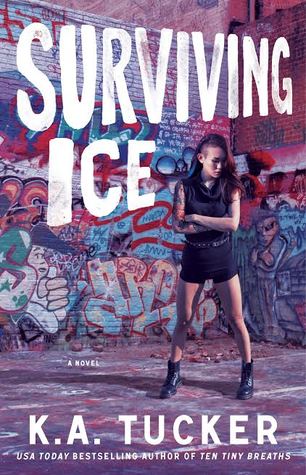 [/ezcol_1third_end]