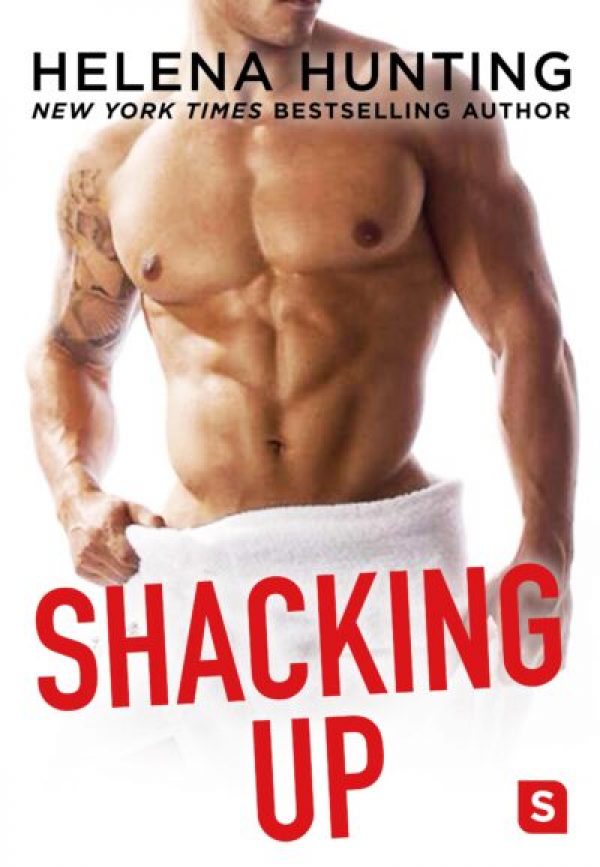 Ruby Scott is months behind on rent and can't seem to land a steady job. She has one chance to turn things around with a big audition. But instead of getting her big break, she gets sick as a dog and completely bombs it in the most humiliating fashion. All thanks to a mysterious, gorgeous guy who kissed—and then coughed on—her at a party the night before.

Luckily, her best friend might have found the perfect opportunity; a job staying at the lavish penthouse apartment of hotel magnate Bancroft Mills while he's out of town, taking care of his exotic pets. But when the newly-evicted Ruby arrives to meet her new employer, it turns out Bane is the same guy who got her sick.

Seeing his role in Ruby's dilemma, Bane offers her a permanent job as his live-in pet sitter until she can get back on her feet.
Filled with hilariously awkward encounters and enough sexual tension to heat a New York City block, Shacking Up, from NYT and USA Today bestselling author Helena Hunting, is sure to keep you laughing and swooning all night long.
Note: Clicking links on this site will take you to the retailer's purchase page.
Totally Bex is a participant in the Amazon Services LLC Associates Program, an affiliate advertising program designed to provide a means for us to earn fees by linking to Amazon.com and affiliated sites.
Other books in the series:

There are rom-coms, and then there are Helena Hunting rom-coms–hers are in a league of their own, in my opinion. I love her Pucked series and all of her quirky-but-loveable characters, so I was a little worried about reading a new set of characters from her. I'm happy to report that my hesitation was completely unnecessary! Shacking Up is a fun and flirty, hilarious and heartfelt, sweet and slow-burning romance with fantastic characters and writing. I loved every minute of the ride!
Ruby Scott was born into a family with a pharmaceutical empire, but her heart belongs to Broadway. Determined to make it on her own, she heads to New York and works her tail off to make it happen. After a string of bad luck, Ruby is down to her last few pennies and eating Ramen noodles for every meal. She has great friends, but she's going to need a lot more than that to make ends meet.
Bancroft Mills (aka Bane) was also born into wealth but, like Ruby, he decided to pave his own path and played professional rugby for years. After being sidelined with a knee injury, he's back to working for his family and helping to improve properties within their hotel dynasty.
Ruby and Bane have a bit of an unconventional first meeting, but it sets the trajectory for the entire storyline. What starts out as a mutually beneficial arrangement becomes much more after weeks of video chats that are steeped in sexual tension and unresolved feelings. I thought that was the perfect touch since Bane is out of the country for weeks. I could feel the connection, rather than just read about it, and made me want to root for them.
Ruby is a fantastic heroine, and I loved all of her attributes. She's hardworking, independent, and sassy at every turn. She a bit of a rebel and I enjoyed that part of her character. Bane, on the other hand, is more buttoned-up and proper, but he's so sweet, understanding and supportive. Not to mention, he's got a bit of a dirty mouth (that's an understatement, actually), so once they finally get together, things get very interesting indeed.
This book had me grinning like a fool and swooning at all of the sweetness from beginning to end. Helena Hunting has created another cast of characters that I can't wait to get to know better while feeding my need for banter, awkwardness, heart, and humor. If those are things you are looking for, too, I can't recommend Shacking Up enough!
9 Questions with Helena Hunting
1.) Describe Shacking Up using no more than 140 characters (a la Twitter).
Sexy, quirky, with enough sexual tension to light your underwear on fire.
2.) Where did you get inspiration for the character's names, particularly Bancroft aka Bane?
Once I met a police officer (I wasn't doing anything illegal) who introduced himself as Bancroft. I thought that was his last name, so I sassily introduced myself by my last name as well. Then he corrected me, telling me that his first name was Bancroft, and I felt obviously ridiculous. He was a mammoth man. He practically had to duck through doorways, so I put that one in the name bank for a rainy day. I also thought it was rather hilarious that it could be shortened to Bane—as in the bane of my existence, which we know Bancroft certainly is not. Ruby is a spunky name and I thought reflected the heroine's fiery personality.
3.) Shacking Up is hilarious! How easily does the banter between the characters come for you? Do you ever struggle writing the humor in your books?
With Ruby and Bane the banter came easily because there weren't a lot of social constraints or limitations for them. At the beginning they're working under the premise of a business arrangement, so the pressure is off and Ruby isn't really one to hold back,. Neither is Bane for that matter. I have such a fun time creating off the wall, sometimes sexually tense scenes, especially with these two.
4.) Do you ever make yourself laugh when writing a scene?
Yes. I feel weird saying that, but there are times when I'm imagining what is happening as I'm writing and thinking "this is just ridiculous". My hope is that if I think it's ridiculous, so will other people, and it will inspire the same reaction. Francesca certainly helped make it a lot easier to fit in fun, light-hearted situations.
5.) What inspired Bane's exotic choice in pets?
Ferrets are freaking adorable, but they are menaces if they're left to their own devices. They're also a lot like dogs and cats, but they require a different kind of care, the fact that they're illegal in NYC also helped. As for Tiny—I think a lot of people would be reluctant to take care of a giant spider, no matter how cool they are as pets. I felt like both of them would be lend for some funny situations.
6.) The heroes in your Pucked series are all hockey stars, and Bane in Shacking Up is an ex-rugby player. Is it safe to say you have a thing for athletes?
I guess you could say I have a fascination with athletes. That level of physical fitness takes an extraordinary amount of discipline, plus STAMINA!!! More than just being an athlete, I have an affinity for heroes who show loyalty and determination and who are just as much about brain as brawn.
7.) Ruby is a bit of a rebel, defying her family to go after her dreams. What do you love most about her?
I love that despite things not always going her way, she refuses to take the easy way out. Our paths are not always linear and Ruby is very willing to make concessions where she needs to in order to prove to herself and her family that she can attain her goals.
8.) Why are Bane and Ruby so perfect for each other?
They're both very goal oriented people with the same core values. Ruby is a firecracker and Bane needs someone with that level of sass to challenge him. For Ruby, Bane is an inherent caretaker, BUT he tries not to force that care on her which is something she can appreciate.
9.) Are there any books or authors you're really excited about right now?
I'm excited for Ann Marie Walkers BLACK TIE OPTIONAL. I recently devoured Jana Aston's Grind Me Series and Debra Anastasia is writing the most awesome book right now, and I can't wait until it's ready for public consumption.