Thank you to Atria for the advanced copy of THE SEVEN HUSBANDS OF EVELYN HUGO by Taylor Jenkins Reid. All opinions are my own.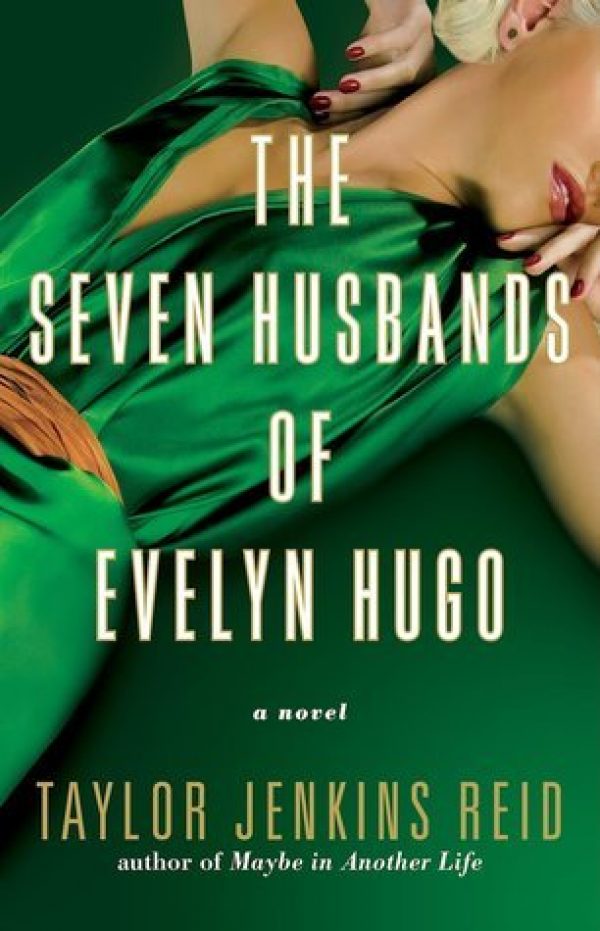 Aging and reclusive Hollywood movie icon Evelyn Hugo is finally ready to tell the truth about her glamorous and scandalous life. But when she chooses unknown magazine reporter Monique Grant for the job, no one in the journalism community is more astounded than Monique herself. Why her? Why now?

Monique is not exactly on top of the world. Her husband, David, has left her, and her career has stagnated. Regardless of why Evelyn has chosen her to write her biography, Monique is determined to use this opportunity to jumpstart her career.

Summoned to Evelyn's Upper East Side apartment, Monique listens as Evelyn unfurls her story: from making her way to Los Angeles in the 1950s to her decision to leave show business in the late 80s, and, of course, the seven husbands along the way. As Evelyn's life unfolds—revealing a ruthless ambition, an unexpected friendship, and a great forbidden love—Monique begins to feel a very a real connection to the actress. But as Evelyn's story catches up with the present, it becomes clear that her life intersects with Monique's own in tragic and irreversible ways.

Written with Reid's signature talent for "creating complex, likable characters" (Real Simple), this is a fascinating journey through the splendor of Old Hollywood into the harsh realities of the present day as two women struggle with what it means—and what it takes—to face the truth.
Note: Clicking links on this site will take you to the retailer's purchase page. Making a purchase through these links helps support Totally Bex at no extra cost to you.
The Seven Husbands of Evelyn Hugo

Have you ever wanted to pull back the curtain on Hollywood starlets and see how they make it all happen?  After reading Evelyn's story, you may want to rethink that notion and just remain blissfully ignorant.  This story is powerful and empowering, it's emotional and heartbreaking, and it's a work of fiction that reads like an autobiography of a real-life Hollywood actress. 
To be clear, Evelyn is not a shrinking violet, she's not apologetic, and she's not a woman's woman.  She's bold and she's daring and you may love to hate her by the end.  But if you read about Evelyn's husbands (all seven of them), you might just realize that the picture-perfect lives and Hollywood glamour are not as shiny as they seem. The real story behind the facade is full of pain and heartache and sacrifice and suffering.
Evelyn Hugo was born into an immigrant family and raised in Hell's Kitchen, New York by a drunken father.  From a young age, she knew she wanted to be a star.  What she did to escape her dreary life may seem opportunistic, but for Evelyn, it was a chance to make her dreams come true.  Blessed with a figure that made men drool, Evelyn used every advantage she could to rise to the top of Hollywood's "It List".  Along the way, she had to be emotionless and cutthroat, she had to use people, and she had to hurt the people she loved the most to reach her goals.
Told in present-day and flashbacks, Evelyn lays out her story to a magazine reporter.  The details of her life are so vivid; I could imagine Evelyn as a real-life Liz Taylor or Jane Mansfield.  The interwoven themes and history were spellbinding and true-to-life.  I was mesmerized by the storyline, the characters, and the tarnished fairytale.  My heart ached for Evelyn and her pursuit of 'being known' as an actress, while also yearning to be known for who she was as a person, not just as a star.  The pain and heartache are visceral and guaranteed to stir a reaction within the reader. 
By telling her whole sordid story after everyone she ever loved is buried and gone, Evelyn is able to shatter the illusion, the truth is finally able to come to light and the record is able to be set straight.  This isn't a story about rainbows and unicorns; it is an unapologetic look back at the life of a woman who succeeded in becoming one of the most recognizable women in Hollywood.  You can't make it to the top without stepping on toes and pushing people out of the way.  While portrayed in the papers as a 'bombshell', Evelyn is sharp as a tack and she is ruthless in her pursuit of fame and fortune. 
This is my second book by Taylor Jenkins Reid and I loved it just as much as One True Loves.  Reid has a genuine gift for storytelling with intricate details and unique storylines.  Her realistic characters and powerful prose are hallmarks of her writing and her talent is spellbinding.  I know that I will be reading her entire backlist in the near future. 
Want more? Check out these posts!