Stay Until We Break by Mercy Brown – Hub City Book 2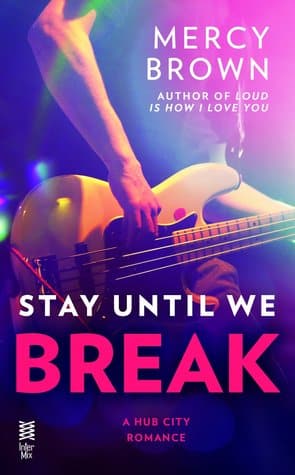 This post contains affiliate links. If you make a purchase using that link, I will receive a small commission from the sale at no additional cost to you.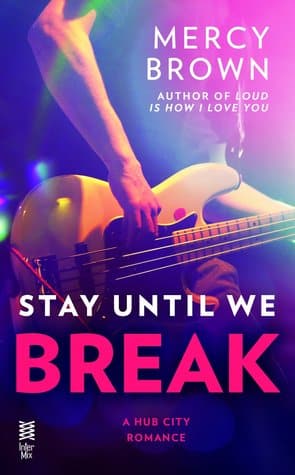 Stay Until We Break by Mercy Brown
Series: Hub City #2
Also in this series: Loud is How I Love You
Published by InterMix on June 21st, 2016
Genres: Rock Stars, New Adult
Number of Pages: 241
My rating:



Kindle | Kobo | Apple Books


Twenty-one-year-old Sonia Grant, a business major, has big plans for a career in the music industry. So when she's offered the job of tour manager for her best friend's band, she jumps at the chance for some real life experience. When her number one crush, bassist Cole McCormack, jumps her the first night on tour, she hopes she's in for three weeks of some hot backstage action, too. But Cole turns out to have more up his sleeve than she or anyone realized.

Nobody knows that Cole is on the road to party like a rock star one last time before quitting his dream to take a more practical job and settle down. What he hadn't planned was to fall in love with a girl he believes is out of his league. Will Cole play out the rock star fantasy he thinks Sonia wants from him, or tell her the truth and take the chance that she'll either break his heart or make an even bigger dream come true?
I received this book for free from the publisher via NetGalley in exchange for an honest review. This does not affect my opinion of the book or the content of my review.
Do you love rockstar romances? Do you love friends-to-lover romances? If you answered "yes" to either of those questions, then you are going to LOVE Stay Until We Break by Mercy Brown!  Mercy brings it hard with her second book in the Hub City series and from the very first page you are thrust into the world of struggling indie rock musicians as they set out to find their big break.  Throw in two people who are insanely attracted to each other and you have the makings of a killer romance.
Sleeping on floors, living hand to mouth, and traveling in a beat-up van are par for the course for the members of Stars on the Floor.  They're on a three-week tour to promote their self-released songs and Sonia is there as their manager.  Cole is the bassist for the band and has a reputation for being a lady's man.  Their time together on tour is either going to make or break their relationship and their chemistry is off the charts.
Sonia and Cole's story was the one I was waiting to read about after I finished Loud is How I Love You.  They have been circling each other for a while and I couldn't wait to see how they come together.  I most certainly was not disappointed!
Cole has had a hard life with poverty and horrible parents.  Music is his refuge, but he has the weight of the world on his shoulders while trying to provide for his little sister.  I thought to see him on tour and giving his all to the band was awesome, but seeing him so exposed and honest with Sonia was amazing.  It was just the icing on the cake for me.
The thing about Mercy Brown's writing is that it is so immersive.  I felt every look, every touch, and every self-doubt that the characters experienced like I was a part of the story.  She combines her love of music with the love of these characters and it works really well.  Mercy gives us a peek into the life of an indie musician while showing us the human side of the emotions, the heartbreak, and the joy.  I can't wait to see what's up next for the gang and Stars on the Floor!