Thank you for the advanced copy of DIRTY SEXY CUFFED by Carly Phillips and Erika Wilde. All opinions are my own.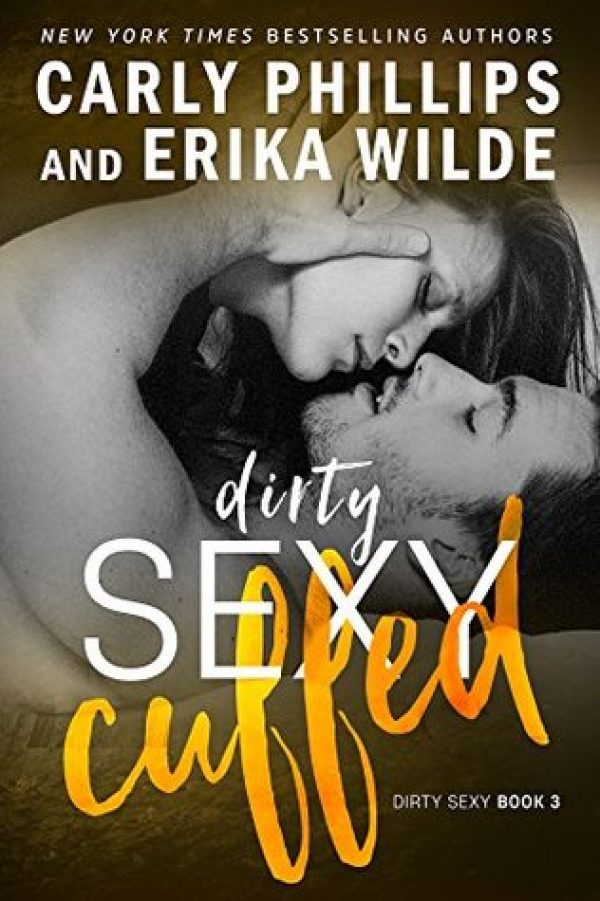 Are you ready to get Cuffed?
As a cop, Levi Kincaid is all about discipline and control . . .in the bedroom, and out of it, and he's always been very careful about choosing women who abide by his rules.
Hot sex and intense pleasure?
No problem.
Emotional commitment and forever promises?
No way.
But he never anticipates falling for a blue-eyed angel who makes him want to cuff her to his bed and do dirty, sexy things to her. And that control of his? It doesn't stand a chance against Sarah Robins, the one woman he can't resist . . .
Note: Clicking links on this site will take you to the retailer's purchase page.
Totally Bex is a participant in the Amazon Services LLC Associates Program, an affiliate advertising program designed to provide a means for us to earn fees by linking to Amazon.com and affiliated sites.
Other books in this series:

Levi Kincaid is one dirty cop–and I don't mean at his job. Levi requires control at all times, which makes him a good cop and an even better lover. He's the younger brother of Clay and Mason, who were the main characters in the first two books of Dirty Sexy series. In Dirty Sexy Cuffed, you get more of the family's background and find out why growing up was so horrible for the boys.
Sarah Robins is a young woman who also had a rough childhood. Growing up in the system has left her wary and untrusting. When she meets Levi, she knows that he is a good guy, but she needs to leave Chicago to escape her possessive ex. Levi makes her feel safe and protected and their relationship develops from there.
Levi and Sarah have excellent chemistry and there is a nice build-up to their relationship. Sure, there's plenty of steam, but they also have deep conversations and get to know one another—which I think is important and helps to round out their characters.
If you love a good guy and dominant alpha with a damsel in distress who needs to be saved, Cuffed is a good option. I enjoyed getting to know the Kincaid brothers and I will be going back to read Clay and Mason's stories.
"When are you going to face the fact that this chick just isn't into you?"
Levi Kincaid glanced across the dark interior of the unmarked SUV to his partner, Nick Catalano, who was alternating his attention between navigating the road and making sure Levi saw his smart-a$$ smirk.  It wasn't the first time his friend had given Levi shit about his request to stop by Circle K on their way back to the station after their shift ended.
For the past two months they'd been assigned to the DUI Strike Force in the area, which made stopping by the mart convenient.  Seeing and flirting with Sarah Robins was just an added bonus.
"She's totally into me, so that's not the issue," Levi refuted confidently, not at all bothered by Nick's ribbing.  There were many times he'd caught the tempting way Sarah looked at him when she didn't think he was aware of her.  And there was no mistaking the attraction between them she was so determined to fight.  He just hadn't figured out why yet.  But he would.
"Then what's the problem?" Nick persisted—this from a man who was all about instant gratification when it came to women, while Levi was more . . . selective.
"I'm not sure yet," he replied honestly.
Truthfully, he was having a hell of a time getting past that wariness of hers, which only made him more curious about who Sarah Robins was— and where she'd come from.  Admittedly, his interest in her had nothing to do with him being an inquisitive cop, and everything to do with him wanting her, in a deeper way than any female had gotten to him before.  He just had to get her on the same page as him.
Levi wasn't normally the type of guy who'd continue to pursue a woman who'd already turned him down half a dozen times.  A smart man would have cut his losses after the first rejection, but from the moment he'd looked into Sarah's sweet, soulful blue eyes, he'd felt a connection that only seemed to grow stronger every time he saw her.
And he certainly didn't miss the irony of that realization, when he was a man adept at maintaining strict control of his emotions—in all aspects of his life.
"This is a shit part of town," Nick said, stating the obvious, which brought Levi's thoughts back to the present.  "As soon as we're off this DUI task force, I don't want to drive through this part of Englewood unless it's for a call, so close the deal with Sarah already."
"Winning a woman over takes time, Catalano," Levi said easily—especially one as wary as Sarah.  "Though that's something I wouldn't expect you to understand."
"Hell, no," he agreed with a quick, player's grin.  "That's too much f*cking work when there are plenty of women who take one look at this uniform and are instantly willing and eager to bend over and drop their panties.  Trust me, getting laid, and regularly, is not an issue for me."
Levi had plenty of offers; he was just more particular about his bed partners.  He didn't do one night stands, but he didn't do long term committed, either.  The few women he'd dated and allowed into his private life were looking for the same thing he was—a mutually satisfying physical relationship without any emotional involvement.  More importantly, they were willing to let him be in control during all aspects of sex.
And Sarah, from everything he'd learned so far, didn't strike him as the type looking for long term either. Which made his pursuit easier for him to justify … and live with.
Arriving at the Circle K, Nick turned the SUV into the deserted lot.  He drove past the gas station area and stopped in front of the convenience store instead of parking the vehicle.
"I noticed the back tire was low at the DUI checkpoint," Nick said, explaining why he hadn't pulled into one of the many empty spaces in front of the mart like he normally did.  "While you run inside and do your thing, I'm going to drive around back and fill the tire up with air.  I'll meet you out front when you're done."
"Sounds good."  Levi released his seat belt and opened the door.  "You want anything?"
Nick grinned.  "Yeah, I'll take a root beer and a Snicker's bar."
"You got it."  Levi hopped out of the truck, and while his partner drove off and disappeared behind the building, he headed toward the store.
Out of years of habit, he glanced around the area, looking for anything, or anyone, who might be out of place.  Especially in this part of town. But it was a quiet evening, and there weren't any other cars or people around, which wasn't unusual for a late Tuesday night.  He walked into the store, and to his immediate left was the main counter and two registers.  Sarah was sitting on a stool reading a magazine, and as soon as she heard someone enter, she looked up.
Her bored expression immediately transformed to one of pleasure as a genuine, happy-to-see-him smile curved her soft, lush mouth, which never failed to make him think about slowly licking his tongue across that full lower lip before kissing her, or how that mouth would feel sliding down the length of his cock as she looked up at him from a kneeling position on the floor at his feet.
Heat and desire mingled in his belly, and lower, as he strolled toward the counter. Yeah, he'd stored up five long week's worth of the hottest, most sinful fantasies of Sarah, in some of the most erotic scenarios he could imagine.  Those dirty thoughts had come in handy when he'd lain in bed, hard and aching and needing relief.  With his hand wrapped tight around his d!ck, those decadent visions playing through his mind never failed to alleviate his lust.
But the relief was always temporary.  He wanted the real thing.  He wanted Sarah, her body soft and warm beneath his, and her willingness to give herself over to him in all the ways he desired.  And that kind of trust took time.  And patience.  Both of which he had in abundance.
Want more? Check out these posts!