Thank you for the advanced copy of CHASING SPRING by RS Grey. All opinions are my own.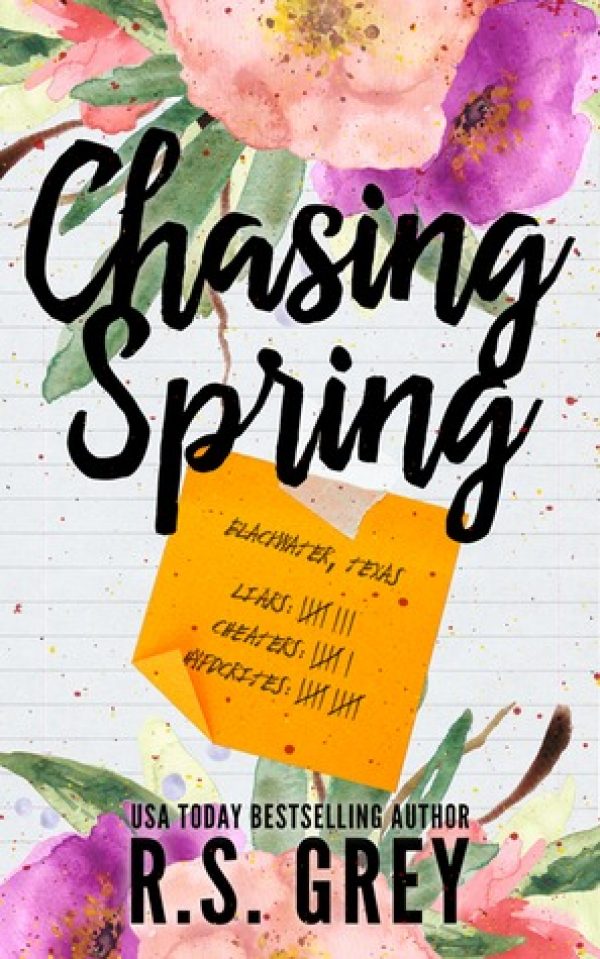 I thought I'd left Blackwater, Texas behind for good. I didn't belong in the small town, but my dad wouldn't listen. He dragged me back home in his beat-up truck and dropped a bomb along the way: Chase Matthews was moving in with us. He was the golden boy of my high school, my former best friend, and the last person I wanted sleeping across the hall. His presence was too great a reminder of the ghosts I was trying to forget.

I didn't ask for a hero. I don't want to be saved.

To me, Lilah Calloway meant late nights sneakin'; out, moonlit hair, and sparklers in July. She was my best friend until the day she left and I'd assumed Blackwater had seen the last of her. Then, like a tempest, she rolled back into town for the final half of senior year. The chopped hair and dark devil-may-care attitude warned most people away, but I knew if I fought hard enough, I could find the lost girl.

I didn't want to be her hero. Some girls don't need to be saved.
Note: Clicking links on this site will take you to the retailer's purchase page.
Totally Bex is a participant in the Amazon Services LLC Associates Program, an affiliate advertising program designed to provide a means for us to earn fees by linking to Amazon.com and affiliated sites.

Unbelievably, Chasing Spring is actually my first book by RS Grey. I know that she is typically a romantic comedy writer, but I am so glad I got to start with a story that is heavier and more serious.
This book is both intense and emotional, but also beautifully written and amazingly wonderful. There are so many secrets to discover within its pages, and I couldn't wait to learn about each one.
Speaking of secrets, they are a huge part of Lilah's life and the center of the story. When tragedy struck not only her family but Chase's as well, the details of her family's life were broadcast all over their small town.
Lilah becomes obsessed with other people's indiscretions to divert the grief that is weighing on her so heavily. She hasn't let herself deal with her losses (yes, there were a few), but she is doing the best she can. The fact that you catch small glimpses of the 'old Lilah' throughout the story is proof of that.
Chasing Spring isn't a soft and fluffy romance. This isn't even a light and happy story, but that just makes the bright and shining moments stand out.
It deals with painful and emotional subjects, but Grey handles them with grace and compassion.
There were several times that my heart was beating fast and I was flying through the pages. By the end, I was worn out emotionally, but you and I both know that's a good thing when it comes to books.
It means you are invested in the characters and need to see that they would be okay in the end. There is so much growth, healing, and acceptance that I felt heartened and reassured about having to part with the characters at the end of the story.
Now that I have finished Chasing Spring, I will definitely be going back to read the rest of RS Grey's books. After seeing the way she handled this difficult book with ease, I am more than a little curious about her lighter books.
Want more? Check out these links!